Child Abandonment: Ex Super Eagles Sani Kaita Gets Reprieve
As Naptip Rejects Petition
The authorities in National Agency for the Prohibition of Trafficking In Persons-NAPTIP may charge Sani Kaita an ex super Eagles midfielder over child abandonment of his son that he begot with his lover Ms. Esther Emiola. This is coming on the heels of a strong worded petition which Ms. Esther Emiola delivered to the Director General of NAPTIP Dame Julie Okah-Douli.
In the petition which she delivered through her counsel Barrister Frank Tietie of Forthright Chambers, Area 11, Garki, Abuja, the Lady Ms. Emiola alleged that in 2015, she was impregnated by Sani Kaita who promised to marry her instead after she was impregnated, the footballer  abandoned her and when she gave birth to a baby boy, she and her baby were never attended to by Mr. Sani Kaita. The lack of care has now led the abandoned lady to get worried over her welfare, so much that her lawyer  Mr. Tietie cited section 16(1A) of the violence Against persons prohibition Act, VAPP 2015 deals with the abandonment of children, spouse, and other dependants without means of sustenance.
The law itself states that "A person who abandons wife or husband, children or other dependants without any means of sustenance  commits an offence and is liable on conviction to a term of imprisonment not exceeding three years or to pay fine not exceeding N500,000.00 or both.
www.towncrier.ng gathered that the Ex-super Eagles footballer is a man with much financial standing in the society as he is currently based at Abuja.
The NAPTIP Director of investigation and monitoring  Mr. Josiah Emerole is reportedly said to have confirmed having received the petition from Ms. Esther Emiola saying that "the petition has been forwarded to the appropriate unit of the  Agency for necessarily action."
The case if dragged before a court of competent jurisdiction, may convict Sani Kaita for a period of 3-years with a fine of half a million naira to be paid as deterrent to other people who may abandon their spouses.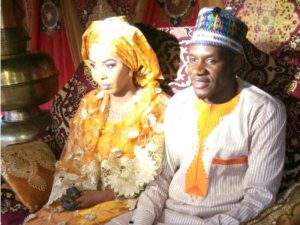 When contacted the spokesman of NAPTIP Mr. Vincent Adekoye told www.towncrier.ng that "actually we received the petition on 14th of February, 2019 and immediately swung into action and we discovered that the petition does not fall under our mandate as they were not legally married as specified by section 16(1A) of the violence Against persons prohibition  act, VAPP 2015 that covers married persons. So, we directed them to seek further legal redress outside."