Rivers APC 2019 Governorship Tussle: Exposed- Real Reasons Amaechi Don't Want Abe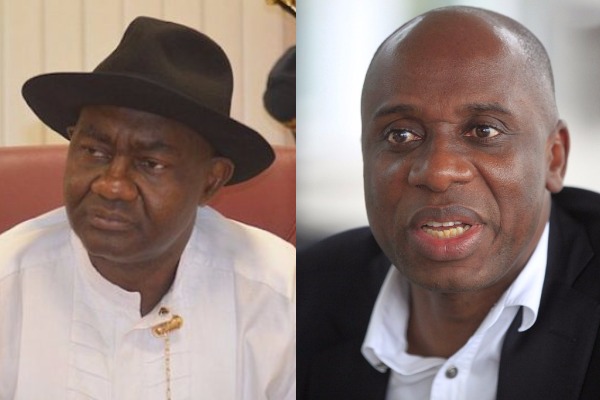 Prior to 2018 there has been altercations between the leader of All Progressives Congress-APC and the Senator representing Rivers South East District Distinguished Senator Magnus Ngei Abe a front line governorship aspirant over who gets the All Progressives Congress –APC Rivers state candidate ticket. First it was gathered that Chibuike Rotimi Amaechi did visit Senator Abe at his Abuja residence sometime ago where he told him point blank that he does not have the money to pursue his governorship ambition. And it was reliably gathered Amaechi advised Senator to rescind his decision to run for Rivers state Governorship election.
www.towncrier.ng also gathered that Amaechi made the only option of zoning the governorship to riverine coastal community of Kalabari unilaterally without the contributions of other stake holders of the party in Rivers state. Hence in 2018 he the Transportation Minister conveyed a Meeting at Lagos where he told some Rivers Ijaw indigenes with the following politicians in attendance: Dr. Sekonte Davies, Prince Tonye Princewill, Barrister Dumo Lulu-Briggs, Dr. Dakuku Peterside, Pastor Architect Tonye Cole and others from Kalabari land. In that meeting Amaechi was quoted as having explained to them that anyone who wants to vie for the APC Rivers state Governorship ticket must have liquid cash of twenty billion naira –N20B for electioneering campaign. And that he made it open by asking Dakuku Peterside. Do you have twenty Billion naira cash to execute this project and Dr. Dakuku answered 'no'. Thus he disqualified himself from that meeting. Then it was the turn of Barrister Dumo Lulu-Briggs who was asked "Dumo. Do you have N20B cash to execute the Governorship campaign project? His answered was "Yes" but not all in liquid cash but some of the amount of money in assets. He was told that it is either liquid cash or nothing. It was the turn of pastor Architect Tonye Dele Cole who was asked " Tonye Cole. Do you have N20Billion to execute the Rivers state APC Governorship electoral Campaign as the incumbent Governor is rich enough to do anything to win the election? Tonye Cole it was reliably gathered answered "Yes, I have N60Billion cash".  And it was a vintage Amaechi who echoed it to the meeting that they should go back to Rivers state and support Tonye Cole for the project at hand.
But Chief Eze Chukwuemeka Eze, the Media Consultant to the Minister of Transportation has offered reasons why Chibuike Rotimi Amaechi never supported the Governorship aspiration of his friend and political ally Senator Magnus Ngei Abe. He said "Most of Abe's associates in the Reformed  APC that include Barry Mpigi, Senate President Saraki,  Speaker of House of Representatives , Yakubu Dogara, Governor Tambuwal of Sokoto state, Senator Kwakwanso have all formally joined Governor Wike  in PDP while asked Abe to stay back in APC to do the dirty task of destroying  the party." Continuing Chief Eze Chukwuemeka Eze said " Not minding all that Abe has done to destroy APC by joining forces with Wike and other external forces to carry out his dastard acts".  Eze claims that Abe is not relenting to ensuring that the leader of the party in South-South, Rt. Honourable  Chibuike Rotimi Amaechi is destroyed. Eze Chukwuemeka Eze queried "Not satisfied with all the above he has joined forces to connive and conspire to disparage and defame the Minister of Transportation and Director General of Buhari/Osibanjo Presidential Campaign Organization Rt. Honourable Chibuike Rotimi Amaechi. Abe and Wike are plotting to use the former Cabinet members of Amaechi when he was Governor of Rivers state to tell fake concocted and distorted  stories to the media that are meant to denigrate him, impugn his unblemished integrity and paint very terrible  image of him to  members of the public".
But Senator Magnus Abe has a reply to all the allegations against him by Chuibuike Rotimi Amaechi saying " I know that in the course of our disagreement , I have not had any chance to speak with you  and I choose to do so now in the light of many allegations you made against me in the presence of the national Chairman of Our party Comrade Adams Oshiomhole, Alhaji Farouk Aliyu, a valuable friend and colleague, His Excellency Alhaji Wammako, the former Governor of Sokoto State, and Hon. Braimah, Chief of Staff to the National Chairman.
"You said that I arranged for my associates to write a petition against you and your wife to the British Police. My response is that not only is this allegation against me false but you knowing it to be false. You had earlier told Governors Lalong and Bello that I, Magnus Abe wrote the petition against you to the British Police , so your modification of your  earlier allegation to now  say it was my associates is an  acknowledgement that your earlier position is unsustainable. I have never and will never go that far whatever may be our issues, not just against you but against any other politician, neither will I allow anyone else to do it , if you have any evidence to the contrary please bring it forward and I will withdraw  from the race. You said I am a serial betrayer and that I betrayed Chinwe Aguma, our late Attorney General who was buried just a week previous to this meeting, and you also cited the case of someone standing trial for what happened during my elections that has been abandoned by me. Both stories are also false to your knowledge. For one, the trial relates to an incident that occurred in Port Harcourt outside my senatorial District and it is not election related. Tor the other I was shocked that you drag the name and memory of a friend who just so recently passed away into the midst of our party politics. However you said they should ask Igo Aguma his younger brother who is with you and who told you that I betrayed Late Chinwe. I will supply the phone number of Hon. Igo Aguma for anyone to call him and ask Igo to give the details and particulars of this betrayal for public  consumption. Till that happens I will respect the memory of my late friend and hold my peace. Chinwe was never a pretender, and no one could have used him to settle their persona;l political score if he was alive".
Pastor Architect Tonye Cole               Dr. Sekonte Davies
Continuing in his Open Letter To Chibuike Amaechi Senator Abe said "You said I deceived you into appointing Mr. Derek Mene as executive Director in NDDC. I did not deceive you. I merely reminded you of the promise you made to me that in the event of an APC victory in 2015 that my interest in the national government will be placed above every other interest. That clearly has not been the case. It was when I reminded you of that promise that you conceded to the appointment of Mr. Mene. I do not see how making an effort to keep a promise you made voluntarily and without preconditions can be said to be deceit.  You said I am working with Governor Nyesom Wike against the party and you mentioned two things to buttress your allegation.
First, you said that when people went to court to protest against the High Court ruling in the case filed by disenfranchised party members in Rivers state, Governor Wike brought the Judge to the Court in his car and stood behind the Judge while the ruling was delivered. You quoted two senior police officers as your witnesses. This is of course a lie. You also said that |Hon. Barry mpigi  told you that Governor Wike gave me 34 million naira for my thanksgiving. This also is a lie from the pit of hell.I invited Governor Wike to my thanksgiving service for  two reasons, one was because you chose to host  a parallel event against me on the same day and second  because I am an Anglican and my Archbishop who was to preside at the service called me and asked me in the name of God  to forgive the Governor and invite him. Wike did not give me a kobo to host the event and I have never received 34 million naira from Wike. I am convinced that even at the time you were saying that you knew that was not true. Governor Wike did not give you any money to hoist Free Rivers event in Bori the headquarters of Ogoniland on the day I was holding my thanksgiving, neither did Wike take decision to disenfranchise party members and refused nomination forms to party members who paid money to have the party to contest for positions in the congresses. To continually drag Wike's  name to the crisis created by deliberate acts of injustice to others, is nothing but a  cheap smear campaign. It will surely fail".
Dr. Dakuku Peterside                                 Dr. Dawari George
Prince Tonye PrinceWill                               Barrister Dumo Lulu-Briggs
But Senator Magnus Abe remains resolute in his quest to grab the APC Governorship ticket in a Direct primary election one which the result has not been predetermined or compromised as he would not participate in such an arrangement instead he opted for a Direct Governorship Primary where members of All Progressives Congress -APC will  be allowed to choose a candidate for the 2019 Rivers state Governorship election.