Unknown Gunmen Attack Nigerian Air Force Landing Helipad at Igbogene, Bayelsa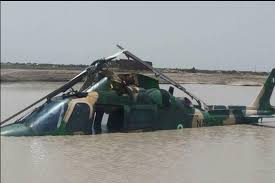 ...Security Beefed Up Around Helipad
Following the attack on the Airforce landing site at Igbogene, Yenagoa in Bayelsa state in the early hours of Sunday May 13,  by unknown gunmen, tight security has been mounted around the helipad by the Airforce personnel.
Reports from Igbogene this morning of Monday May 14 have it that Motorists and pedestrians passing around with neighbourhood of helipad were thoroughly frisked by polite but stern looking armed security personnel.
A statement by the Director Public Relations of NAF, Air Vice Marshall Olatukumbo Adesanya, who confirmed the attack said the attack took place in the early hours of on Sunday May 13.
He said the unknown gunmen attacked the Guard Post of Nigerian Airforce Helipad at Igbogene Yenagoa.
NAF disclosed that its Personnel on guard duty however warded off the attack after exchange of gun battle. It did not state whether there was casualty during the attack.
Read Also: Snail Seller Meets Her Longtime Customer Who Is Now A State Governor
Meanwhile, the Chief of Air Staff Air Vice Marshall Sadiq Abubakar has directed immediate investigation into the circumstances that led to the attack and other circumstances surrounding the incident.