Midnight Market fire in Rivers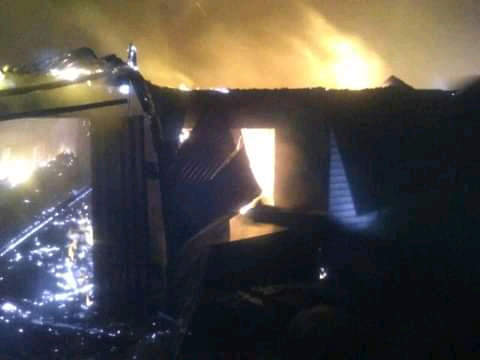 Goods worth millions naira destroyed, no casualty
BY IBRAHIM BAKARE
Traders at the Bishop Okoye Street in popular Mile three Market in Port Harcourt City local government area of Rivers State, were seen today, Saturday February 20,counting their losses after a midnight fire on Friday gutted about 15 Shops and their content to ruins.
Some distraught Traders were seen crying and complaining to nobody in particular about their loses.
Several goods worth millions of Naira were lost in the fire. So far, there was no casualty recorded.
The source of the fire remained unknown.
An Eyewitness who gave her name as Madam Ebere Onu, told our Correspondent that significant among those who lost their goods is a dealer on grains who had previously offloaded three trucks loaded with rice and beans but lost everything in the fire.
Another Eyewitness, Nelson Tasie, the immediate past Chairman of Goat meat Sellers Association in the area said the Officials of the Rivers State Fire service arrived the scene but they were unable to put out the fire because they ran out of water.
At the time of filing this report no government official had visited the scene of fire incident.
Our Correspondent, however, recalls that a similar fire disaster had occurred after an explosion on Saturday night of January 23, at Adros Gas Plant, Off Airport road, Rumuodomaya, in Obio-Akpor local government Council area.
The local State government firefighters who were located a distance less than two minutes drive from the Gas Plant were unavailable to put out the fire but for the efforts of members of the community.
Unfortunately, three persons who were trapped inside the plant at the time of the explosion later died at the University of Port Harcourt Teaching Hospital, UPTH.
It has also been found out that despite the inauguration of two fire Service Stations and the provision of two firefighting Trucks,with one located almost opposite the Obio-Akpor Council Secretariat, which is about a minute drive to the Gas Plant, and another located inside Obio-Akpor International Market, less than two minutes drive none of the fireman were available during the inferno..
As at then, the Chairman of Obio/Akpor Local Government Area, Solomon Abel Eke, confirmed that the workers of the council's fire service were unable to respond to the incident, because none of them were unavailable to respond to the call of duty that night.
The remains of a cross section of the burnt shop of Bishop Okoye Street in Mile three Port Harcourt after the Friday February 19 night midnight fire.