Abductors Demand N10 million ransom for one Bonny 4 –Jane Hart, Daughter of one of the Abducted Bonny Four cry for help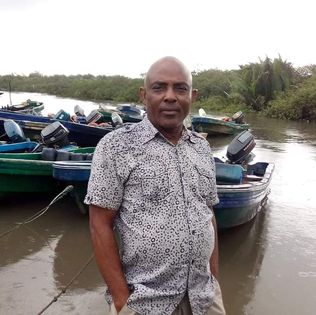 *Kidnappers are torturing my father and threaten to kill him if we don't pay,and we don't have it.
BY IBRAHIM BAKARE
Exactly one after gunmen stormed a funeral ceremony and Kidnapped four men in Bonny Local Government Area of Rivers State,daughter of one of the four men abducted Jane Hart says the kidnappers have contacted her family and are now demanding ten million naira ransom for the release of her father.
Gunmen suspected to be kidnappers had stormed a burial ceremony on Saturday, September 12, 2020 at Finiapiri-Ama (Ama-Uda), Banigo Isile-Ogono in Bonny local government area spraying bullets, the whereabouts of four prominent persons abducted remain unknown.
It is unclear if the families of the three other men who were abducted at Finiapiri-Ama (Ama-Uda), Banigo Isile-Ogono have also been contacted by the abductors.
But Jane who spoke to journalists amid tears in Port Harcourt said her family is at a loss on how to raise the money.
She appealed to the Rivers state government to liase with Security Operatives to ensure the release of her father and the others unhurt.
She said, "This morning they called and said they were beating up my dad. They demanded for N10 million. I don't know what to do. We don't have anything. I'm begging the government and people of goodwill. They are torturing my dad".
Daniel Dagogo Hart, kidnappers demand N10 million ransom.
Meanwhile, the spokesperson of the Rivers State police Command, SP Nnamdi Omoni says the command is working round the clock to ensure the release of the victims unhurt.
According to reports from Bonny Island, the prominent persons abducted include ; Sunny Hart, Daniel Dagogo Hart, Theophilus Ibiama and Thompson Micah Allison.
The four abductees.
The Gunmen who were on a kidnapping mission as later confirmed by the Chairman of Bonny local government area, David Rogers Irimagha,claimed that he was the target but narrowly escaped boarding on a waiting boat wading through the labyrinths of intertwining creeks and mangroves.
In an interview with a Port Harcourt based radio station, Irimagha stated that he was the target but when he was able to slip out of their hands they went for other personalities.
He called on security agencies to redouble their efforts at rescuing the victims alive by tracking down the kidnappers.
Also,Mrs Ibifiri Hart, Wife  of Daniel Dagogo Hart, visibly depressed woman explained that "On Saturday my husband dressed up and went out for the burial at and later in the day we found out that he was not returning, and people started calling me to ask me if his in the house."