Host community of multinational oil coys in Rivers issues 7 days quit notice to Cultists, kidnappers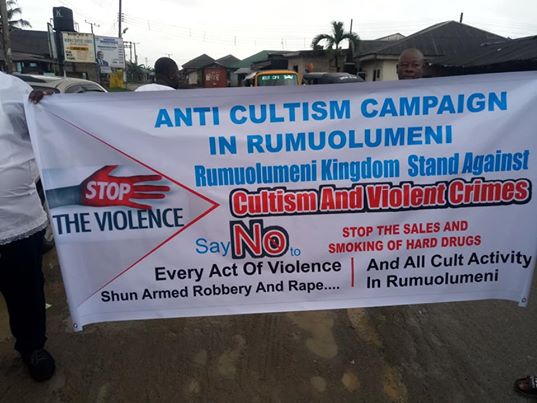 Stages anti-cult, anti-kidnapping campaign march round  the community 
… Over Seven persons killed less than one month over cult war
Due to  consistent violent cult gang attacks on the Rumuolumeli Community in Obio-Akpor local Government Council area of Rivers state, which is the host community to multinationals like, the Agip Oil Company, Saipem and others, it has issued a seven-day ultimatum to Cultists, kidnappers and dealers of illicit drugs in area to pack out of the community or face the dire consequences.
The Chairman of the Community  Development Committee, CDC, Sunny Odum, announced this when he led an anti – cultism campaign march round the community today.
He told our Correspondent that the community, which was once very peaceful months and years back has recorded over seven deaths in the last one month due to Cult related gang attacks.
He said if not checked, and decisive communal action taken, management and staff of multinationals could be put to flight and youths, the Community and government would be worse for it.
"We had all sorts of killings in the last one month. A day for that reason the community has come together in large numbers and march round all the nooks and crannies to issue a Seven-day ultimatum to Cultists and those who have been involved in various criminal activities to leave immediately because after seven days whatever see they will take.
"We are in synergy with the security agencies in the state of the affairs in our community, to flush out the criminals. Those who have been dealing with illicit drugs and guns fall into the category of those who should leave our community." Sunny Odum vowed.
On his part, Hon. Prince Solomon Abel Eke, the  Executive chairman of Obio/Akpor local government area, during the campaign admonished youths of Rumuolumeni kingdom to shun social vices and ensure that peace reigned in the area.
The Chairman praised their peaceful disposition as host community towards multinationals and businesses operating in the area. He urged the youths to close ranks with other traditional organs of the community, shun social vices and ensure that peace is paramount in the area.
" We have no other place to call home other than Rumuolumeni and as such all hands must be on deck together with the Chiefs, elders and residents to ensure that peace and propensities is maintained. The youths of Rumuolumeni have been very hospitable to businesses and multinationals operating in the area and I must commend you for that. I urge you to avoid harmful substances and other social vices that are inimical to the progress of the area." He said.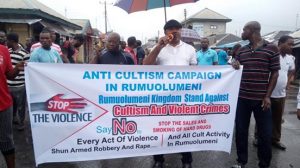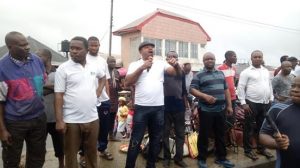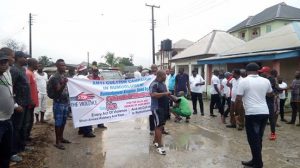 The campaign which comprised of a road show and peaceful procession across the length and breadth of the community was well attended by residents and representatives of various organs of the community.
The Awareness Team paid visit to the Palace Of Paramount ruler of the Rumuolumeli kingdom,  HRH. Ndubueze Orlumeni XI JP, The Paramount Ruler Of Rumuolumeni Kingdom thanked the CDC Boss Of Rumuolumeni Comr. Odum Sunny And His Team For A Successful Campaign Against Cultism And Other Social Vices.