Justice for late Chima and Ikokwu 5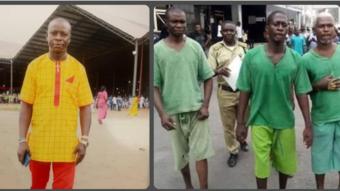 Federal High Court orders Police to release Autopsy report to late Chima Ikwunado's family
A Federal High Court in Port Harcourt has directed the Police authority to give the autopsy report of the late Chima Ikwunado, Auto-Mechanic who died in the Rivers Police E-Crack detention to his lawyers, before the next adjourned date of the case.
The presiding Judge, Justice James Kolawole Omotosho, gave the directive when case come up for hearing in Port Harcourt on Thursday February 27.
The Lawyer to the Ikwunado family and the four Ikokwu traders, Princess C. Lawrence, told Journalists that two cases were filed against the Police.
The first was on the fundamental human rights brought by the late Chima's wife, Adaugo and his father, Elder Kevin Ikwunado and the four Ikokwu traders against the Police and the second one is a criminal matter as it concerns the fact that Chima died in the custody of E-Crack Police squad and the four Ikokwu traders and because of that they need the autopsy report for the case.
According to the Counsel to the late Chima Ikwunado's family, Princess C. Lawrence, "the State Counsel was not around when the matter come up in Court but later showed up and the court ordered him to give us the autopsy report and if they did not give us the autopsy report, it will taken that the autopsy report was against the Police and they are trying to hide something and I believe that they will go give it to us. The autopsy report is a public document and we are supposed to get it as we have applied for it."
However, the State Counsel, Alibi A. Jonah ,who made a conditional appearance for the first to third respondents, who are the Inspector General of Police, Assistant Inspector General of Police Zone 6 and Commissioner of Police, Rivers State, they asked for more days to look look at case file, all the necessary processes but, "we have studied the case and from our own view, we have seen that the application is incompetent and we will formally inform the court for the next adjourned date."
The Court adjourn the case to 10 March, 2020 for the proper hearing of the matter.
Meanwhile, the Ikokwu traders are wondering why Chima's case has been differently judging from the quick response of the Police hierarchy and Governor of Ogun State who visited the family of slain footballer, Tiamiyu Kazeem, who died in the hands SARS officers under one week that the incident happened and had even sacked the Officer who was culpable, but up till now no statement has been made for Chima's matter even though it has dragged on for about three months.
Chairman for Ikokwu market traders union, Anthony Iwu Alaribeole, asked Government to treat the late Chima Ikwunado's case and the Ikokwu traders with equal attention and let it not be assumed it is not important as all of them are Nigerians so they are supposed to show the same concern on the case.