NIGERIAN ARMY, FEDERAL SPECIAL ANTI- ROBBERY SQUAD-F-SARS NOT INVOLVED IN ELECTION MATTERS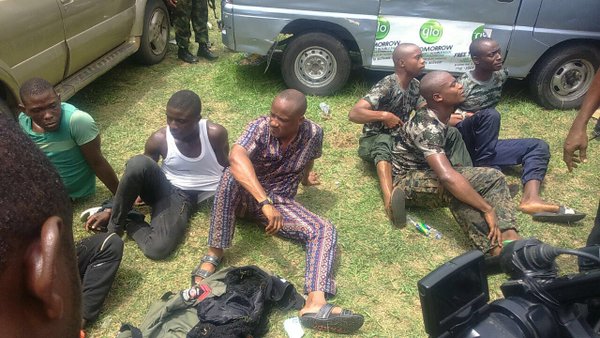 The Nigerian Army and its sister agencies such as Federal Special Anti Robbery Squad-F-SARS have been known to discharging their duties professionally in protecting lives and property of citizens. And the Niger Delta region not been an exception remains the hot bed for civil unrest as elections conducted in such areas have also become aligned to killings and maiming of innocent citizens. This being that the politicians in the Niger Delta region have seen elections as a do or die business in which they arm their supporters with dangerous weapons to unleash mayhem to their political opponents.
www.towncrier.ng weeks before the February 23rd 2019 Presidential Election got reports how some unscrupulous politicians attempted smuggling military uniforms in Shipping containers which were seized by men of Nigerian Customs and Excise  at Aba –Port Harcourt Expressway along Owerrinta  in Abia state. Again at Onne Federal Ocean Terminal FOT seaport in Rivers state another set of military uniforms were seized.
Had those military uniforms been allowed to enter into Rivers state, civilians would have put them on and disguised as Army personnel just to disrupt the elections and bring the reputation of Nigerian Army and Federal SARS into disrepute?
Hoodlums usually engage with politicians for handouts and at the same time expect political patronage from their sponsors.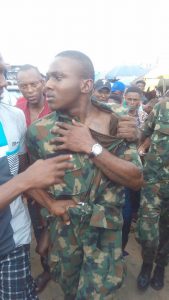 The coming of Major General Jamil Sarham as General Officer Commanding GOC Division 6 of Nigerian Army in charge of the Niger Delta region changed the business as usual by politicians who in one way or the other use social miscreants arm them and deploy them to hijack electoral materials and undo due process at electoral collation centers as witnessed during the March 9th, 2019 Governorship election and state House of Assembly elections. But Major General Sarham introduced strategies alien from that which politicians were used to and he achieved results that checkmated the antics of the politicians in Rivers state and other Niger Delta states of Akwa Ibom, Delta, Rivers, Bayelsa and adjoining states. First, he reoriented the soldiers under his command on how to relate with the civilian populace. Prior to the election proper he released two vital documents titled "Code of Conduct" and "Rules of Engagement" which he also briefed the journalists in the areas to help sensitize the people on how best to conduct themselves before, during and after the General elections. He alerted journalists through the Army Deputy Spokesman at 6 Division, Colonel Aminu Illiyasu on how to dictate fake Army personnel. Its special trained plain cloth officers before the Presidential and Governorship elections mopped up suspected politicians who with intelligent reports were susceptible to cause mayhem in the states aforementioned. For example the politicians some of who were arrested with balloting materials including a serving Commissioner Dr. Reason Onya and a member of Rivers state House of Assembly were arrested and handed over to Nigerian Police for prosecution.
Others such as Dr. Gabriel Pidomson, Tamunosisi Gogo Jaja and Dr. Fred Kpakol were all kept under watch by the Nigerian Army as a way of making sure that there was no report of breach of the peace in their domains. For Federal-SARS it's Rivers State Commander Assistant Commissioner of Police-ACP, Barrister Akin Fakorede, prior to 2019, in November 2015  arrested suspected armed robbers  Charles Emesiobi Nwaoepi 27 years, GoodNews Kejeh 25years, and Goodluck Wobo  27 all from Emohua local Government Area who are usually used for electoral misconduct. By the time they were arraigned before Rivers state Magistrate Court and later their case files returned to Director of Public Prosecution I. Otorubio had their case quickly recommended for acquittal and discharge from all the allegations. But ACP Akin Fakorede insisted on having the trio tried at Federal High Court Port Harcourt Judicial Division were they found guilty of illegal possession of Fire arms and conspiracy and jailed for 10-years and 7-years.
For members of the Nigerian Army, the March 9th governorship election resulted to the assault of two army personnel Captain Adams Salami and Corporal Adeosun Adebayo who were shot at close range at Rumuodumanya Headquarters of Obio/Akpor Local Government Area while they were on electoral Duty.
At Abonnema, Akuku Toru LGA, prior to Presidential election on 23rd February, 2019. An Army captain lost his life while on electoral Duty as others were shot dead at the same LGA.