NSCDC Arrests 13 suspects over stolen PHED Transformers, cables, Petroleum products in Port Harcourt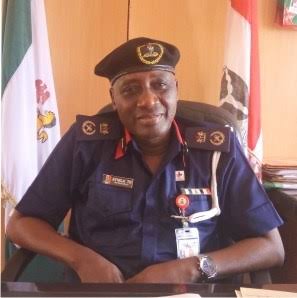 The Nigerian security and civil Defence Corp Rivers state have paraded 13 suspects alleged to have been involved in stealing Port Harcourt Electricity Distribution, PHED, Transformers and cables in Port Harcourt.
Speaking to journalists while parading the suspects, the Rivers State Commandant of NSCDC, Muktar Lawal said on the 7th of February 2020, 7 Suspects were intercepted with an enclosed long truck loaded with suspected vandalized PHED facilities along the D-Line axis of Port Harcourt.
According to the Commandant, "on 7th February, at about 0024hrs an enclosed long truck with Registration Number LAGOS APP 06 XF loaded with suspected vandalized Power Holding facilities was intercepted along D-Line GRA, Port Harcourt and 7 Suspects were arrested with the following: 13 drums of suspected Transformer Oil, 5 suspected Step down Transformers, one 200KVA transformer, 2 rolls of suspected transformer cables, 2 bags containing suspected bolts and 48 suspected Fiber Larders used for vandalism".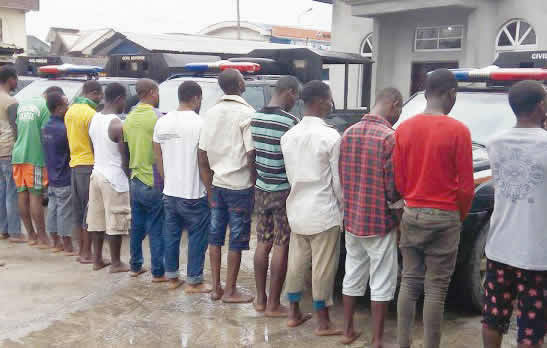 Also, Commandant Lawal said the command also arrested 6 other suspects on 30th January and 5th of February 2020 at Elele and Igbo-Etche, with suspected illegally refined AGO stacked in about 110 cellophane bags and long truck conveying unquantified amount of suspected Petroleum products.
He said, "on 30th January 2020, an open-body pick-up van with registration number BAYELSA XB 325 KMR conveying suspected illegally refined AGO stacked in about 110 cellophane bags was apprehended with 3 suspects at Elele in Ikwere LGA of River state.
"On 5th February 2020 at about 0245hrs, an open body long truck conveying unquantifiable amount of suspected petroleum product with registration number YOBE TO 234 YB and 3 suspects were arrested at Igbo-Etche, Etche LGA of Rivers State".
He said investigation is still on and warned that those involved in the act should desist or face the law, adding that the corp is empowered by law to arrest and prosecute according to the enabling Law that established it, adding suspects will soon be charged to Court.