Parents of Rivers students on foreign scholarships protest to Public Complaints Commission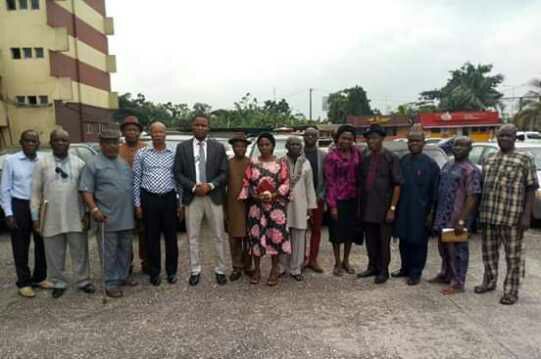 … Lament suffering of their children withdrawn from scholarships 
Parents of Rivers State students on foreign scholarships abroad sponsored by the Rivers State government under the Rivers State Sustainable Development Agency, RSSDA have protested to the office of the Commissioner of Public Complaints Commission, PCC, Hon. Marshall Israel, in Port Harcourt.
Aggrieved Parents  lamented  the uncharitable and inhumane treatment meted out by the Rivers State Government on their children on scholarships abroad and enlisted the support of the  Commission in the matter.
Recall that a few months into the administration of the Governor Nyesom Wike withdrew and terminated the scholarship programme of some Rivers State indigenes who were beneficiaries of the State sponsored RSSDA foreign scholarships scheme granted by previous administration of former Governor Chibuike Amaechi  on alleged economic grounds.
This sad development left the students stranded abroad without funds to cater for themselves or find their way back home to Nigeria, thus, imposing huge financial burdens on the parents of the students who now have to fend for their children by themselves.
According to a parent who pleaded anonymity, the students are in dire need of help as they are stranded over there without any means of survival.
"Our children are scattered all over Europe, America and the Caribbean's loitering around, stranded and in dire need of help. Some are in jail as we speak now, some have been forced into unpleasant menial jobs just to survive and the State government is not doing anything about bringing them back to us. We really need help, please help us."
In his response, the PCC Commissioner, Hon. Marshall Israel, expressed utmost empathy with the parents over their plight and assured them of the Commission's willingness to help them within the confines of the law.
"I am deeply touched by your plight. I can assure you that we will stretch ourselves and do all we can to intervene in this situation. "We will try and reach out to the State Government in respect to your pleas and establish a communication channel to enable us interface properly with the authorities." Be assured we will do the very best we can, to resolve the issue.
" The PCC is the Nigerian ombudsman and it falls within the  statutory obligations to attend to different shades of Complaints,  especially as it relates to members of the public. I advise you to formally document your petition to make it a working document for the Commission.
"As a responsible Commission, we do not base our investigations on just oral complaints and hear-say and as such we will have to hear from the government as well."The response of the State Government on this issue will guide and determine our next line of action. I urge you to exercise restraint and more patience while we follow up on the issue."
The PCC Commissioner is reputed to have resolved several lingering issues affecting members of the public through the twin instruments of dialogue and diplomacy.