HOW PMAN ABANDONED ME DURING MY SIX MONTHS SKIN CANCER SURGERY IN U.S.A- EX RIVERS STATE PMAN CHAIRMAN LADY IBITORU GREEN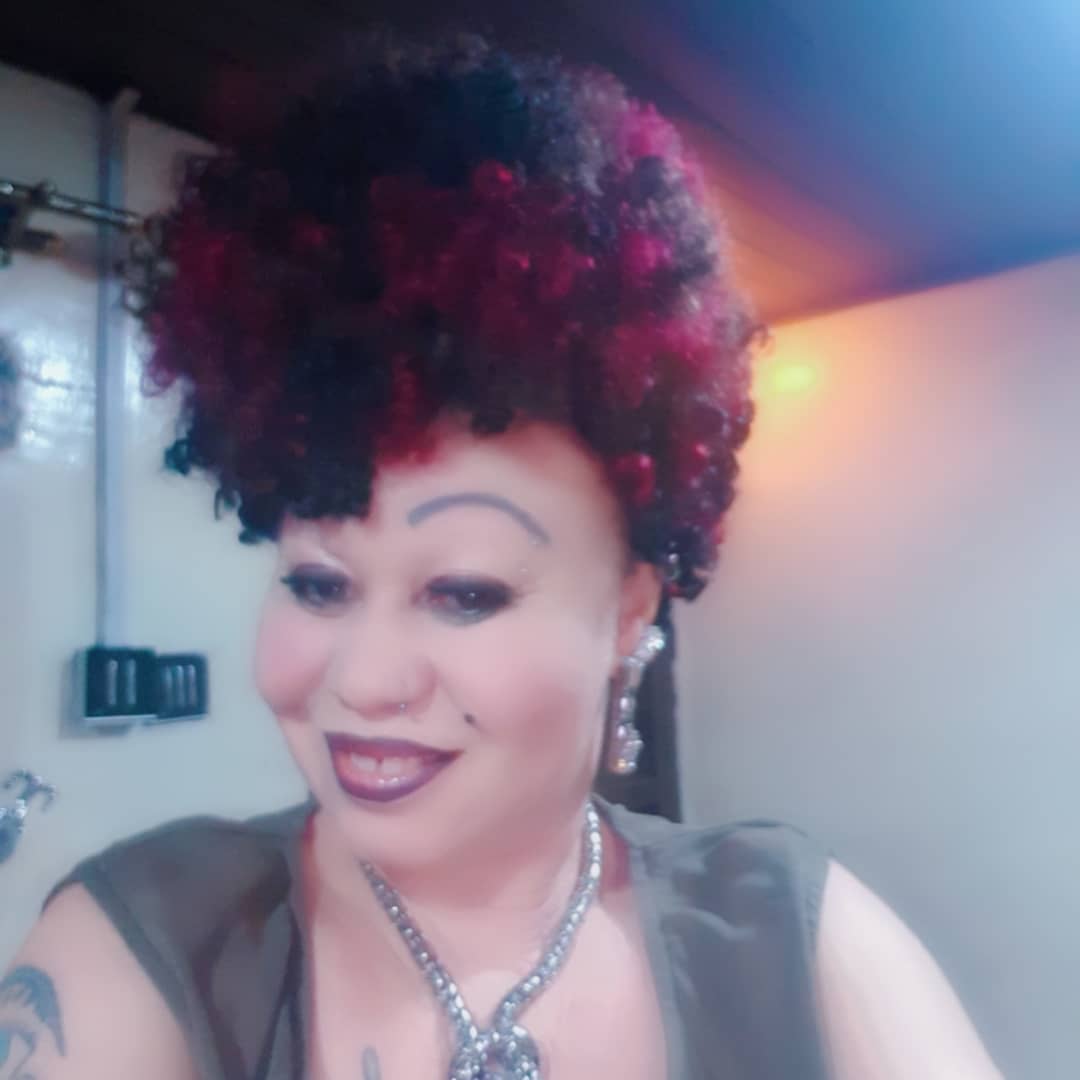 The social diva and songstress of the music genre- Rock 'n' roll cum funk ace musician Lady Ibitoru Green popularly addressed with her stage name Lady IB recently returned from California United States of America-USA after undergoing skin cancer surgeries that lasted for more than 24-hours.
The albino born Grand Bonny Island Rivers state Nigerian ace musician Lady IB is your every day lady who is vocal, focused and well groomed in her trade haven been brought up by music maestro Sierra Leone citizen but Nigerian based late Geraldo Pino has her showbiz business blossoming until she was diagnosed with skin cancer few years ago and by mid 2019 she visited California in United states of America-USA for treatment which led her to have been given first class medical remedy and she quickly recovered and back to her showbiz trade. On the eve of saint Valentine's day on February 14th, 2020 Lady Ib touched down her golden feet to Port Harcourt her home city after 6-months in USA.
On Tuesday, 10th of March, 2020 she granted an exclusive interview to www.towncrier.ng where she espoused her ordeals while treating skin cancer most especially how she was abandoned by her professional colleagues in the music industry Performing Musicians Association of Nigeria-PMAN who never assisted her both in words and in cash throughout her anguishing days in the hospitals in Nigeria and in united States of America.
EXCERPTS
Que: For some time now you have been out of Nigeria, where have you been to all these while?

I have been to United States of America USA California to be precise. I went there for surgery and it was about my skin cancer. I thought it was a minor one because I was working on my new musical album and I said okay let me go and take off the problem I was having on my face the skin cancer but when I got to California USA thinking that I will spend a month or weeks and I will be back unfortunately when I got there they even thought it was a minor cancer but when they opened my head they found out that it has spread to other parts of my body and that is the beginning of my problem as from one month I stayed for six months.

Que: How did you receive the news from your Oncologist that you have Skin cancer?

It was also a surprise to them as my eyes were opened they thought that it was going to be a one hour surgery but it ended up being a 24-hour surgery from 9am to 9 pm for 2 days as the surgeons were cutting and cutting off everything from a small wound to what you are seeing right now (opened and showed her surgery scares to the www.towncrier.ng for emphasize). As for me it wasn't a surprise to me because I have seen a lot of pains in my life before that I have done four major surgeries in Nigeria.

Que: Are they on the same problem or something else?

For one the same problem where here they destroyed it as no test was done…that was what caused the whole problem I did it in Nigerian Hospital where the hospital even caused the whole problem. But what do I do. The other one was Fibroid and the other was ectopic pregnancy. I have seen surgeries in my life.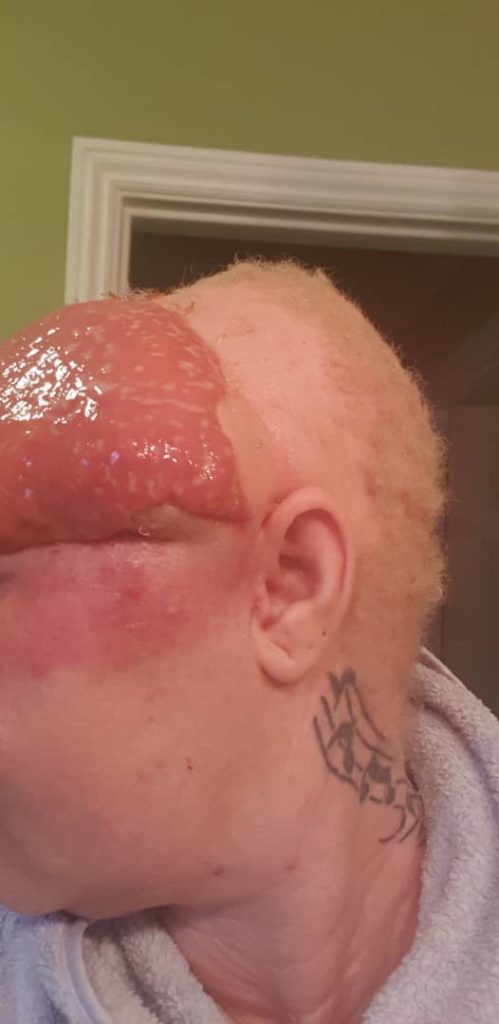 Que: The surgeries you went through in USA and the ones you had in Nigeria, what are the differences?
They are not the same in terms of equipment and care…in fact no comparison. In fact the love the health workers in USA give to patients will even cure you.
Que: The high cost of expenses being charged Cancer patients for treatment is among the cause of high rate of deaths being recorded, in your own case how was it?

I will never forget a name like the Current Minister of Transportation Rt. Honourable His Excellency Chibuike Rotimi Amaechi, God will bless him, Dr. Adol Dakuku Peterside ex NIMASA DG, Aunt Nene the love of my life, aunt Toru Ofili, Ms Data Amachree, especially Data Amachree, Jake Epelle National President of the Albino Foundation for People with Albinism, Dr. Sam Sam Jaja, Crown Prince of Kalabari kingdom Prince Engineer Tonye Princewill, Mr. Nelson who works with Senate of Federal Republic of Nigeria Abuja , Mrs. Ibiba Omotosho nee Inko Tariah, All Progressives Congress-APC Women who contributed, Honourable Engineer Victoria Nyeche ex member Rivers State House of Assembly and aspirant Federal House of Representatives Abuja in 2019 , Honourable Mrs. Aleruchi Cookey Gam ex Commissioner for Justice and Attorney General of Rivers state during Dr. Peter Odili's tenure in fact so many who stood for me. They all stood by me for the medical bills…God will bless them. But to be honest, entertainers in Rivers state disappointed me. Not one when I was soliciting for help when there was pressure not one musician came out and said okay let us contrite as a former Chairman of Performing Musicians Association of Nigeria –PMAN Rivers state Chapter who is our mama in Music Lady IB that's me …I am a mother in the music industry as far as Rivers state is concerned not even one thousand naira was contributed. If I didn't know all the Amaechis and all the rest what could have happened to me? For entertainers in Rivers state it is too sad. It is only when you die they will contribute for the buying of casket.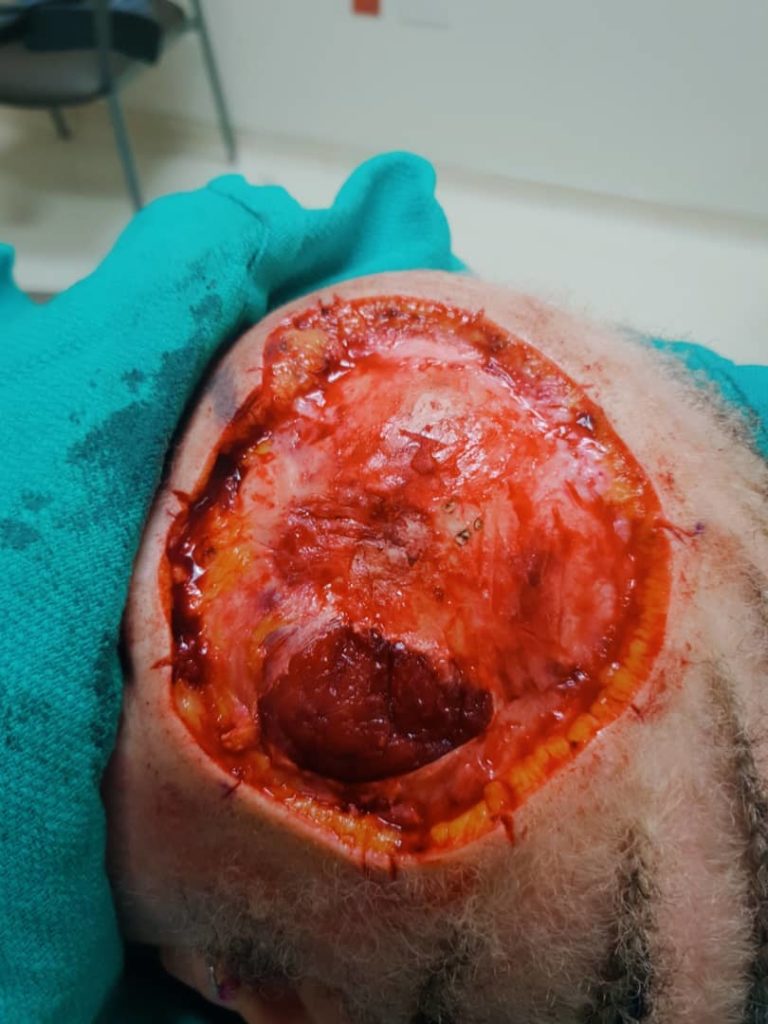 Que: Did you inform the Governor of the state His Excellency Nyesom Ezenwo Wike for financial assistance?

I sent him a text message and he did nothing and I saw him reading the message online. He was online.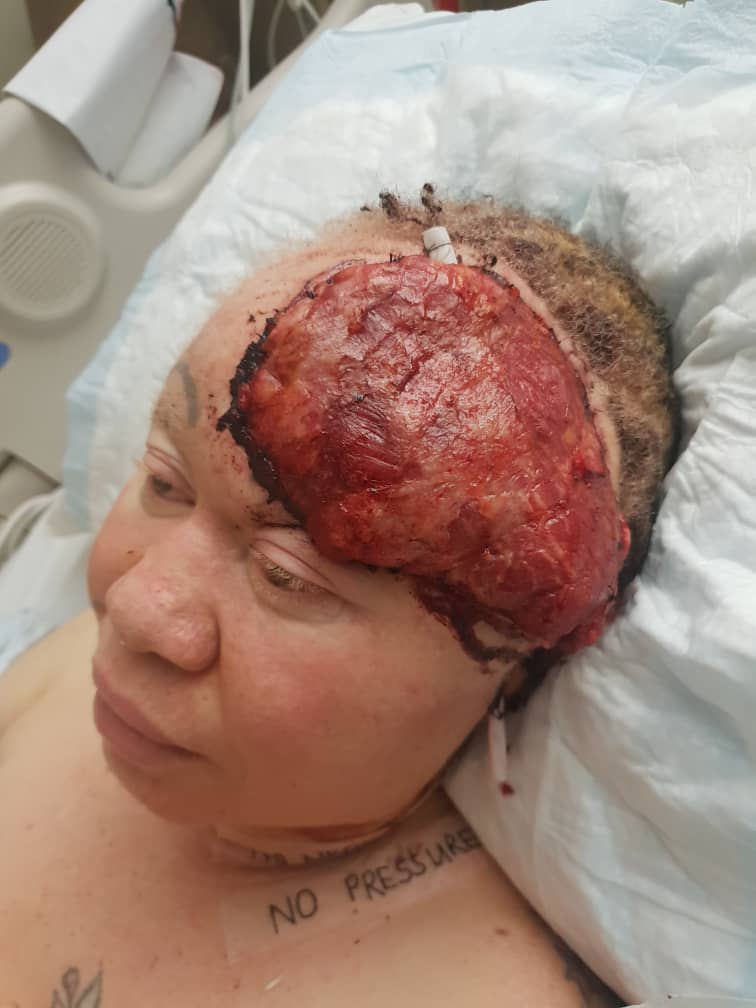 Que: Did you send a Letter of Appeal for surgery treatment abroad as a former PMAN Chairman in Rivers state?.

That is one thing that I hate …process and process I was in United States of America on medical emergence how can I send him a letter under such condition but I sent him sms text message and he did nothing till today. Also I won't forget Dr. Chris Onyirinda Amadi former Executive Director Finance, Administration of Niger delta development Commission-NDDC who bought me the air ticket that I used in traveling to United States of America –USA. Also Mrs. Soty Fulton owner of Tuby Jug outfit in Port Harcourt she stood by me. In fact I can't mention all the names of the people who contributed for me to be healed of my skin cancer surgery in USA.
Que: After 6-months in USA you are back to Nigeria, how about your continuation of Chemotherapy treatment?

Chemotherapy took off all my hair, it is painful a little bit out of 10 percent pains I will say I had 2 percent of it as I could manage the pains but it is the aftermath of it as you can see that my hair is gone , my eye lashes are all gone.
Que: let us talk about your National PMAN did you alert them about your predicament?

They are all aware. Nobody contributed even national and state chapter none of them contributed even Charly Boy. 'Oh so sorry' PMAN if they hear about your death…I am telling you money will come out for casket, money will come out for drinks, money will come out for the people that will dig the grave…and the cloth they will wear you.
Que: Let us talk about entertainment industry briefly, are back to showbiz?
Yes, I am back as that is what I do for a living. Yea, I am back to show business nothing will take it away from me I am back in full swing.
Que: What are you telling your fans out there to expect from you as your back to showbiz?

They should expect the best from Lady IB; I just want to get a little bit stronger and get back to the studio to finish my album as the radiation is still affecting me as soon as I get a little bit stronger I will get to the studio to finish my work on my album.
Que: In the forth coming musical album do you have any collaboration with any popular artiste?

I was about to do that before what happened …happened and for now not yet.
Que: When are we expecting your new musical album?

Just for now I can't say anything.
Que: Now music industry is a multi billion dollar earning industry…how does this affect the well-being of musicians in Rivers state?

How can they earn much as what they do is envying each other and betraying each other. For example somebody will call me and say I want you to come and play a show for me and that I will pay you say N100 and the next thing is somebody will go behind and say "don't mind her I can do it for N50", that is the Rivers state showbiz that we are in the entertainment industry back lashing each other.
Que: Most musicians from Port Harcourt when they relocate to Lagos they usually blow economically and career wise, why haven't you relocated?

I don't believe in that did Duncan Mighty move to Lagos to blow? He started blowing from here in Port Harcourt before he went to Lagos. Burna Boy started blowing here before he went to Lagos. All of them blew from here before they went to Lagos. Must I go to Lagos? Except you don't believe in what you are doing. There is a lot of so called recorded artiste but the money I earn they don't earn it. That is the truth as I have been there for the past 34 years. Is my house not looking good? With 3 cars in my garage.
Que: Let us talk about your relationship with Muma Gee are you still talking with each other?

Yes, we talk and we communicate even when I was in United States of America. Muma Gee communicated with me she even called to say sorry. Most artistes here didn't do that.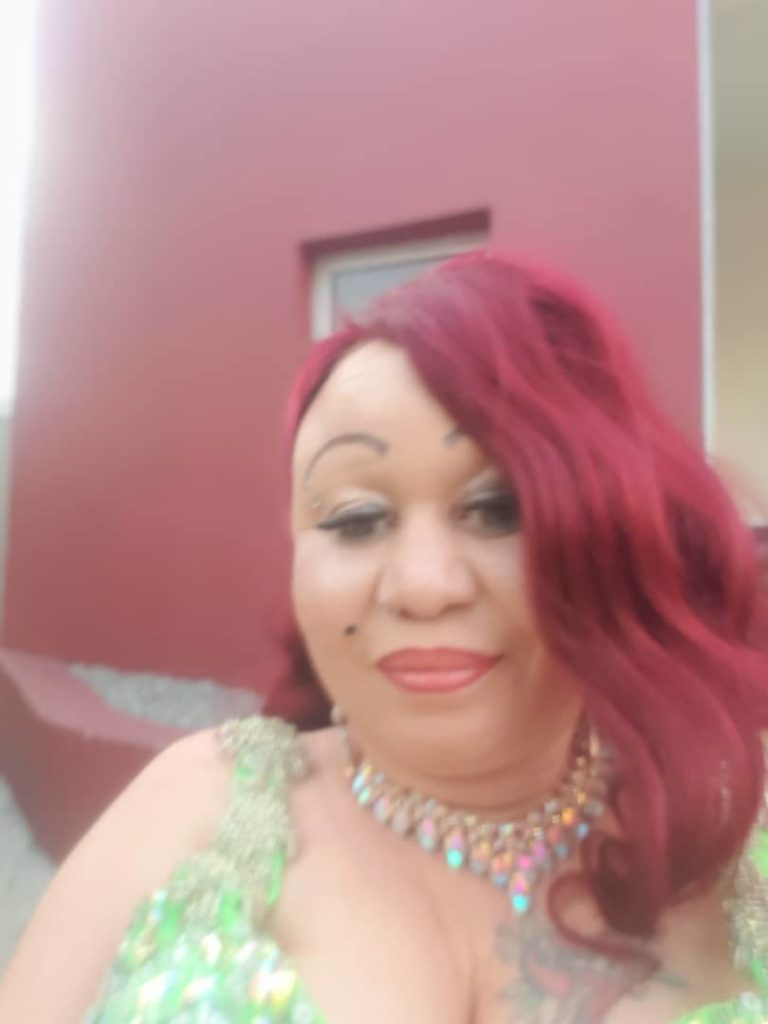 Que: After you dragged the PMAN Rivers state Chairmanship seat with her, you are on close contact?

We never quarreled for one day Muma Gee no matter anything she never stands to quarrel with me that is one thing I love about Muma Gee. If I attack her Muma Gee will never reply me. For that I respect her. Muma Gee upon everything will never challenge me and for that I respect her. She can reply any other person but as for me Muma Gee has never insulted me in my presence…oh no she has never. That was the reason why when she had marital problems I quickly sent her a message saying "Don't give the media the chance to laugh or mock at your circumstances …don't do that". And by God's grace she listened as she never went again to the media to talk about her ex husband I don't know if they have reconciled…I don't know if they are back but she never talked about it again…Because they may settle any day anytime.