6 DIVISION OF NIGERIAN ARMY CONCLUDES 2019 ARMY WEEK CELEBRATION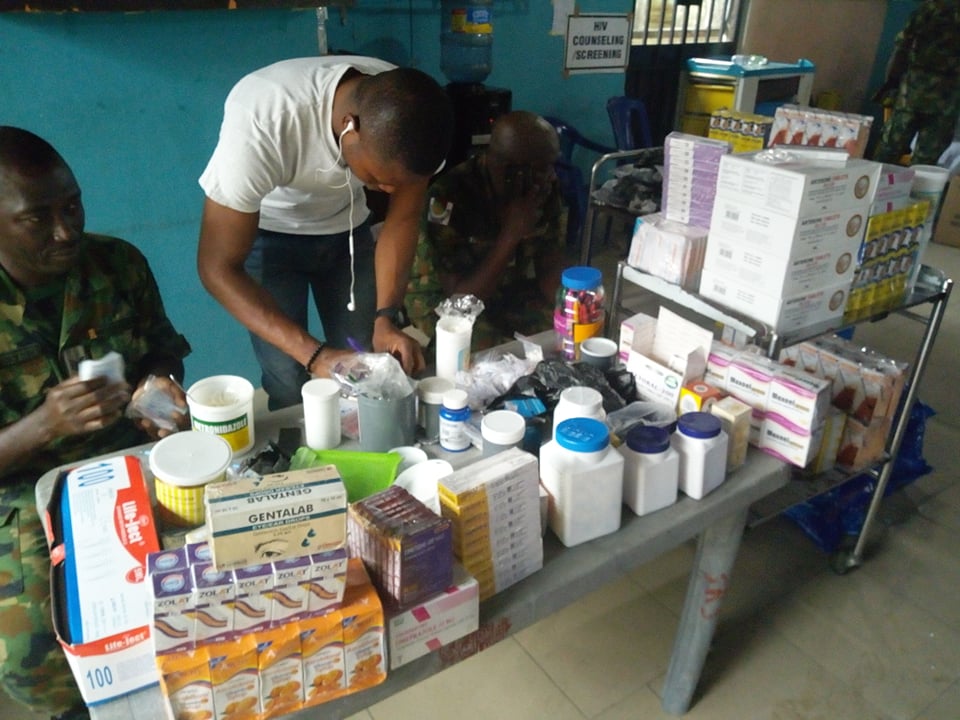 CALL ON CIVILIANS TO EMBRACE FREE MEDICAL OUTREACH PROGRAMME
The 6 Division of Nigerian Army with headquarters at Port Harcourt Rivers state Nigeria  in its efforts to carrying out 2019 Free Medical Outreach programme for its host communities defied the torrential rainfall on Wednesday 3rd of July, 2019 to attend to residents of Rumuokwurushe community.  The General Officer Commanding—GOC Major General Jamil Sarham who was represented by Lt. Col. Johnson Ogah, the head of the Medical services and hospital reiterated that the Nigerian Army has the well-being of the civilian populace at heart hence the conduct of Free Medical outreach programme designed to alleviate medical issues affecting civilians in and around its host communities.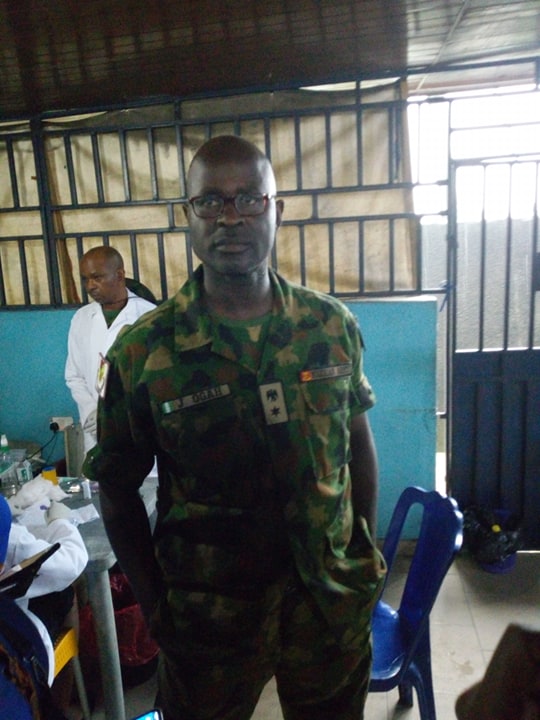 This time around the Rumuokwurushe Medical Centre played host to the Nigerian Army Medical team as the enthusiastic although sick residents trooped out in their numbers to benefit from the programme which included, test on Malaria, Eye examination, Blood Pressure Check-up, Blood sugar level regulation checkup and other clinical medical advice sort after by the residents.
There were referral cases to Military hospital Aba road Port Harcourt and to University of Port Harcourt Teaching Hospital especially cases of surgery and detailed culture of medical test procedures.
In his speech, Lt. Col. Johnson Ogah said "The Nigerian Army values the health of people of its host communities hence the outreach. The programme is in line with the vision of the Chief of Army Staff Lt. General Tukur Buratai to support good health of Nigerians." One of the beneficiaries Rita Madukwo applauded Nigerian Army for its magnanimity in organizing the free Medical outreach activity while requesting that it should be regularized for optimal benefits to her community. The Vice Chairman of Rumuokwurushe Nvike Council of Chiefs, Chief Nelson Wali also expressed happiness for the programme and explained that his people turned out in great numbers because of the use of towncrier in the various compounds of Rumuokwurushe.
Earlier before that  date on Saturday 29th of June, 2019 the Nigerian Army 6 Division organized Sanitation Day where at Rumuokoro Motor Park and Rumuokoro Market its members carried out sanitation and clean-up exercises where personnel of the division cleared debris and evacuated other waste materials as drainage's were also de-silted for proper flow of waste water.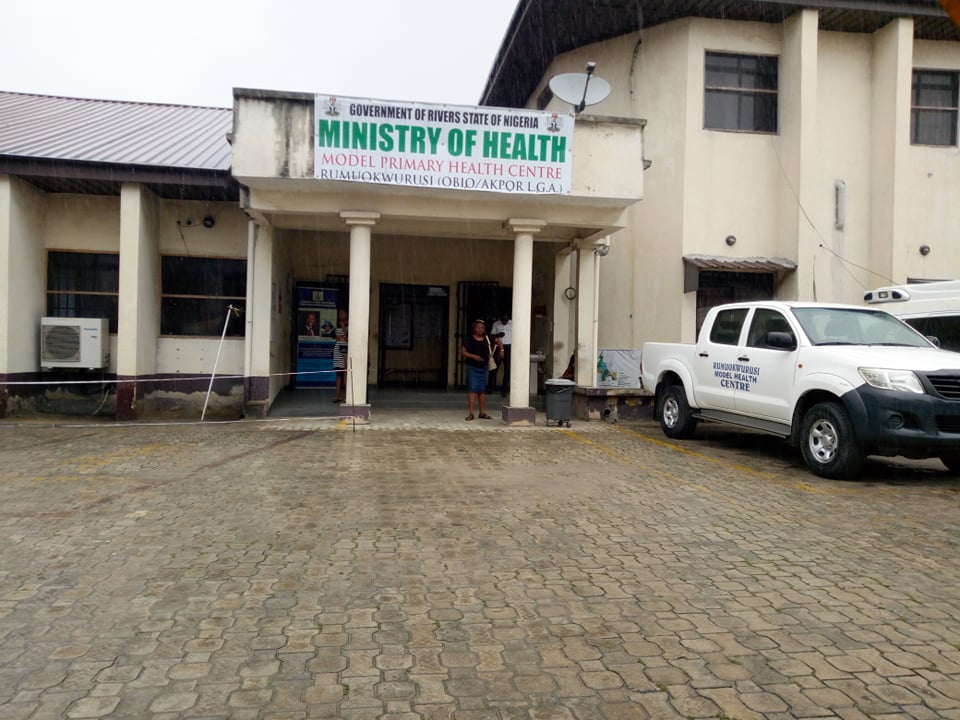 READ ALSO: GOC 6 DIVISION NIGERIAN ARMY-MAJOR GENERAL JAMIL SARHAM BAGS ECOWAS YOUTH COUNCIL AWARDS IN PORT HARCOURT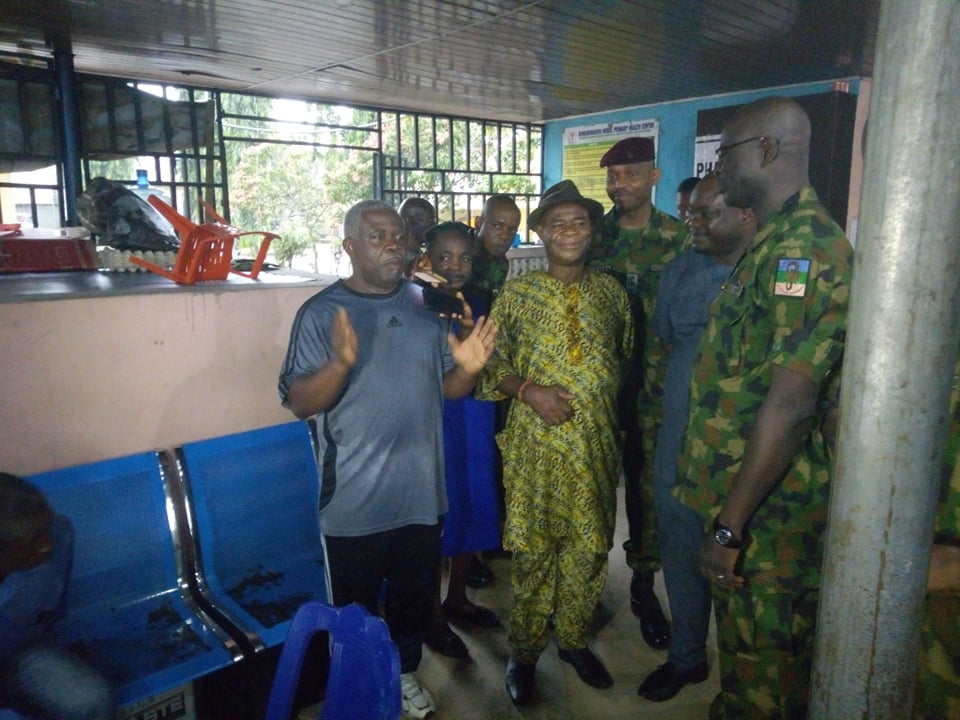 The Nigerian Army Week 2019 also had Sports competition held at the Division Headquarters Port Harcourt where various Command and Units participated in Football, Volley ball, Tug-Of-War et al. The Deputy Director Public Relations Col. Aminu Iliyasu in a Press release said "At the occasion, the GOC was represented by the Chief of Staff (COS), Headquarters 6 Division; Brig Gen Olatokumbo Bello described the event as a landmark that would bring together both officers and soldiers from various formations and units under the Division. He expressed the hope that the competition would also serve as an avenue to promote mutual cooperation and comradeship amongst the participants."