FLOOD: Okowa Visits IDP Camps
.. Dissolves Flood Committee At Kwale

… Restates Commitment To Welfare Of Victims

Delta  State Governor, Senator Dr Ifeanyi Okowa today, September 29 continued with his regular visit to holding camps where those displaced by flood are housed.
The Governor who was unhappy with the welfare situation at the Kwale camp, dissolved the Committee set up to run the Holding Camp for victims of flood at Kwale, warning that the welfare of the displaced persons should not be compromised.
Governor Okowa who visited the Holding Camps at Ashaka and Kwale in Ndokwa East and Ndokwa West local government areas of Delta State listened to the complaints by the flood victims at Kwale and said, "your welfare is of utmost importance to us while you are in Camp, your feeding cannot be compromised and I have ordered the Chairman of the main Committee that is managing the flood situation to dissolve the Committee and set up a new Committee that will have the Chairman of Ndokwa East local government area, Hon. Juan Guvnor to take over the running of the affairs of the Camp."
"Hon. Guvnor will set up a Committee that will comprise people from among you (victims of the flood) to run the affairs, I am confident that you have people among you who can effectively run the Camp," Governor Okowa said.
At the Camp at Ashaka, the Governor expressed joy that the place was neat, well organised and the children engaged in academic and social activities.
"We thank God that you have agreed to leave your communities, we share in your pains but, our greatest concern is for us to save life; it is good that the children are well engaged and I thank the Council Chairman for his efforts," he stated.
Commissioner, Bureau for Special Duties, Barr. Ernest Ogwezzy took Governor Okowa round the facilities at the Camps.
While more than 300 persons have been recorded at Ashaka, more than 800 persons were at the Holding Camp at Kwale.
In a related development, Delta State Governor, Senator Dr Ifeanyi Okowa yesterday (29/09/18)visited the Holding Camp at Emede, Isoko South local government area of Delta State..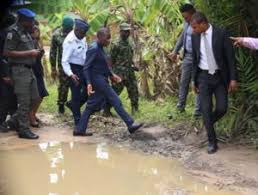 According to the governor, "we are happy that you (flood victims) are safe, we had a sad incident when the flood took over a community and a man who was blind lost his life as he was unable to swim to safety; so far, it was the only death we have recorded as a result of the flood and by the grace of God, such will not occur again."
"Though, the Camp may not be as comfortable as your homes, be relaxed as government is doing everything possible to ensure your comfort; after the flood, we will do our best for you to be properly resettled," he said.
Those who spoke during the visit, thanked Governor Okowa for taking proactive measures which has ensured their safety.