BABAFEMI OJUDU@60: THE JOURNEY OF A NIGERIAN POLITICAL IROKO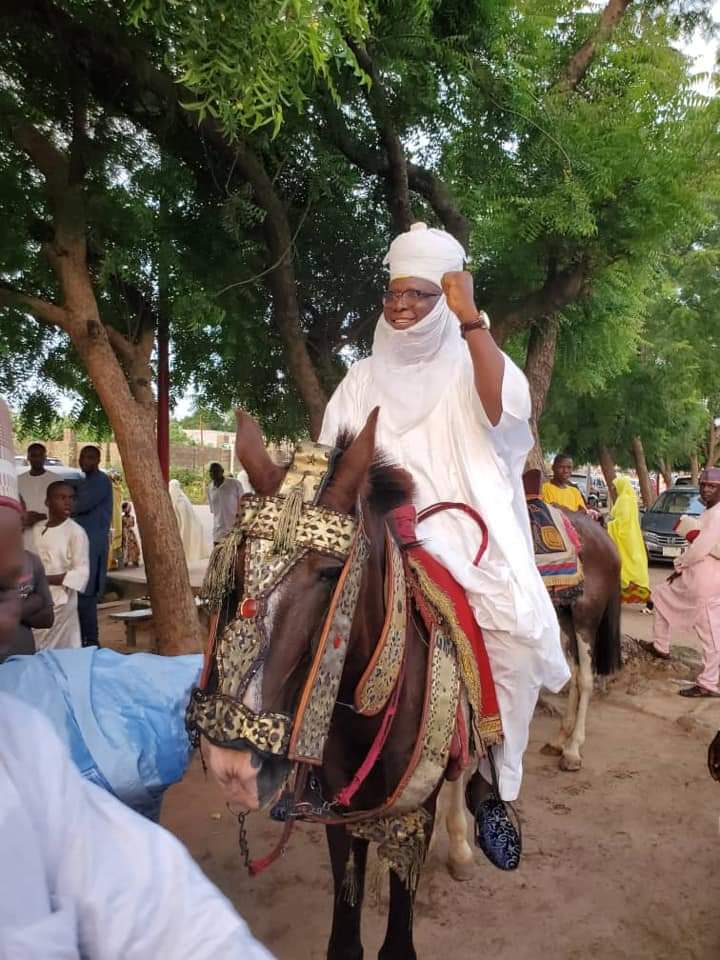 BY IBRAHIM BAKARE
The birth and times of great people never happen easily from cradle to dusk. The story Babafemi Ojudu is like the growth of an ordinary tiny seed of Iroko that gradually sprouts its roots into the solid loamy fertilized and nourished with essential nutrients of life, such is the life of the Iroko of Nigeria's nascent democracy a fighter of ideas and a progressive whose meteoric birth on 27th of March, 1961 in the bustling sleepy town of Ado Ekiti in EKITI state portend no clear omen of the travails and vicissitudes of life that he had encountered and that he is still optimistically looking forward to as a progressive democrat.
His father late Alhaji Afolabi Ojudu saw an intelligent child with bright future and admired the legal profession as a career path for his child but upon realization of his intellectual bend to public good and foreseeing the application of his literary knowledge in the service of humanity and to salvage the ordinary citizens from the raw claws of rulers, Babafemi Ojudu chose English Language and Literary studies in place of legal education, the choice of which catapulted him to become a journalist par excellence. His attribute of calm disposition on hot issues were acquired from his mother Madam Raliat Boluwade Ojudu who imbibed into her son the spirit of perseverance and focused mindset in achieving any given goal in a task driven workplace. At University of Ife as he was admitted in 1980 to 1984 upon graduation, Babafemi Ojudu sense of family and responsibility to the welfare of those around him irrespective of their religious or tribal inclination emanated from his early education days during elementary school at a Christian institution Emmanuel Primary school Ado Ekiti and in 1973 his admission at Ado Ekiti grammar School all played out in molding a strong character of a progressive and not that of a bigot as he demonstrated that during his days as undergraduate at University of Ife, Ile Ife now Obafemi Awolowo University, Ife where during Students' Union Government election he pitched his tent in support of one Mr. Austin Onuoah an Igbo man and a Christian who happened to be his best friend in that Campus and who was vying for Vice Chairmanship position that has already been a preserve for Yoruba ladies in the previous elections but Babafemi Ojudu openly campaigned for Mr. Austin Onuha even though he lost the election but one thing emerged from the electoral failure which Babafemi Ojudu's sense of unity, inclusiveness for all to participate irrespective of the gender and of one's religion, tribe or circumstances of birth.
In his work experience as a daring journalist, those who came across Babafemi Ojudu as co-travelers in the News gathering and dissemination business can attest to his penchant for integrity, steadfastness and result oriented in all his endeavours. As Ademola Adegbamigbe a seasoned journalist wrote "My working relationship with him summarized almost everything about him I knew for over 22 years now: Readiness to assist people, frankness, boundless energy, risk taking and most importantly, he oozes out ideas like no man's business."
In the point of call for duty, Senator Babafemi Ojudu surprised many of his ardent followers as he did only a single tenure as a senator of the Federal Republic in 8th national Assembly. As a practicing journalist, his strength of character knows no bound as he and other employees in the tabloid of National Concord News magazine refused to yield to unethical conducts after a story was published that irked the then sitting Military Head of Government President General Ibrahim Badamosi Babangida as the publisher of the news outfit Chief MKO Abiola apologized and asked Babafemi Ojudu, Kunle Ajibade, Seye Kehinde, Bayo Onanuga but they rejected that offer and went into labour market despite the fact that they were all responsible married men and breadwinners. It was the prevailing circumstances that gave birth to a new authoritative investigative journal Known as TheNews magazine which all of the principled resigned staff of National Concord Newspaper founded.
The celebrant of 60-years of earthly sojourn Babafemi Ojudu is known as a man of immense integrity, a team player, daring man of ideas. If it were not his sense strong character, after he was arrested between 1993 to 1998 for more than 15times as he spent more than 9-months at a stretch in secret cell within Ikoyi Cemetery, Babafemi Ojudu came out with greater zeal in investigative news reportage that stabilized the mood of the nation with sizzling factual breaking stories about the then military junta until the Military President IBB abdicated from his strong Aso Rock Villa office in August 1993.
The celebrant of 60-years Senator Babafemi Ojudu did his best in contributing to the homecoming of the incumbent executive Governor of Ekiti state Dr. Kayode Fayemi into the arena of Nigeria's politics as he was sojourning in foreign land. Today as Special Adviser on Political Matters to the Office of the President, Senator Babafemi Ojudu is a man who has brought in his wealth of experiences as a seasoned investigative journalist to a political master strategist contributing immensely to the success of the present administration of President Muhammadu Buhari as he moves into any troubled spot with germane solutions available for peaceful resolutions of issues that would have escalated to breach of peace at such domains in Nigeria.
Sam Omatseye Nigeria's seasoned communication scholar and well-respected writer and astute journalist and News manager said of Babafemi Ojudu "Found freedom but that was at the end of that era as Abacha passed on and Abiola fell from poison. Ojudu was to show gratitude for a new era but that, of course, was short-lived as Nigerians, in civilian toga, resurrected the indiscretions and corruption that the Military exemplified through captivity. Civilians were displaying it in the cartoonist caricature of freedom. This explains why he has put his feet in the waters of politics. He served a term as senator from Ekiti state, and played his part in pushing progressive agenda. The same he is doing as Political Adviser to the President. In Politics, though he is seeking an Archimedean place to stand. The future beckons."
Writing in his blog www.babafemiojudu.com he wrote "At 60 earthly years Senator Babafemi got a special gift from Uke Kingdom in Nasarawa state where the hardworking Senator acquired several hectares of farm land for his agripreneur business. In his own words "Ahead of my 60th birthday on Saturday I got a big gift from an unexpected quarter. It was from the Emir of Uke, the community where I farm in Nasarawa state. I was shocked when he announced that he and his Chiefs have agreed to confer with me the title of Amanan Yakanaje of the Uke Kingdom. Thank you, His Royal Highness, Dr. Abdulah Hassan. Thank you the chiefs of Uke kingdom and thank you to the very friendly and hardworking people of Uke as I am told, Amana means TRUST be rest assured I won't betray your trust ".