LIFE AS OGUNDE'S GRAND DAUGHTER – KEHINDE OGUNDE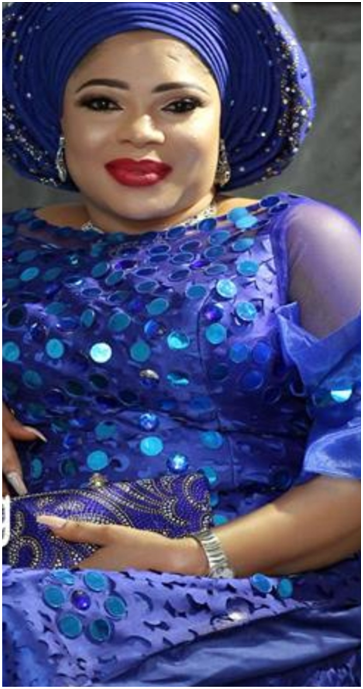 …How KAO Beauty and Fashion Store upped the scale in the Nigerian beauty world
+Her foray into the movie and entertainment industry
A lot of young people of nowadays, most especially the followers of Nigerian arts, culture and films industry do not really acclimatize with that creative genius, the late Pa Helbert Ogunde. For those who do not know him vividly, he should be regarded as the father of arts and entertainment in the country. Today, a lot of older generations refer him as the doyen of arts in Nigeria. The late Pa Ogunde released a lot of monstrous movies and best sellers in the Nigerian and international films industries. The Ososa-born great man of the cameras is second to non when it comes to films production, acting, producing new stars who today are fathers of the game and a lot of others. However, this interview is not strictly about Pa Ogunde himself but about one of his offshoots, Princess Omokehinde Ogunde. The very pretty damsel and a gorgeous woman of note is a beautician who owned a very sprawling and successful beauty and fashion emporium in Ogudu, Lagos known as KAO but right inside her, she has caught the bug of acting and film making from her legendary grandfather and today she is one of the best in Nollywood churning out classical and exciting displays in all the movies she acted in. Kehinde Ogunde took time out of her very busy schedule to speak with OLUBUNMI ORIJA on her life, her background, her jobs and her marriage. Do enjoy reading:
Can we know more about the legend's grand daughter?
Thank you. Well, I am Kehinde Ogunde, the granddaughter of Nigeria's movie and films legend, Dr. Helbert Ogunde. I was born some 44 years ago and I thank God I had a lovely growing up with my parents and my grandparents.
We learnt you are into beauty and fashion viz-a-viz making people look good, how do you venture into this?
Actually, I have always being fashionable since I was a kid. I remember when I was in school, I love wearing clothes that looked nice and good on me and I also like seeing people looking good. So, I belief it is not just when I grew up that I started having the passion and knack for looking good. It has always being there in my system right from childhood.
Would you now say you were pampered by your parents as a child?
I won't really say that, because my dad, who is the late Pa Ogunde' son is a disciplinarian and he will never tolerate any over-pampering. So I would not say we are over pampered. We were just brought up in the right way.
So ever you have delved into the beauty world, how has the business been like?
Well, business has been good. Although, naturally, you need to face some challenges but one needs to understand the terrain in our country as compared to other developing world. So, my point is, we need to be proactive and creative in order to survive despite the challenges facing our businesses and I would implore all Nigerians to imbibe this culture. It will really go a long way in sustaining our economy.
What was the journey like into the fashion world?
Well, when I returned from London few years back, I decided to delve into the fashion and beauty world because I know that is one of the things my people need and I thank God today, we have been able to give the best we could to them.
So, what products line do you have for Nigerians?
Actually, our shop is an umbrella of many beauty and fashion arms which include a Spa, Facials, Cosmetics, Nails, Body Care when it comes to beauty and cosmetics. Again we are also into fashion sales like Lace and Ankara, Aso Ebi of different styles and varieties, Senegalese for males and females and we are also into tailoring and styling. We also deal with bags and other fashion accessories. Let me just say that our office is an embodiment of general fashion accessories and whatever that has to do with beauty.
How do you source for you materials?
Well, sometimes we get from the local sources but many times, we need to travel to abroad to get our materials and products for distribution to our clients. You know, many Nigerians are fashionable and they are choosy, so they need what will befit their standards and make them look good. So, that is why we try as much as possible to blend between the local sources and the international sources.
Have you ever regretted doing the business?
Well, that is normal. At times, one will feel like why I my in this stuff. But as time goes on, if you discover you love what you are doing, then you don't have to feel like running away from it. Like I told you, I have always loved fashion since I was a kid, that is when I was not using it to make money, but now that it is my business, how on earth would I run away from it. So despite all the challenges, I believe we need to face it and make things work for all.
Now, Let's talk about your acting career, how did you delved into it?
Well, just like I have always being into fashion and beauty since childhood, I have also like films and movies, most especially the practitioners since I was a child. Remember, my late grand father was a great thespian in this country and a legend at that, so it has always being in the family. Again, my own father is also an actor who took very much after his father and he even kept his father's legacies after his death. So, I don't have a choice than to carry the baton on. Again, another thing I want you to know is that none of my other siblings were interested in acting as at then, but one day, my father's brother called me and asked if I am interested and I said yes. So, he linked me with Chief Adebayo Salami popularly known as Oga Bello and from there, I got linked with Saheed Balogun and today, I praise God that I did not miss my step. Although, as a grand daughter to a legend, you already have a free ticket and an upper chance than others because all producers and directors believed that vividly, the acting thing should run in your  vein. So it has always being like that because whenever I am given a script, I interpret the script easily because it is in the blood. So I thank God for creating me into the Ogunde family of Ososa in Ijebu land, Ogun State.
So, having featured in many films too numerous to mention, what are your plans for your own projects?
Well, let me emphasize that, I have a plan for my own movie which I will personally direct and I promise Nigerian ardent movie watchers to look out for it. It is going to be captivating, hilarious and a bumper.
What are the plans of the Ogunde family to keep the name of the legend flying?
Cuts in… I am already in the system and I will ensure I keep the flag flying until I hand over to another Ogunde who will continue from where I stop. All I know is that I will never allow the brand and name Ogunde to die permanently. Papa may have gone, my own father is still active but I will capitalize on their successes to give the brand a relevance.
So, what are your expectations from the government in the area of support for the Nigerian movie industry?
I think the government have a lot of roles to play in the Nigerian films industry and I believe they are the ones holding the future of the industry. If they can pump huge amount of money into other industries, why not the Nollywood and films making industry? They need to be more proactive and know the importance of films and movies in Nigeria and even the general entertainment scope. These are industries or sectors that keep the youths away from social vices and make them relevant to themselves and their families.
There is this perception that Nollywood actresses are flirts and that there is a huge sexual harassment in the industry, what is your take on this?
For me, I have never seen such happening. It has not happened to me and I do not believe that in this 21st century, it would happen. Perhaps, it may have happened in the past, but nowadays, our ladies are more educated and talented. They know they can give their best to get the roles they want without sleeping with any produce or director and whoever. So, I think it does not occur in my own mind. It is just a perception of people and others listening and believing them without cross-checking.
What can you say about marriage breakup in the industry?
Well. It is just because we artistes are popular. Other industries experience the same thing even the religion world does. So, marriage breakup is not a new thing in life. It just meant that the two are not compatible and when you are not happy in your marriage, why staying put stubbornly? So, I do not subscribe to the fact that it is only in the Nollywood industry we have marriage breakup. It is everywhere and it can occur to anybody.
So, can you tell us about your marriage and family?
Thank God I am happily married with three lovely kids. They are all studying abroad. I am happy because God gave me a lovely family.
As a beautiful and gorgeously looking woman, how do you cope with men making passes at you?
Well. I try enough to be diplomatic in my dealings with men. You know, in life whatever you do as a business person, you need both men and women. So, you need to know how to balance things. However, as a married woman, I tried to let any man that make approaches at me know that I am happily married with kids and with such an answer, they respect me. Not that I would be weird with them, no,  that is what I would never not do.
How do you unwind despite your tight schedule?
Well, I find time out to unwind with my family whenever I am less busy but it is very hard most times. But, I always make it a point of duty to be with them all Sundays to go to church together and have nice times at home.
Your message to Nigerian women outside there?
They should be strong. They should uphold the tenets of womanhood and they should believe in themselves. Our women should not turn themselves to liabilities because they would not garner enough respect from their husbands. They should be proactive, hardworking and above all God-fearing.