PASTOR ADEEYO SNATCHED MY WIFE OF TWELVE YEARS WITH TWO CHILDREN AND MARRIED HER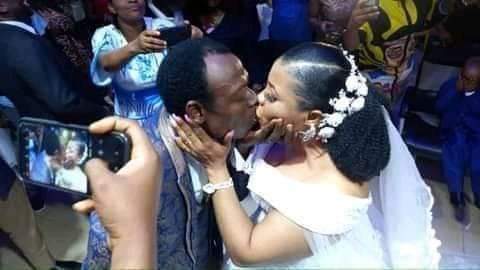 By Eric Olusesan 

Bright Ben, has cried out after his father in the lord pastor, Moses Adeeyo married his wife of 12 years, Tina, a mother of two children. 
Taking to his Facebook page, Bright Ben, revealed that his  pastor has married his wife. When asked what really happened by one of his friends. 
Bright Ben said that his pastor has married his wife because he claimed the Holy Spirit told him to. 
He Wrote: "Blessing Okhimhe, Pastor of our church married my wife that the Holy Spirit told him that." 

After crying out on Facebook, the younger sister to Tina, Elizabeth Okonkwo, warned Bright Ben to take down his post or else she would expose all the evil he has done to her sister to the world. 

When people started dragging Tina Adeeyo and her new husband, Pastor Moses Adeeyo, Elizabeth Okonkwo took to Facebook to tell the people dragging her elder sister to celebrate her sister's new marriage, because her pains are over. 

From Elizabeth's statement, it proves that Bright Ben had probably not been a good husband to his former wife, Tina, hence the reason she had to leave him. 

Pastor Moses Adeeyo has taken to his Facebook page to share photos from his white  and traditional wedding with his wife, Tina. Their white and traditional wedding took place on Sunday, August 8, 2021. 

Moses Adeeyo is a senior pastor at Word Bank Assembly International Church Eneka, Port Harcourt . He was a divorcee, until his marriage to Tina. His marriage to Tina is his second marriage. Even, Elizabeth confirmed that pastor Moses divorced his former wife. 

He Wrote: "Thank You Jesus! Congratulations, Celebrations, Jubilations and Joy is our portion from now on. That's your portion too. In Jesus mame"

Elizabeth Okonkwo Wrote: "Congratulations to you big sis, the struggles and pain is over. Thank you Jesus. Better delete this post oh else the world will hear all the evil you have done to our sister nonsense." However in another twist to this saga, Peter Adedeji Adeeyo, said his mother is still married to his father pastor Adeeyo as their divorce case is still in the court.