PDP National Chairman –Prince Uche Secondus Builds Multi-Billion Naira House In Ikuru Town His Rivers State Country Home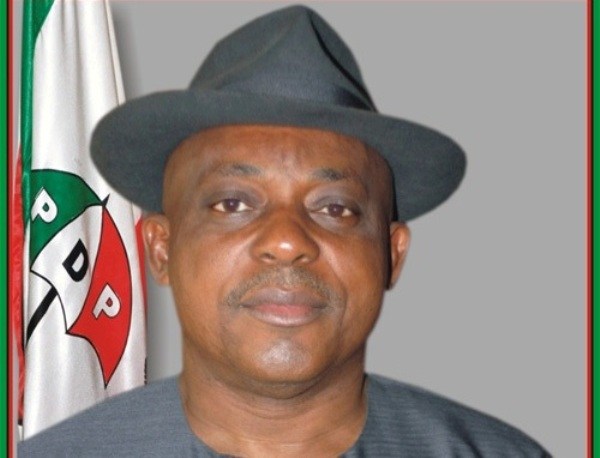 The National Chairman of Peoples Democratic Party-PDP Prince Uche Secondus is a happy man now as he has finally erected a multi-billion naira country home at his Ama Nene village in Ikuru town in Andoni Local Government Area of Rivers state South-South Nigeria. Since he joined politics on or before 1999 to date where he rose from being Deputy Chairman of PDP in Rivers state as late Dr. Marshall Harry was Chairman of Rivers state chapter of PDP and Dr. Peter Odili was elected executive Governor of Rivers state, Prince Uche Secondus has been squatting whenever he travels to his Ama Nene cum Ama Joab Ikuru town village.
The multi storey country home that has Roman dome architectural shape is situated on a reclaimed land by the waterfront which Land Reclamation project was undertaken by Federal Government of Nigeria years ago before he became National Organizing Secretary and National Chairman of Peoples Democratic Party -PDP of Nigeria in 2017. In fact two prominent companies handled the Flood Control and Land Reclamation projects which include 'Royal Diadem Consults limited' and 'Coastal Contractors Ltd'. While the Presidential and National Assembly was going on , on 23rd of February 2019 construction workers were busy putting finishing touches to the over N2.5billion 3 storey pent-House mansion the spacious on-going construction country Home boost of a mighty elegant modern bungalow for supporting staff and guests. In its place he and his very pretty wife Pastor Mrs. Ene Secondus squatted at the executive mansion of former Deputy Governor Engr. Tele Ikuru who lives few meters away about 60-meters in a popular Ama Joab street which also houses APC former State Chairman Prince Dr. Davies Ibiamu Ikanya who shares common perimeter stone wall with Engr. Tele Ikuru his half-brother as they have the same common family lineage. Other prominent politicians like All Progressive Congress APC former Commissioner for Finance Mr. Livy  Gogo Charles lives less than 100 meters away from Engr. Tele Ikuru and Prince Uche Secondus all related by one ancestral father and Founder of Ikuru Town who established it in 1845 A.D.
READ ALSO: Port Harcourt Engulfed With Two Separate Protests Against, Police, Army Over Alleged Unlawful Arrests, Detentions
Irrespective of the high profile lines of prominent sons and daughters of Ikuru Town who play big in Nigerian politics, one thing is lacking which is motor able access road to the beautiful Atlantic Ocean largest coastal City in Nigeria stretching over 15.5km of longest beach housing over 49 elephants according to the survey done by MacArthur Foundation of United states of America-USA and United Nations Development Programme-UNDP that studied the Eco-system activities of Oil bearing Communities  of which the elephants in the tropical Equatorial Rain Forest was a case study. Although there is on-going construction of link road started by Dr. Peter Odili's administration but the inner city entry road is not properly planned to match with the link road that connected the Island community of Ikuru town with the rest of the world. The rugged road is rural, marshy and narrow.
Inside Engr. Tele Ikuru's Mansion is a live bone-skeleton of decimated Whale that was killed by Oil prospecting and exploration company few years back and the heavy whale was dragged on-shore by heavy Atlantic ocean current waves and citizens of Rivers state and beyond flung themselves in dismantling the fleshy greatest sea animal in the world in Ikuru Town which skeletal remains is today an historic memorabilia for each family that reserved the bones of the Fish-Whale. And Engr. Tele Ikuru displays a part of the Whale skeleton in front of his country Home to the delight of his guests plus the villagers who retell the story each day of how they fetched buckets of Whale Fish Oil for days while slaughtering its flesh in piece-meal as it was huge enough to surpass the size of a 2-bedroom bungalow so much so that people from Port Harcourt City and neighbouring Imo and Abia plus Akwa Ibom States all visited Ikuru town in other to have a glimpse of a live Whale which many of them must have read from Health science books.
Another story that will interest any tourist to Ikuru town in Andoni Local Government Area of Rivers state is the presence of very beautiful velvet looking dark complexioned ladies as this has become a token of honour should the tourist deserve a pleasant moment in Ikuru town of which they have surplus of them waiting to keeping each stranger at home with good hospitality and excellent candour bellied with safety of the strangers while they enjoy the best of Atlantic coastal breeze with fish filled delicacies.