THE UNTOLD STORY OF RISE TO EMINENCE OF MELE KOLO KYARI GROUP MANAGING DIRECTOR-GMD NIGERIAN NATIONAL PETROLEUM CORPORATION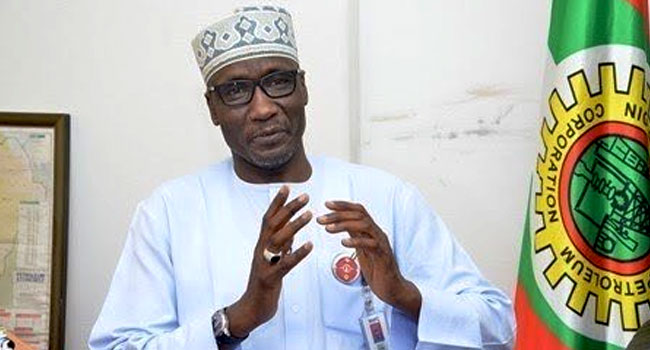 The change of baton in the leadership of flagship Nigerian National Petroleum Corporation-NNPC Abuja on July 8th, 2019 has now brought to limelight a new helmsman –Mele Kolo Kyari. He took over from his predecessor Maikanti Baru the then Group Managing Director of NNPC as he retired on July 8th, 2019. For clarity Mallam Mele Kolo Kyari is not a relation of President Muhammadu Buhari's Chief of staff Abba Kyari as they have no blood relation at all levels.
This very intelligent Geologist cum scientist, Mele Kolo Kyari was born on 8th January, 1965 in Maiduguri as he began his academic journey at Government Community Secondary school Biu in Borno state from 1977 to 1982. He graduated from University of Maiduguri with Bachelor of Science degree in Geology in 1987. The very vibrant Mele kolo Kyari was lucky to have been posted for his one year mandatory National Youth Services Corps-NYSC at the directorate of Foods, Roads and rural Infrastructure-DFRRI between 187 to 1988 with his primary assignment as a Well Site Geologist while as an undergraduate he was a Unionist and an activist popularly addressed by his colleagues and friends as 'Grand Chairman'. This attribute manifested further when he became Group Chairman of NNPC PENGASSAN –Petroleum and Natural Gas Senior Staff Association of Nigeria which has been in the front of Nigerian Labour Union activism in Nigeria.
In 1991 he joined NNPC as a Processing Geophysicist assigned at Integrated Data Services Limited—IDSL. In 1998 Mele Kolo Kyari was posted to National Petroleum Investment Management Services NAPIMS as an Exploration Geophysicist. Here he was appointed Exploration geophysicist, production sharing Contract –PSC of national Petroleum Investments Management Services-NAPIMs where he became the Abuja Operations Manager of NAPIMS until 2004.
Like a serious citizen that he is who remains diligent in all his responsibilities especially he is loyal to his line of duty. As in 2006, he was assigned as Supervisor PSC, Crude Oil Marketing Department-COMD of NNPC where he rose to Head and later Manager of Production Contracts Management from 2007 to 2014. Given his result oriented nature, Mele Kolo Kyari was made General Manager Oil Stock until 2015 before he was appointed Group General Manager, COMD. He quickly displayed his acuteness in international work ethics which earned him appointment as Nigerian representative at OPEC-Organization of Petroleum Exporting Countries. For those who know this gentleman for his quick mental reflexes in getting details as he was among the team that came up with NNPC's Commodity Trading initiatives which brought in transparency and accountability in all NNPC's operations. This generated confidence in government circle as it now knew how much oil it sells, and how much money flows into the government coffers from sales. This brought him to the team that proposed and managed DIRECT SALES and DIRECT PURCHASE –DSOP arrangement of Petroleum products from 2014 to date as it replaced the controversial Crude swap arrangement abused by former Petroleum Minister Mrs. Dieziani Allison Madueke and President Goodluck Jonathan.
READ ALSO: UNVEILING THE AMAZING AND INTRIGUING PROFILE OF FIRS BOSS, BABATUNDE FOWLER
Today, Mele Kolo Kyari is now addressed as 'Peace Maker' as he has used his experiences as Labour Union activist to bring peace among International oil companies-IOC with their partners in Nigeria as he was among the team that has reviewed the 1993 PSC process again he saved Nigeria much money as NNPC allegedly incurred loss of $48Billion as his team established actual status of transactions involving NNPC in 2014.
His coming on board of the top management of Nigeria's main economic earning top notch Petroleum industry, Mele Kolo Kyari will certainly surpass the record set up by his predecessors in office as those who had worked with him, at various cadre do attest that his being cool-headed and fear of God will surely place him above his peers as he serves Nigeria at a time like this in 21st century.