"WHY THE YORUBA ETHNIC GROUP IS AHEAD OF OTHERS IN NIGERIA"—PROF. ABDULRAZAK KILANI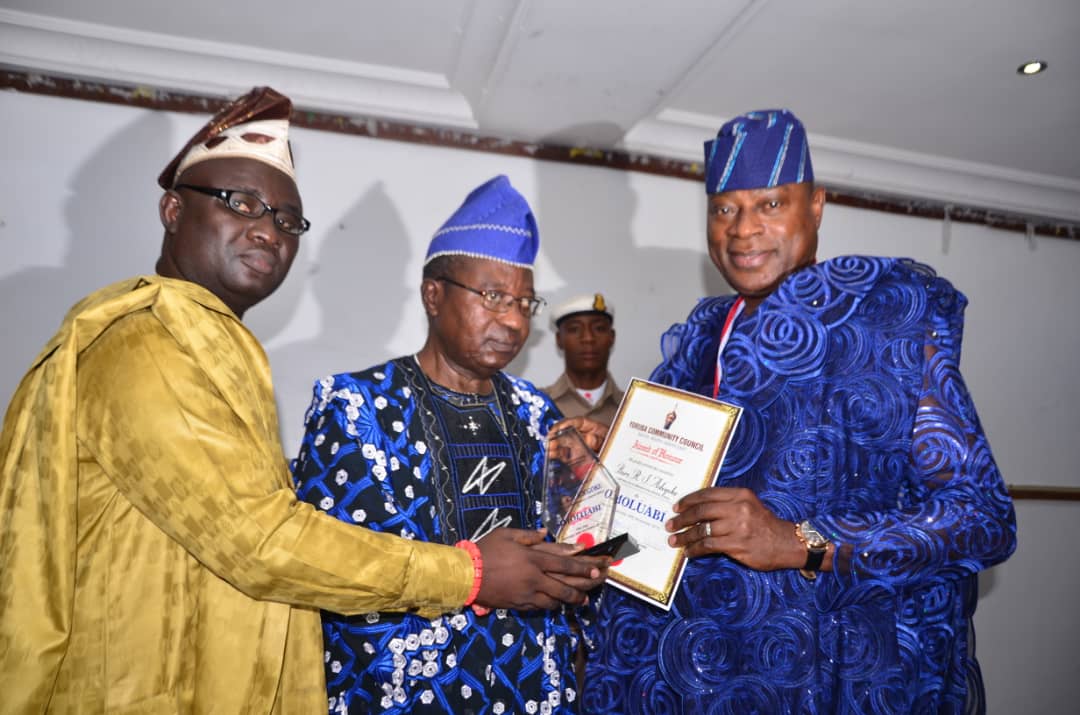 The story of ethno-sociological groups in Africa was told vividly in a lecture delivered by Professor AbdulRazak Kilani which he titled "EXTENDING INTER-DEPENDENCE: A COHESIVE YORUBA CULTURE FOR NATIONAL UNITY"
www.towncrier.ng here presents you with raw material of what he told the audience on 30th November, 2019 when Pan Yoruba Community Association In Rivers state held its 2019 Annual Lecture and Award ceremony.
EXCERPTS
"Historical facts and oral tradition have shown that Africans are predominantly migratory people in nature and they are basically favourably disposed to this trend always.
The frequent movement of Africans due to trade, comfortable place to live for security bring about inter group relations.
Inter group relations is the interaction between social classes or groups-race, sex, class, occupational, religious, ethnic, communal.
In Intergroup relations there is contact and interaction between groups.
Inter group relations is a social phenomenon as it deals with human beings.
WHO ARE THE YORUBA?
Yoruba, one of the three largest ethnic groups of Nigeria are concentrated in the southwestern part of the country.
They are also found in Kwara, Kogi and Edo with millions of them residing in other parts of Nigeria as professionals and business men and women
Much smaller, scattered groups live in Benin and northern Togo.
The Yoruba in Diaspora are found in Brazil, Cuba, Jamaica, etc.
They speak a language of the Benue-Congo branch.
The acceptance of both Christianity and Islam in great proportion could be evidence that the Yoruba's are open minded and ready for adventure.
Hence, Yoruba's are largely collective.
Yoruba-land has 27,511,992 inhabitants making it the second largest populated zone after the North West which has a total of 35,786,944 inhabitants.
LEADERSHIP STYLE OF YORUBA PEOPLE
Culturally, the Yoruba's have high respect for their Superiors at home and even at work.
Yoruba displays collectivism especially when they meet outside their immediate community.
They believe in rallying around one another most especially on social occasion.
The Yoruba are not prone to individualism.
They are egalitarian within the same age group.
They are also hierarchical in group-to-group relations, with marked subordination of the younger members, which are expected to give absolute loyalty as children are assumed to give their father.
Awujo (1988) study found that managers from the Yoruba parts of Nigeria are more democratic than managers from the North and managers from the East are less Democratic.
Other study on staff of CBN supports this finding that Yoruba sub-culture preferred democratic leadership style.
EDUCATION AS INVESTMENT IN HUMAN DEVELOPMENT
In 1955, the government of Western Region of Nigeria introduced a free primary education programme.
The programme ushered in a revolutionary phase in the history of education in Nigeria.
This pace-setting epoch has featured as a cardinal programme of many governments in Western Nigeria up till today irrespective of political party's affiliations.
This programmes was described Babs Fafunwa (1974:168) as "the boldest and perhaps the most unprecedented educational scheme in Africa South of the Sahara"
Fajana (1978:238) describes it, "as a milestone in the educational history of Nigeria."
In the 1954 school year, 456,600 pupils were attending primary schools in Western Nigeria but when the scheme was launched in 1955 January, 811,432 children turned up making an increase of 354, 832 over the figure of the enrolment for the previous year.
These figures represented a jump from 35 per cent to 63 % of the 5-14 year-old (Fafunwa 1974:168).
Western Region's recurrent budget on education alone varied between 28.9 per cent and 41.2 per cent during the period.
LESSONS:
Education is what put the Yoruba in the forefront in Nigeria.
Education gave the Yoruba the culture of tolerance and accommodation.
Our region is an inclusive, plural and cosmopolitan region of Nigeria.
Those who benefited from Awolowo policy have now become capitalists with expensive schools.
The few Awoists are contented with wearing only Awo's cap!
OWE SYSTEM AND PUBLIC UTILITIES
Owe/Oya (Ekiti) is an age-group or labour societies which organised reciprocal systems of getting thing done. Details of the operation varied from society to society.
Adolescents who had the psychological feeling that a job could be more quickly and perhaps better done if two or three friends joined hands to work as a group.
This was applied in farming and other types of work.
It was, indeed the only means by which houses were erected.
For public works such as path construction or clearing, construction of town wall: and public houses, society labour was relied on.
The Ibadan city walls and even the Mapo Hall in Ibadan were built in this Owe;
LESSONS:
We welcome self and community help and don't wait for government always: roads, electricity, pipe borne water etc
We protect public infrastructure and we don't destroy or vandalize them.
CREDIT GENERATION
Financing business and getting credits for it is a task even in modern Nigeria.
There were credit institutions which gave out credits to producers to obtain some of their tools.
One such credit institution is known in Yorubaland of modern Nigeria as ESUSU – a form of credit association.
It was often organised by friends, age groups, and kinsman.
There was a regulation as to how much each person should contribute and at what interests should the contributions be made.
At fixed periods, a subscriber will collect what all had contributed until it was everyone's turn to collect his share.
The famous Cooperative society is a product of the Yoruba people.
The society also had a Cooperative Bank until recently when it collapsed due to greed of modern educated elite.
The Region produced Agbomagbe Bank which later became National Bank of Nigeria also killed by the greedy modern elites with 'foreign degrees'
The Wema bank also came out of the region which still exists though with challenges.
READ ALSO: YORUBA COMMUNITY COUNCIL IN RIVERS STATE HOLDS 2019 ANNUAL LECTURE & AWARDS
COMMERCIAL BROKERS
The Yoruba also operated the commercial capital market.
Traders often took loans from the local financiers at a high interest.
Exchange brokers, who also speculated in currency values.
This type of monetary transactions was organised in some parts of Yorubaland by an economic institution known as Parakoyi.
They ensured that long distance traders were properly settled and that they obeyed market regulations.
THE GUILD SYSTEM AND ECONOMIC EMPOWERMENT
The guild system is mainly a capacity-based contributory scheme designed to enhance the economic empowerment of its members.
The guild process could therefore be simply defined as a co-ordinated effort by which an organisation is authorized to have the responsibility for the monitoring of economic activities of its members to ensure that production relation is smooth,
The guild process had three main categories which were:
(1) The guild of general traders (Egbe Alajapa) that traded largely in inanimate objects such as medicinal herbs, fruits and other food items (Falola, 1983:169).
(2) The guild of traders (Egbe Alaroobo) that trade in different types of animate objects such as fowls, goats, etc. (Akinjogbin, et.al, 1981:71).
(3) The specialized guilds of traders, tradesmen or professionals.. These included, for
Egbe alaso (guild of cloth dealers),
Egbe olose (guild of soap makers),
Egbe alaro (guild of dyers),
Egbe alata (guild of pepper sellers),
Egbe eleni (guild of mat makers),
Egbe onisona (guild of carvers),
Egbe alagbede (guild of smelters),
Articles of trade like egbe alata-guild of pepper sellers;
egbe eleja-guild of fish dealers;
egbe elepo- guild of red oil dealers;
egbe eleran iso- guild of sheep or goat or cattle dealers.
The importance of these guilds to the economy
They assisted the state to make their valuable articles or services readily available at competitive rates for prospective customers; engaged in the maintenance of peace and order in the various markets at no cost to the state, and provided a set of rules or procedure of the profession, to which members were compelled to conform with to enhance the economic prosperity of the state.
GENDER BALANCE & EMPOWERMENT
There were some of the guilds that exclusively had the women as members,
the salt guild (egbe oniyo),
the pepper sellers (egbe alata),
the pot dealers (egbe onikoko),
palm oil traders (egbe elepo),
the fish sellers (egbe eleja), etc.
the guild of kolanut dealers (Egbe olobi) (They coordinated the extensive kola trade network between the Yoruba country and Hausaland)
SCHOOL RHYMES AND CHARACTER DEVELOPMENT
1. Good character or Omoluabi which translates to integrity in public and private life is the hallmark of a Yoruba person.
2. Hard work, diligence at work and dedication to one's job is what a Yoruba is known for
3. The loss of these two qualities make the youngsters to be: yahooplus, kidnappers, bandits, exam cheaters, ritualists, cultists, online marriage scammers.
1. YORUBA POEM- Toju Iwa Re Ore Mi (IMPROVE/MAINTAIN YOUR CHARACTER DEAR FRIEND
Toju iwa re ore mi – (Improve your character my dear friend)
Ola a maa ntan nile eni – (Wealth can diminish from the house of a person)
Ewa a si maa tan lara eniyan – (Beauty does desert the body of a person)
Sugbon iwa ni i ba ni de saare – (However it's character that doesn't abandon a person even to the grave)
Eefin niwa riru ni i ru – (Character is like dust, it will hazy up eventually)
Eniyan gbe okeere niyi – (Living a distance away can give honour)
Sugbon si sunmo ni la fi n mo eni – (But with closeness, we learn to know persons' real attributes)
Iwa ko ni fi oniwa sile – (Character does not leave where it is embodied)
Iwa omo l'o nsomo l'oruko – (It is a child's character that gives the child a name)
Omo dara o ku iwa – (Even if a child seems fine, there is still a need for character)
Ara dara o ku aso – (Even if the body looks fine, there is still a need for clothing)
Ese dara oku bata – (Even if the feet look fine, there is still a need for shoes)
Be niyan dara tikoni'wa – (If a person seems fine but doesn't have good character)
Opadannu ohun ribiribi – (He/She is missing something very valuable indeed)
Iwa rere leso eniyan – (Good character is a person's jewel)
Suru baba iwa, iwa baba awure – (Patience is the progenitor of character, Character is the progenitor of blessings)
Ya tete toju iwa re oremi – (You had better improve your character my dear friend)
2. Yoruba Poem- Ise Logun Ise-Work is the antidote for Poverty
Ise Logun ise [Work is the antidote for poverty]
… Mura si ise re, ore mi [Work hard and work smart, my friend]
Ise la fi ndeni giga [Hard and smart work brings success]
Bi a ko ba reni fehin ti [When there is no one to rely on]
Bi ole laa ri [Its like we are lazy]
Bi a ko ba reni gbekele, [When there is no one to trust]
A te ra mo ise ni. [We focus more on our work]
Iya re le lowo lowo [Your mother might be rich]
Baba re le lesin leekan [Your father might own a thousand and one horses]
Ti o ba gbojule won [If you rely on them]
O te tan ni mo so fun o [In truth, you might be on sinking ground]
Apa lara igupa ni ye kan [families are like the arm, while extended family are like the elbow]
B'aiye ba fe o loni [If you are loved by the world today]
Ti o ba lowo lowo, won a tun fe o lola [If you are still rich, they will love you tomorrow as well]
Abi ko wa nipo atata [If you have an esteemed position]
Aye a ye o si terin terin [You will be honored with "fake"laughter]
Je ki o deni ti ra ngo [If you unfortunately loose your money or position]
Ko ri bi won ti nyin mu si o [They'll turn their back on you]
Iya mbe fomo ti ko gbon [There is suffering for the foolish child]
Ekun mbe fomo ti nsare kiri [and there is sorrow for the child that have no plan or vision]
Mafowuro sere ore mi [Don't waste your formative years, my friend]
Mura sise ojo nlo. [work hard and plan well now, because time waits for no one]
LESSONS
WE HAVE REPLACED THESE RHYMES WITH IMPORTED MONTESORI RHYMES
MANY YOUNGSTERS IN YORUBALAND NOW PREFER QUICK FIX
YAHOO+, RITUAL KILLINGS, STEALING OF BRA AND WOMEN UNDERWEARS
RELIGIOUS INTOLERANCE IS BECOMING FASHIONABLE IN OFFICES, SCHOOLS ETC
RECOMMENDATIONS
The region needs regional integration to boost economic drive .
The DAWN-the outfit of the region on integration should be more visible and not just a digital organization to serve the interests of the elites.
Governments of the region should shop for investors to develop the railway system to link all the state capitals for economic prosperity. This is far better than the crazy quests to build airports.
The burden Lagos state is facing due to migration from other parts of country is not sustainable. We must not allow Lagos state to die due to suffocation and under performance of other states of Nigeria.
The level of youth unemployment in the region is alarming thereby contributing to social and security challenges like armed robbery and kidnapping. Government must provide capacity for the youth to be employable and be employers of labour."