Aggrieved Youths Occupy SPDC office in Port Harcourt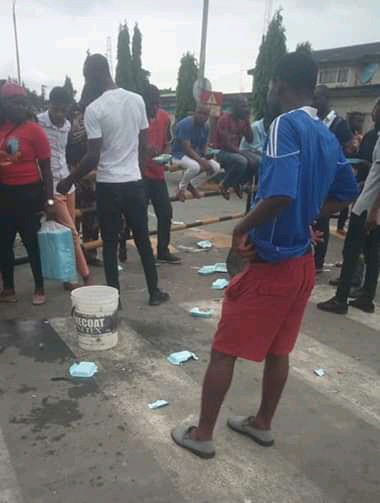 BY IBRAHIM BAKARE
Youths from the four host communities of Shell Petroleum Development Company (SPDC), Rumuozelu, Oginigba, Rumuomasi and Rumubiakani all in Obio-Akpor local government area of Rivers State, earlier today blocked the entrance of the multinational in Rumubiakani, preventing access into their premises.
The youths were protesting an alleged decision of the oil gaint to lay off 11 indigenous contract workers from the communities, leaving them without any form of income for the past 5 months.
One of the organizers of the protest and Vice President of Rumuozelu Youths Association, Chinedu Ogwutum said that the youths decided to stage the protest to express their displeasure over the action of the company.
Ogwutum alleged that SPDC at an earlier meeting had complained of poor revenue as reason for the sack of the laying off of indigenous contractor that had employed and empowered their people. The protesting youths refused to accept such excuse.
Protesting youths from host Communities to SPDC came to the company gate with cooking pots and other utensils for a prolonged stay.
According to Ogwutum: "What is happening here is as a result of the members of the community that were dropped from work and we are not happy about it. They have been at home for the past five months without any salary.
"About 11 of the workers from this community were dropped, including the Youth President. They used to work at the pipeline on contract. We have tried to discuss with them but there has been no resolution till today. The only reason they gave was because of the state of the economy".
Ogwutum also said that the youths are saddened that SPDC has not deemed any graduate from the four host communities qualified to be employed as staff.
"We are the host community and there is no Shell staff among us. People from other communities are still working at the same pipeline where our own workers were dropped from. This is injustice," he said.
However, relative calm was restored after leaders of the protesters met with some management staff where the youths, according to Ogwutum issued a week ultimatum for the reinstatement of the 11 sacked indigenous workers or an even bigger protrest will be held next week.
Protesting youths had gone to the SPDC gate with cooking pots, firewood and plates in anticipation of a long stay before Monday's resolution.
The incident is a recurring issue in the host communities of oil companies in the Niger Delta.
At the time of filing this report,the management of SPDC had not issued an official statement on the matter.