Adams Oshiomhole Was Never Our Problem- Edo Residents Open Up As Obaseki Fails Expectations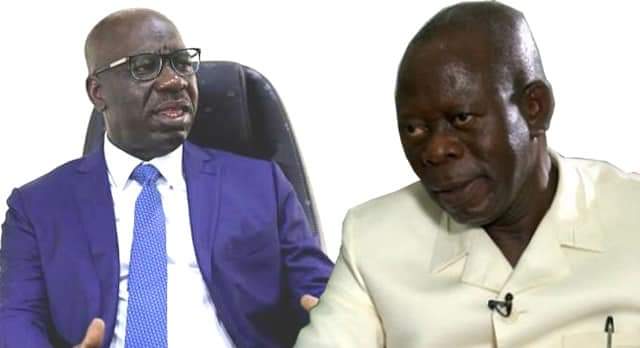 By Osigwe Omo-Ikirodah
There is an Ethiopian proverb that says praise and truth are revealed slowly, and in Germany, truth is the daughter of time.
Truth is open, truth is universal, truth is eternal, truth is one, it is extremely difficult to conceal the truth, no matter how hard you try, and thus being true is second only to godliness.
For any secret to be revealed, there must be disagreement among the Keepers of the Secret. The Governor of Rivers State recently expressed his gratitude to Buhari for paying the Niger Delta Governors' arrears of billions of Naira since the emergence of the current republic in 1999.
It was a windfall, and at the same time, Buhari reimbursed these states for their claims for road rehabilitation over the years, gave them bailouts to pay salaries, and so much more.
Then there are the Covid-19 grants, which are pouring in from all directions like blood money. International organizations, federal government agencies, local agencies , and individual billionaires have all made significant contributions to these same states.
How wicked and callous can these state governors be? They remained silent while giving the impression that Buhari has destroyed the economy and there is starvation everywhere, which is typical of a fraudster. Meanwhile, Wike was busy using his power to construct flyovers and help other states during natural disasters.
If Buhari destroyed the economy where did he see money to give them? They must explain.
Adams Oshiomhole revealed yesterday that Obaseki received more than a Hundred Billion and remained silent like glue had been applied to his lips. These Governors are our problems; it is no longer a secret that the majority of these Governors take a hefty allocation intended for the Local govt for themselves.
According to a statement made by Buhari on ARISE TV last year, each local government receives at least N300 million of which the governor keeps N200 million and the local government chairman receives the remaining 100 million naira to pay salaries.
Now its even worse, according to what we have heard, these governors will only give these chairmen five million naira and they will pay the salaries for local officials (the governors). This explains why even the local government councils finds it difficult to weed grass from inside their secretariat.
While Obaseki has refused to hold an LGA election, his stooges continue to print posters and spend their pitiful money on a Phantom campaign that is not expected to yield any results but still gives the public the impression that a contest is about to take place.
Lecturers at Ambrose Ali State University want to die of hunger, claiming that Obaseki has ruined the state university and that workers are not being paid; they claim that the college of Education in Igueben is closed, as is the one in Owan.
Residents accuse Obaseki of leaving his major construction projects unfinished and then dragging them out for years because they say he uses them for political campaigns.The Ekehuan road, for example, has become a recurring decimal in road construction since the advent of Obaseki.
Now that we are in the Japa season, the majority of his boys have fled to Europe and have begun to admit that Oshiomhole was never the problem; rather, the problem was a governor (Obaseki)who appeared to be insatiable when it came to retaliatory action and perhaps financial greed.
Enanuna Ibude, a strong foot soldier of Obaseki who left his political mentor Adams Oshiomhole, made a live video in faraway Sweden saying Obaseki is the problem, he said Obaseki fought Oshiomhole, came to PDP and divided the party into two divisions with hatred from both sides like say tomorrow no dey.
He went on to say that now everyone in Edo State is hungry, with no job, no empowerment, and the governor appears to be unconcerned. Another video is making the rounds of another Obaseki boy accusing the Governor of wickedness and demanding that he comes out and explain what he's done with the 13% oil refund since 1999.
He compared him to Wike, whom Obaseki is fighting as if he stole his kidney or liver; the Rivers State Governor has built over 12 solid flyovers this year alone, but Obaseki is still signing memorandums of understanding as if the state depends on it for life support.
Truth my people say no dey break teeth. Let us now open our Bible verses to 2 Timothy 2:15.
15 Do your best to present yourself to God as one approved, a worker who does not need to be ashamed and who correctly handles the word of truth.
Adams Oshiomhole has been vindicated, and the truth now stands tall. With the modest funding he received—which he was open about—Oshiomhole demonstrated with clear distinction what his government accomplished by undertaking a number of breathtaking projects that were admired by all.
My brothers and sisters, I would like to conclude this by reading from the book of John 8:32, which states, "Then you will know the truth, and the truth will set you free."
Have a happy Sunday. Please take a look at the viral video below titled " Obaseki Where Is Our 13% Oil Derivation That Was Paid to You" Click link below.
Osigwe Omo-Ikirodah writes in from Benin City.