Ogun 2019 and factors against Amosun's candidate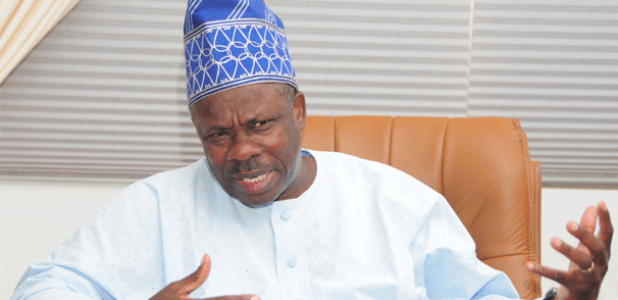 By Wale Adedayo
A coalition is needed. But right now, it is individual ambition shaping things up. I totally align with an Egbon in Abeokuta that, while negative public opinion worked against Otunba Gbenga Daniel (OGD) in Ogun State during the 2011 governorship election, it was a coalition that removed his hands from office.
Peoples Party of Nigeria (PPN), Governor Daniel's, was the best organised political party in 2011. It spent the most money too, largely state resources, as it is being done today. The mobilisation efforts of PPN towards the election was superb too. But, in the end, those opposed to OGD's style of administration banded together and gave victory to Action Congress of Nigeria (ACN) to produce the incumbent, Senator Ibikunle Amosun.
There has been talk about bloc votes from Ogun Central Senatorial District going the way of Allied People's Movement (APM). Not many among those postulating this idea ever gave a thought to the thousands of Lagos State workers and business people resident in Ado Odo/Ota, Ifo and Obafemi Owode Local Governments. They constitute at least 40% of the electorate in these LGs. In some, especially Ifo and Obafemi Owode, they could be as high as 60%. They'll most likely align with APC, being the party that'll certainly carry the day in Lagos State.
Besides, the reality of a bandwagon effect is there. APC should clear the Presidential and National Assembly election. I doubt if allowance'll be given Amosun to dictate the tempo of security arrangements at voting venues. Once that happens, it'll be APC all the way. Those who voted APC in that election will certainly remain with the party, no doubt about it at all.
More than the last paragraph, Ogun Central should have some challenges for APM. Amosun has National Assembly candidates. Plenty of voided votes, which should have gone to APM might come due to challenges by those in APM, but loyal to Mr. Governor. The only way to check this is for Amosun to have control over the Police CP, DSS Director and Alamala Barracks C.O. If he is shortchanged at the security arrangement end, APM'll hit the dust across Egbaland.
Intimidation of voters using boys is also key. Amosun had a monopoly before now. But it appears things are changing. Key leaders of the boys are changing camps. It's been a rough deal for them under the current administration. Persons who had no business with the transport unions were imposed as leaders since 2011. It became worse for Okada Riders, whose union, Amalgamated Commercial Motorcycle Riders And Owners Association of Nigeria (ACOMORAN), was diluted with Articulated Motorcycle Riders Association Of Nigeria (AMORAN), mainly boys used by Amosun before he became Governor.
But much worse is the style of key Amosun's political appointees and associates, who collect weekly dole from the National Union of Road Transport Workers (NURTW), Road Transport Employers Association of Nigeria (RTEAN), ACOMORAN and AMORAN. It has never happened before in Ogun State. And, the boys have always been angry about this. Successive Governments have always given these boys funds, not take from them. Today, they are sometimes tasked, by being ordered to produce certain amounts for the personal needs of political appointees.
In all, PDP (Kashamu and Adebutu), APC, African Democratic Congress (ADC) and to a certain extent Action Democratic Party (ADP) are courting the boys the old way. But it is certain that they will go with not just who has the highest amount to spend, but also the party that can assist them with security cover in the event of any arrest. Beyond that, some are very loyal, even unto death, as Christians would say – they'll follow the instructions of old leaders they know.
With the ouster of Ogun West's popular grassroots mobiliser, Biodun Akinlade, from the APC running mate slot, ADC's Gboyega Nasir Isiaka (GNI) should be more than happy. If things do not go wrong for GNI, getting at least 70% of the votes from Ogun West should not be a problem for him. The real challenge remains Ado Odo/Ota with its heavy voting population, mostly people from Lagos resident in Sango and its axis.
READ ALSO: The Nation "Person of the Year"
But APC should be happy about Ado Odo/Ota. However, the party needs to work. The people of Atan, Igbesa and Agbara will certainly distance themselves from APM, being Amosun's party. They have been shortchanged since 2011. It should be the same story among residents of Akute, Lambe, Iju, Ajuwon, whose roads remain in bad shape despite earlier promises to complete same.
Abeokuta South should present an interesting challenge. I dare say Afolabi Afuwape should be able to assist APC if he remains with the party. He remains an uncommon grassroots mobiliser. APM has nothing to offer Odeda. It should be the same story in Abeokuta North. Apart from the fact that residents of these areas have various economic challenges, many are aghast with Amosun's nepotism. The bridges in the urban parts of town have added no economic value to the life of an average resident. Of course, the pockets of Ijebu, Remo and Ogun West civil servants resident in Abeokuta may not vote APM. But I am not too sure about Ewekoro.
Ogun East is PDP 'country'. Majority are either for Lado or Kashamu. But APC could smile here if the party is able to work on the divisions within the PDP to get quality support for itself. PDP remains popular in Ogun East because Amosun appears to have a deliberate policy of not believing that the place is part of Ogun State. The party that is most able to engage residents on turning the fortunes of Ogun East around should be able to carry the day.