Rivers Politics Ahead 2023: WHO TO WATCH OUT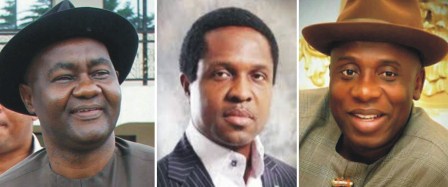 By John Amaowoh, Ph
Although 2023 is still far to most political watchers in and across the state, in politics politicians predict and calculate ahead of time especially on the direction to stake their bet. Therefore as the clock ticks, there are people to watch out in Rivers Politics especially those perceived to be nursing the ambition to take political power from the incumbent Governor of the state Nyesom Wike. The Town Crier can authoritatively report this.
However, those likely intending  to take a shot at the covetous Brick House, ahead of 2023 are: Senator Magnus Abe, Hon. Austin Opara, Hon. Tammy Dana Gogo, Mr.Jack-Rich Tein JR. Founder/President Belemaoil, Engr. Awara Biokporma, Chief Abiye Sekibo, Dr. Sampson Parker, Mrs. Ibim Semenitari, Engr. Sampson Nkere Kpara, Mr. Isaac Wonwo and a host of others.
On the list, Senator Magnus Abe appears to be very famous among the list, having contested in the last election in the state that saw his party lost out over some internal wrangling at the state All Progressive Congress, APC. Although, Abe is not a new comer in the politics of Rivers state, having being a former secretary to the state government, a former Information Commissioner and former member of the National Assembly. Senator Magnus Abe was recently Appointed a member of the NNPC Board by President Muhammadu  Buhari, a position most political watchers have suggested is going to boost his political aspirant and ambition in the interest of governance in Rivers state. Outside his appointment, Abe has demonstrated a very high capacity when it comes to political decisions in and across the country and has its supporters and loyalists across the state as well.
Hon. Austin Opara is a very calm and gentle politician in Rivers state, but his gentleness cannot be underestimated when it comes to power play and political decisions in Rivers. He is suggestively very close to incumbent governor Nyesom Wike and has been presumed in  many quarters as a likely successor to the current governor. He was in the National Assembly and a former Deputy leader of the House and has connections in and across the state as well. He was in the race in 2007 to succeed former Governor Peter Odili, but was later asked to step-down for Bar. Celestine Omehia and since then he has remained very calm and has been operating a very low key political calculation by the observation of political pundits in the state. He has remained one of the politicians to be watched out in the state.
Hon. Tammy Danagogo is the current Secretary to the State Government, he was a former Local Government Chairman and former Minister. In Rivers Politics he is known to be very sharp and carculative as well when it comes to power play and the way governance is run. He has been in the circle of decisions in the state and across and he believed in some quarters that his is almost those eyeing the covetous Brick House come 2023. Although, many analysts have suggested that his shot into the race would bring a suiting balm to the Riverine Communities /Ijaws who are already crying of marginalization in the political equation of the state.
Mr. Jach-Rich Tein Jr, Founder/President of Belemaoil, is one among those mentioned to be having interest in the runs and who want to govern the State come 2023. His interest according to many is just a surprise but in politics, it is believed that anything can happen, after all, 'man they say is a political animal'. He is a billionaire and has been suggestively serving and pushing the interest of the Riverine communities and he is believed to be a perfect match for the interest of the ijaw people.
Engr. Wara BioKporma became very famous in the last governorship election in the state. And he also believes he might be having interest ahead of 2023, having tested the system and believes he would be better positioned this time around. He was one man that was believed to have the backing of former Governor Rotimi Amaechi and now Minister of Transportation.
Chief Abiye Sekibo, is not a new man when it comes to Rivers State politics. He was a former Minister of Transportation and former SSG to Dr. Peter Odili. He is well connected and is believed to have been one of those behind the reelection of erstwhile governor Dr. Peter Odili in 2007. He is not a gentleman by appearance and he is one politicians in Rivers politics that can openly tells the expression of his feelings when he feels things are not going the right.
Dr. Sampson Parker was the Health Commissioner during the administration of Rotimi Amaechi. He is an easy going Youngman that is believe in several quarter can take the state to greater heights after incumbent, Governor Nyesom Wike come 2023. Although, he has been touted several times of having ambition, but have never taking any shot in the bill up for any election in the state, but is suggestively this time as one of the aspirant to watch out in 2023.
Mrs. Ibim Semenitari, has also recorded her impact in the politics of the state and up to the point of managing the Niger Delta Development Commission, NDDC. Her wealth of experience to run things in the state is not in doubt as the first woman hopeful governorship aspirant. She is not a push over and by dint of hard work has been a former commissioner of information during Rotimi  Amaechi Administration in which she proves her mantle in handling the position. Having come from the Riverine circle, she is believed might be one of those penciled down by the power players of ijaw land.
Engr. Sampson Nkere Kpara, was a former commissioner during administration of Chief Ada Rufus George. He has been a regular contestant and has played a major role in the stability of the APC in Rivers state. He is not also a push over and is a man that can spring surprises when it comes to power play in the state.
Mr. Isaac Wonwo, is one man that is very calm, although an entrepreneur and has taken several shots in order to govern the state. In the last election, Mr.Wonwo came third amongst the several political parties that vie in the last election. He is a chieftain of the Labour party and has remained key player in the party, however, the Town Crier online is still hopeful of keeping our readers posted on this to watch out list as events unfold each day. Please tell more so that we can cry to the public.