2019 Rivers Governorship Race: Senator Magnus Abe, Dumo Lulu Briggs In Alliance To Rescue Rivers People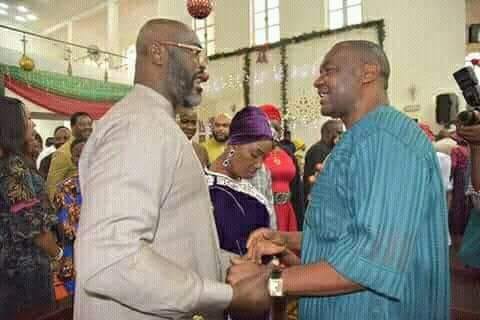 The aftermath of the various legal battles over elective delegate Congresses that has been quashed by the various courts in Nigeria, including the appellate courts has resulted in the search for alternative avenues as vehicle to be used by those seeking for political officers in All Progressive Congress -APC  Rivers state chapter. First, two contestants to the All Progressive Congress-APC  Rivers state Governorship candidature.
Senator Magnus Ngel Abe and Barrister Chief Dumo Lulu -Briggs are in deep discussions currently searching for how best to provide Rivers people alternative options to make at the Governorship polls come march 2019. It is that regular brain-storming that brought the duo together on Saturday 1st, December  2018 to find solution to what is happening in their political party  APC as it concerns the interpretation of the various court judgement from  Justice Chinwendu Nworgu's Port Harcourt Judicial Division and Supreme Court of Nigeria's judgement the two contestants are both lawyers with experiences and coupled with  fact that Senator Magnus Ngel Abe is now asking Federal High Court.
Sitting at Port Harcourt judicial Division to declare him as the All Progressive Congress -APC  Rivers state Governorship candidate of the coming march 2019, having emerged from Direct Governorship primaries election across the 319 wards in Rivers state. Also all those who emerged as the Candidate for parliamentary positions in the state House Assembly-NASS Abuja are all queuing up with Senator Magnus Ngei Abe in the Federal High  Court Port Harcourt judicial Division as claimants.
www.towncrier.ng investigative team has uncovered plans by Senator Magnus Abe and Dumo Lulu -Briggs to provide a common front in their bid to rescue Rivers state from the hands of Peoples Democratic party -PDP which the incumbent executive Governor Nyesom Ezenwo Wike, but what is not clear is how the duo want to actualize their plans as Dumo lulu -Briggs is bent in defecting to Accord Party as a way to offer himself to Rivers state people for election as governor in the next few days – precisely March 2019. And for Senator Abe, who has vowed never to defect to any other political party in the present political dispensation, no one actually can read his mind as he bears greater burden as the weight of the aspirations of majority of his supporters who are seeking for political offices rest upon him.
Hence at every development in their pursuit using legal instrument at the judiciary, Senator Abe goes into consultative meetings with all stakeholders at No 23 Evo Road campaign office better known as FREEDOM HOUSE. His style of leadership in that group has endeared him to his teeming supporters across the 23 local Government Areas and the 319 electoral wards in Rivers state. Others who have been observed holding consultative meetings with Barrister Dumo Lulu-Briggs from comrade Peter Odike led state APC executive including Chief Allwell Onyesoh who is a candidate for Rivers East senatorial District as he emerged via Direct primaries across the 8-Local Government Area that make up Rivers East senatorial District.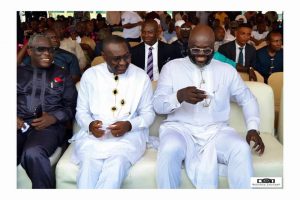 www.towncrier.ng investigations may not rule out, the fact that Barrister Dumo Lulu-Briggs having enough financial muscle to fight the incumbent executive Governor Wike of the PDP. The plans to enlarge the scope of how political offices would be shared and fundraising may not after all be unconnected with the agenda of the Marathon of meetings between stakeholders from Senator Magnus  Abe and that of DLB-Dumo lulu-Briggs group and the developing events in the coming days will affirm www.towncrier.ng  positions and revelations on who is doing what and the direction politicians are taking en-route to actualising their set-out political agenda and objectives.
Senator Abe, in his wisdom never wanted to leave APC in Rivers state only in the hands of the leader and Minister of Transportation Chibuike Rotimi Amaechi who he respects as the leader in the state, but he wants to cover any void that must have resulted from the infractions occasioned from the litigations so far, and for Dumo Lulu -Briggs. Senator Magnus Abe has large followers especially his Ogoni ethnic nationality, while Chief Allwell Onyesoh from Etche ethnic nationality has large number of voters, both Ogoni and Etche have homogenous voting population so large to upturn that of Obio/Akpor and Port Harcourt Local Government Areas whose voting population remain amorphous with majority of the electorate being economic migrants who may return to their various States of origin on the election days.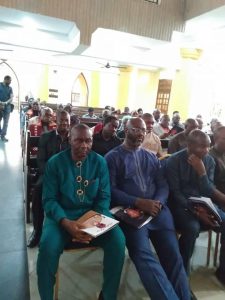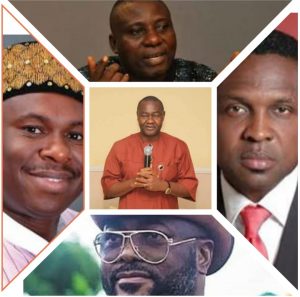 It is the strength of this that the political meeting and alliance between Dumo Lulu-Briggs and Senator Magnus Abe has become inevitable and necessary to forge enormous support across ethnic lines in the state.