2023 PRESIDENTIAL ELECTION: RIVERS STATE NYESOM WIKE AND FORMER VICE PRESIDENT ATIKU ABUBAKAR RECONCILE POLITICAL DIFFERENCES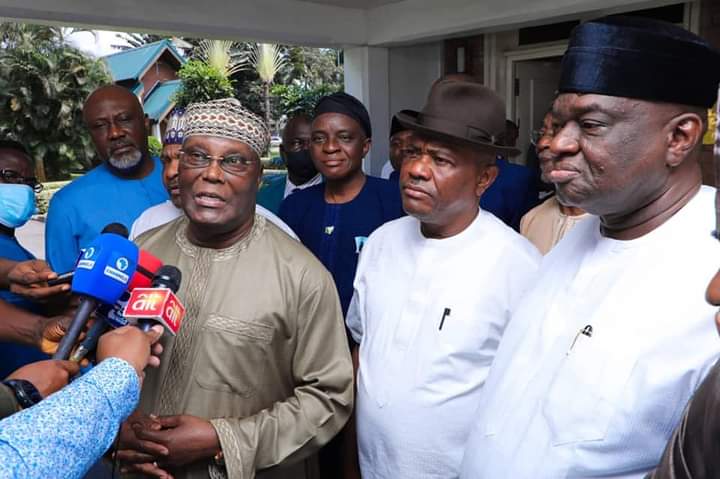 Ahead of the 2023 Presidential election eyes of the nation will be focused on Rivers state not only because of its humongous multi-billion-dollar crude oil resources that sustains Nigerian economy but for the fact that two prominent politicians Chibuike Rotimi Amaechi and Nyesom Ezenwo Wike of Ikwerre sub-ethnic Igbo group in Nigeria will be at the center stage of who will be the flag-bearer of the two popular political parties All Progressives Congress-APC and Peoples Democratic Party-PDP. Towncrier.ng here X-rays how the duo will take the political landscape come 2023 General elections.
But, the former Vice President Alhaji Atiku Abubakar in a bid to rejig his 2023 Presidential election aspiration visited Governor Nyesom Ezebunwo Wike at Rivers state Government House for 2-days where a lot of healing and strategizing factors were decidedly rounded up ahead of 2023 Presidential election.
For the incumbent Governor of Rivers state Nyesom Ezebunwo Wike founder of Grassroot Development Initiatives-GDI, a political pressure group that made its debut in 2013 his ambition to become an occupant did not start without this desire to serve and occupy Aso Rock Presidential Villa, Nigeria's seat of political power. In the early days of the present nascent democratic dispensation while he was Chairman of Obio/Akpor Local Government Area in Rivers state and later Deputy National Chairman of Association of Local Government Councils in Nigeria—ALGON, he became close to those who sat at Aso Rock Villa with constant visits to Abuja and National political movements started arousing his interest. Actually, he did encounter the then Vice President of Federal Republic of Nigeria Alhaji Atiku Abubakar, who was in charge of the economy and in whose office most of the meetings were being conveyed as relating revenue allocation to the 3rd tier of Government in Nigeria. Yes, he crossed several Local Government Councils where his colleagues were in administration settling one political problem or the other. But when he assumed office as Minister of State For Education during President Goodluck Jonathan's administration later Supervising Minister for Ministry of Education Nyesom Ezebunwo Wike became exposed to national politics and the zeal to occupy Aso Rock Villa intensified.
It is based on this reason that he first put himself forward to become elected executive Governor of Rivers state in 2015 and he began establishing contacts and establishment of Grassroot development Initiatives-GDI became imminent across the 23 Local Government Councils in Rivers state. Every weekend while as a Supervising Minister of the Federal Republic of Nigeria, he was at his campaign ground launching GDI and inaugurating its leadership at each Local Government Area of Rivers state. In December, 2014 it was this GDI political pressure group in Peoples Democratic Party PDP that supported his emergence as Governorship candidate for the 2015 Governorship election in Rivers state.
Having twice won election as executive Governor of Rivers state, Nyesom Ezebunwo Wike now has amassed enough experience and resources as he looks up towards realizing his earlier ambition to Occupy Aso Rock Villa come 2023 in fact in any capacity as Presidential candidate or as Vice President. In 2918 prior to 2019 Presidential election, he teamed up with Sokoto state Governor Alhaji Aminu Tambuwal to contest for the PDP Presidential Primary where Alhaji Atiku Abubakar and Tambuwal had at Port Harcourt National Convention ground slot it out and nearly Wike could have realized his ambition if not that Alhaji Atiku Abubakar has been an old political war horse who understands the nitty gritty of national politics and he won victoriously against Aminu Tambuwal. Today, Wike is proud of that feat and he is not resting on his oars as he has renewed that same old Presidential ambition desire as he has established Grassroot development Initiatives in the 774 Local Government Councils across Nigeria, using his political allies in ALGON while he was Deputy National Chairman around 2004 to 2006. He has been involved in donating N500m as relief funds to Fire Victims of Sokoto Market. He has taken up over N2b Road reconstruction in Benue state, He also was awarded chieftaincy title by the TIV ethnic nationality as a mark of appreciation of a robust relationship they have with him through his Grassroot development masterplan across Nigeria. Rivers state governor Wike has also visited Bauchi state where the Governor Alhaji Bala Mohammed has played host and returned the same visit to Rivers state with commissioning of Projects. For Adamawa state Governor Ahmadu Fitiri an Alhaji Atiku Abubakar's political son, Governor Wike has been a regular face in Adamawa having invited Ahmadu Fitiri to commission one project or the other while he too had visited Adamawa state recently.
In the South west, Oyo state Governor Engr. Makinde is married to a Kalabari daughter, a Rivers state born lady Onimim Makinde and being that OYO state is the only PDP governed state is another plus for Wike in relation to Yoruba ethnic nationality. In Edo state Wike played a major role in getting Godwin Obaseki a son-in Law who married a Kalabari daughter as his wife and who Rivers state Governor Wike persuaded him to defect to PDP while his All Progressives Congress APC denied his second term Governorship ticket.
In Bayelsa state Governor Wike has shown presence with over 5 Million naira construction of building projects at Nigerian Law School Yenagoa.
At Akwa Ibom state Rivers state Governor Wike has put in 6 Billion Naira in charity works. For Cross River state he has been careful not to relate with Professor Ben Ayade who later defected to ruling All progressives Congress APC. Given the above background it is certain that the Rivers state executive governor is not joking with his 2023 Presidential ambition. It is also on record that Governor Wike resuscitated PDP nationally when after the defeat of President Goodluck Jonathan the party went underground and nearly collapsed if not the intervention of Governor Wike who became spokesman for the party.
The Tuesday July 27th,2021 visit to Governor Wike at Port Harcourt by former Vice President Alhaji Atiku Abubakar has created multiple ripple effects as there has been gale of Mass resignations of 7 prominent PDP national executive members -after former Vice President's visit to Rivers state Governor Wike. The following officers resigned their positions as members of the National Executive Council-NEC, with Deputy National Publicity Secretary, Diran Odeyemi; Deputy National Legal Adviser; Ahmed Bello; Deputy National Women Leader Umoru Hadizat; Deputy National Auditor, Divine Amina Arong; Deputy National Organizing Secretary, Hassan Yakubu; and the Deputy National Financial Secretary Irona Alphonsus.
These actions by the 7 officials of PDP may not be unconnected with the consultation with Rivers state executive Governor Nyesom Wike who many describe as being a powerful Governor in Nigeria based on his gregarious efforts in restoring the Peoples Democratic Party-PDP immediately the party lost Presidential election to All Progressives Congress APC Muhammadu Buhari in 2015.
City People magazine reporter gathered that Rivers state Governor Nyesom Wike had in 2019 aspired to pair up as Vice Presidential Running mate with Alhaji Aminu Tambuwal Sokoto state Governor as Presidential candidate who lost in the PDP presidential Primary election to Alhaji Atiku Abubakar. Hence the best way for Rivers state Governor to realize his political dream of occupying Aso Rock Villa as Vice President or President of Nigeria come 2023 is to making sure that his Rivers state citizen and National Chairman of PDP Prince Uche Secondus is shown the exit door before the Party's National Convention in preparation of the 2023 PDP presidential Primary election in which North Eastern Region of Nigeria produces President and Rivers state produces Vice President since Ikwerre ethnic National is of Igbo Tribe one of the Major tribes in Nigeria agitating for a top slot in the highest political office in Nigeria. With this scenario playing out, the National Chairman of PDP Governors' Forum and Sokoto state Governor Alhaji Aminu Tambuwal. When Prince Uche Secondus gives way for another National Chairman other Zones in Nigeria other than South-South geo-political zone which will automatically make way for Rivers state Governor Wike to emerge as Vice Presidential aspirant or Presidential candidate.
In this way Bayelsa state former Governor Seriake Henry Dickson and Sokoto state Governor Aminu Tambuwal are of the opinion that Prince Uche Secondus should remain in Office for a second term which will pay way Alhaji Aminu Tambuwal to emerge a Presidential candidate without Rivers state Governor as Vice Presidential nominee in 2023 Presidential Election.
So, given the mass resignation in PDP as Chairman of PDP Governors' Forum, Alhaji Aminu Tambuwal in a statement said "The PDP Governors' Forum has received with regret and sadness the recent rumblings in the PDP. The Governors hereby call on all members of the party and indeed all stakeholders to remain calm in the face of the developments. We plead with all aggrieved persons and those with the interest of the PDP at heart to keep their gun powder dry, as efforts are being made in consultation with members of the PDP in consultation with members of the Board of trustees and other stakeholders to resolve all contending issues.
"To this end, the PDP GOVERNORS' Forum has scheduled an emergency meeting to discuss the affairs of the party and the way forward. The PDP as the only remaining hope of the Nation for good governance must show an example to Nigerians and also take advantage of the current disarray in the APC and rudderless Government."
For other PDP big wigs, the fear of Rivers state Governor Wike is the beginning of their political wisdom as he is much suspected to use his weight on other members to look at his ways and means of controlling the affairs of the party which majority of them abandoned immediately former President Goodluck Jonathan his Presidential lost re-election bid in 2015. And PDP National chairman should all plans by Rivers state Governor Wike goes well will resign going to the Governor Samuel Ortom of Benue state Peace settlement options placed on the table at Makurdi recently.
---