AKIN VICTOR FAKOREDE—THE MAKING OF NIGERIA'S BEST POLICE OFFICER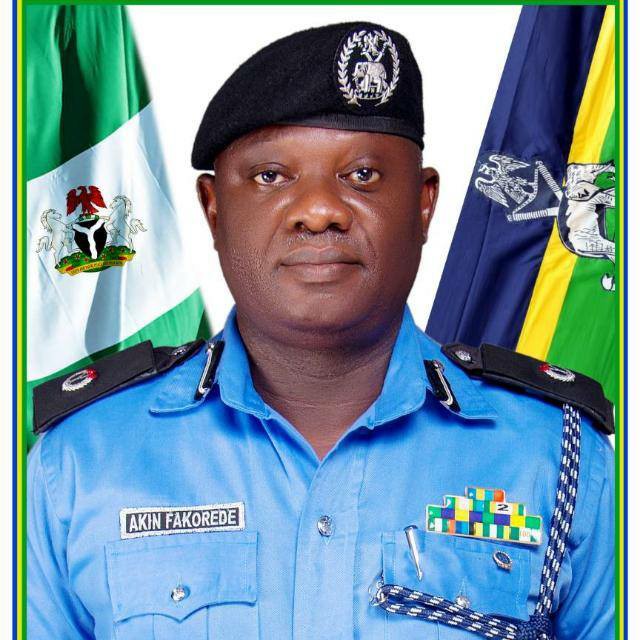 HOW HE TURNED AROUND PEACE FRAGILE NIGER DELTA TO INVESTMENT HAVEN
In the history of Nigeria's Police Force and their service to the Civilian populace, not many people knew how difficult it is to manage human beings in the face of numerous troubled spots that deter progress and human development until the arrival to Rivers state of Ekiti state born University of Calabar trained graduate of Law, Assistant Commissioner of Police, ACP Akin Victor Fakorede. He is tall and athletic built with sharp eyeballs that can see afar beyond what ordinary citizens can see coupled with his training as a senior security personnel with which he became more intelligent and carefully atoned with human right and respect for the constitution of the Federal Republic of Nigeria which enshrined dignity of human life as a fundamental right of each citizen. In June,2020 Justice Adolphus Enebeli of Rivers state High Court Port Harcourt Judicial Division struck out a case on Fundamental Human Right against Nigerian Police and ACP Akin Victor Fakorede as Commander of Rivers state's defunct F-SARS brought before it by the wife of late Dr. Ferry Gberegbe of Rivers state Polytechnic Bori, an incident that allegedly took place during March 2019 General Election in Rivers state. Irrespective of the bad conducts of men of the defunct F-SARS, ACP Akin Victor Fakorede remains one who devoid all strategies by Politicians to rubbish his excellent career in Law enforcement in Nigeria as he won several court cases brought against him by those who wanted to rob the citizens of their Fundamental rights to life and that franchise to choose who will lead them in a free and fair election. Whereas now some bad eggs in the defunct F-SARS are being dismissed, ACP Akin Victor Fakorede has come out to tell his admirers that he is still a personnel of Nigerian Police Force. Emeka AMAEFULA here takes a retrospective report on the work of Assistant Commissioner of Police -ACP Akin Victor Fakorede while he was Rivers state Commander of the defunct F-SARS.
Few years ago when this reporter met with him at Port Harcourt Rivers state where he was heading the now famous defunct Special Anti-Robbery Squad-F-SARS he was calm, with sharp mental reflexes and rolled his eyeballs regularly to examine the motives of his visitor and when he was 'conc-sure' of his safety, he specifically had admiration for Towncrier Online Magazine which has balance news reportage and pronto, a fruitful chat started where the true image and character of Akin Victor Fakorede defunct Nigeria's Special Anti-Robbery Squad F-SARS Rivers State former Unit Head was x-rayed at the end of the conversation.
First is the fact that he put his fingers inside his office Table drawer and brought out Court Papers involving one Charles Emesiobi Nwaopei 28 years old, Goodnews Kejeh 25 years and Goodluck Wogbo 27 years old all natives of Emohua Local Government Area of Rivers state being notorious Armed Robbers in Rivers state whose robbery gang allegedly killed two Army personnel and in another Bank robbery case inside Port Harcourt City Trans amadi Industrial Layout where they snatched Military Raffles and used same for subsequent operations. To his dismay, when the suspects were paraded and later transferred to Rivers state High Court for prosecution, what ACP Akin Victor Fakorode got from the report of Director of Public Prosecution-DPP of Rivers state Judiciary that dismissed all the allegations against the suspects did not satisfy him as a trained Lawyer knowing that most of the suspects has history of Political thuggery and the summersault of those at the helms of affairs will be 'never to prosecute the suspected criminals', he quickly took the report of DPP and the Case file to Federal High Court Port Harcourt Judicial Division where they were thoroughly tried and when judgement was delivered those who were innocent were set free by the court and the die-hard political thugs turned criminals were sentenced for illegal possession of Firearms and robbery ranging to 7-years to 14 years of jail terms. As the Judge in his erudite sentencing of the accused said "From the evidence adduced so far before the court, I am convinced that the prosecution has been able to prove the case of being in possession of firearms without lawful authority. It is utterly baffling to this court, from the evidence led, all the defendants are from the same Emohua Local Government Area of Rivers State. What a coincidence. There is ample evidence from the witnesses of the prosecution and the defendants themselves, linking them to the offences. The prosecution has proved the case against the defendants beyond reasonable doubt. I hereby find you guilty as charged and convict you for the offence of conspiracy to commit felony to wit, unlawful possession of firearms, punishable under Section 516 of the Criminal Code 2004 and unlawful possession of firearms and ammunition, contrary to Section 3 and punishable under Section 27 (1) of the Firearms Act, 2004."
If you think that Akin Victor Fakorede will receive praises from the Rivers state government, the reverse became the case as he remained a perceived foe to those at the helms of political power at the state he was supervising as Head of F-SARS. And when it was election time ACP Akin Victor Fakorode became a target of those who wanted to subvert the will of the people through a free and fair electoral process. Yes, several allegations were leveled against him without evidentiary proofs which made sporous the virile allegations such as the one made by the then Director General of Peoples Democratic Party- PDP in Rivers state Ambassador Desmond Akawor few days to the 2019 General Elections "in line with their defined strategies, Mr. Akin Fakorede and his SARS team were seen arresting indiscriminately, supporters of the Peoples Democratic Party (PDP) in Khana, Gokana, Tai, Eleme and some other Local Government Areas of the State on Friday February 15, 2019 even when the elections had not commenced and without reasonable cause".These allegations were attempts made to scare away the well-trained Police man ACP Akin Victor Fakorede from performing his official duty of Peace Keeping and maintenance of Law and Order before, during and after the 2019 General Elections in Rivers state and even the Judicial panel of Inquiry set-up by the Rivers state Government against his conducts was thwarted by the Police hierarchy's report which exonerated him from all the allegations. And the publications came at a time when the then Inspector General of Police, Ibrahim Idris set up 15man investigative Panel which sat in 2017 and exonerated Assistant Commissioner of Police ACP Akin Victor Fakorede from all the allegations leveled against him even the INEC reports according to the Counsel to Akin Fakorede said that all the allegations contained in the publications, including the report of INEC, are false, malicious and completely unfounded. During the 2016 Rivers rerun elections, our client never assaulted Mary Tunkayo, Dr. C. Odekpe or any INEC staff. This is clear from all written statements obtained from the relevant INEC staff".
Worse still is the fact that ACP Akin Victor Fakorede being a Lawyer never slept on his right of seeking redress at the Law court over how major front pages of Nigerian Newspapers were contracted and sponsored with his pictures and sporous allegations frontally displayed. He sued Rivers state Government through the then late Attorney General Emma Aguma SAN and the Newspapers involved through his Counsel Ayodele Akintunde Esq. service of which was delivered to Rivers state Government on Tuesday 22nd of May, 2018 to retract and tender apology to him for the perceived wrong said to have been carried out against him by the Government of Rivers state led by Governor Nyesom Wike came out victorious as his anglaise name "Victor" represents.
The Letter stated that "the allegations that our client is an election rigger and an enemy of democracy, and that our client is recruiting, training and arming a special squad to rig the 2019 elections in Rivers state through violent means are totally false and baseless. As a consequence, our client's reputation has been seriously damaged and has suffered considerable distress and embarrassment. We hereby demand that you retract the libelous publications contained in the national Newspapers within seven days of the receipt of this letter and tender an unreserved apology to our client for damages to his reputation and the distress and embarrassment caused him by the libelous publications. "The retraction and apology must be given much publicity as your libelous advertisements and they must be inserted on the front pages of the same newspapers, in as large a type and in as prominent positions as your advertisements. The apology must also be printed/published twice the number of times your libelous advertisements were published in each of the national newspapers. The Rivers state government must also give a written undertaking never again to publish any similar libel against our client in future. Take notice that if you do not cause to be printed/ published, a retraction and an unreserved apology in the manner demanded within seven days of receipt of this letter, and pay an agreed amount as damages for the libel, we have our client's instruction to commence legal action against the Rivers state government for N2 Billion as damages for libel. You have been warned."
Rivers state Police Command as at the time under review had on Wednesday 23rdof May, 2018 issued Press statement signed by Police Public Relation Officer ASP Nnamdi Omoni which was advertised on page 26 of THE NATION newspaper titled "REFUTAL OF THE RIVERS STATE GOVERNMENT ADVERTORIAL RE: INEC ELECTION REPORT THE STORY OF AKIN FAKOREDE IN RIVERS STATE." In the published advertorial by Police part of which states that "the Command finds it most offending and completely unacceptable for the Rivers state Governments to refer to one of its principal officers as election Rigger and Enemy of democracy, and wishes to caution the Rivers State Government against actions and statements that are inimical to peace, order and security of the state. "And Nigerian Police in its response to the allegations said that all established cases of electoral offences were charged to court and were presently pending before the Federal High Court in charge of Nos. FHC/PH/86C/2017, FHC/PH/90C/2017 and FHC/ABJ/CR/42/17.
With his clean record of service Akin Victor Fakorede at a time in his Police service career was posted for Interpol, International Police Organization foreign service from where he earned medals for his gallantry and display of good professional conduct amidst several challenges. A situation like what many Nigerian Youths are protesting against #ENDSARS, remains opposite of what ACP Akin Fakorede stands for as he used wisely his training as a Lawyer and a higher Police officer used his personal fund to cater for some deprived citizens who were brought before his station take the case of three rivers state youth Charles Emesiobi Nwaopei and others who were professionally prosecuted at Federal High Court, Port Harcourt Judicial Division. He never allowed any extra judicial killings no matter how severe the case must have been ACP akin Victor Fakorede used the Law courts as demanded by the Constitution of Federal republic of Nigeria while handling matters involving Nigerian youths. Today, the Niger Delta region is at peace as investors in the region are back to continue with their various trades which have continued to enhance the economy of Nigeria.