APC Governors Demand Automatic Tickets For Obaseki, Akeredolu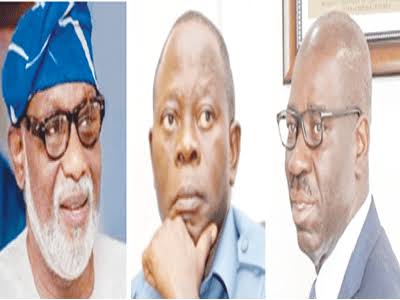 Ahead of the gover­norship elections in Edo and Ondo states, governors elected on the platform of the ruling All Progressives Con­gress (APC) have demanded automatic tickets for Gover­nor Godwin Obaseki of Edo and his counterpart in Ondo, Arakunrin Rotimi Akeredolu.
According to a credible source, the governors under the aegis of the Progressives Governors' Forum (PGF) took the decision at a closed door meeting held at the Kebbi Governor's Lodge on Wednes­day night which lasted till Thursday morning in Abuja.
Both Obaseki and Akeredolu are among the forces who want Adams Oshiomhole ousted as the party's na­tional chairman.
It would be recalled that the governors had a meeting earlier on Monday where they all agreed to postpone the National Executive Council (NEC) meeting of the par­ty where Oshiomhole's fate would have been sealed.
While fielding questions from journalists after the first meeting, chairman of APC Governors' Forum and Kebbi State governor, Atiku Bagudu, said President Muhammadu Buhari obliged the request of the governors on the postponement of the meeting.
He also said they informed Buhari that the governors had agreed to resolve all lingering crises bedeviling the party, a request he also obliged.
"Also, we seek Mr. Presi­dent's support to postpone the National Executive Council (NEC) meeting that is sched­uled for tomorrow until such a time that the governors are ready to report back," he said.
Asked what was the president's response to the request, Bagudu said Buhari gladly ac­ceded to the demand because it was the APC governors' unanimous decision.
"Among the issues we discussed was the resolution that the governors have taken to work together to resolve all the issues in the party," he said.
Speaking on what necessi­tated Wednesday's meeting, our source said the governors were worried because Oshiomhole upon resumption of office on Tuesday never men­tioned anything about his rift with Obaseki and Akeredolu but only spoke about his rec­onciliation with estranged members of the National Working Committee (NWC) whom he had earlier suspend­ed from office.
"Oshiomhole said he is ready to turn a new leaf and settle all disputes with those opposed to his leadership. When he resumed office, he only spoke about lifting the suspension on the party's Deputy National Chairman (North), Sen. Lawal Shuaibu, and National Vice Chairman (North), Inuwa Abdulkadir in the spirit of reconciliation.
"The governors met on Wednesday evening at the Kebbi Governor's Lodge and there it was agreed that there should be automatic tickets for Governor Obaseki and Akeredolu. Any contrary action by the national chairman is a sign that he is not really sincere about finding a lasting solution to the crisis rocking the party".
When contacted, Governor Akeredolu in a chat with our correspondent said he couldn't comment on the resolution reached at the meeting because he was absent.
Speaking to our newsmen, Festus Asiriuwa, an APC chieftain from Edo State, while lauding the gov­ernors' decision said Oshiomhole's silence hours after the faction loyal to him in Edo APC opened a new secretariat shows that he is not ready for genuine reconciliation.
"It is a bold move by the governors but will Oshiomhole abide by it? Less than 24 hours after he resumed office as chairman, his loyalists opened a new secretariat in Edo State. Have you heard any word from Oshiomhole condemning it? Yet he said he is ready for genuine reconciliation.
"What he doesn't understand is the fact that those claiming to be his loyalists in Edo APC are only after their selfish interests. Since they know he doesn't want Obaseki to get the ticket, they are pretending to be loyal to him so he can consider one of them as the party's flagbearer.
"Now having realised that the odds are against them and Obaseki may clinch the ticket, they have decided to go all out by opening a new secretariat. But I can assure you that they will all be dealt with."
Alhaji Lawal Shuaibu, Deputy National Chairman, North, had on Wednesday warned the party's leadership against toying with Edo State governorship ticket.
He declared without equivocation that Governor Godwin Obaseki remains the strongest candidate for APC in the coming gubernatorial poll in Edo State.
According to him, no party drops a candidate who is performing, insisting that global practice cannot be jettisoned in the case of Edo State.
He said the party can learn valuable lessons from what is going on in USA where nobody is challenging Donald Trump among the Republicans.
Quoting President Muhammadu Buhari's comment during the last NEC of the party, Shuaibu maintained that the APC cannot afford to leave a performing candidate to experiment with a new person.
"Edo is not a time bomb. We all heard President Buhari during the last NEC meeting announce that any governor who has performed deserves a second term. There is no time bomb because why should you prefer any other person than the sitting governor?
"It is like that all over the world even in America that started this democracy. Donald Trump has no opposition and nobody is contesting against him. It does not make sense to bring another person to contest against the governor. Governor Obaseki is the strongest candidate of the APC we have in Edo State".