APC Rivers Presidential Campaign rejects Okocha's call to vote PDP Governorship candidate
All Progressives Congress, Presidential Campaign Council, PCC in Rivers in visible crack as other members of the party have rejected the call by Tony Okocha, also a member of PCC to vote for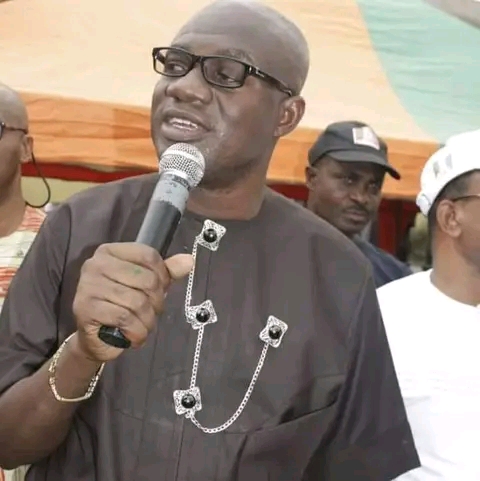 Eric Olusesan/Port Harcourt
All Progressives Congress, Presidential Campaign Council, PCC in Rivers in visible crack as other members of the party have rejected the call by Tony Okocha, also a member of PCC to vote for Siminalayi Fubara the PDP Governorship candidate.
In a press statement signed by Augustine Wokocha,
State Coordinator, Ineye Jack, Secretary for Tinubu/Shettima Grassroot Independent Campaign Council and the Presidential Campaign Council, Rivers State, has rejected Tony Okocha saying he only spoke for himself.
Wokocha said it had been drawn to a media statement credited to Anthony C. Okocha where he purportedly claimed that he spoke on behalf of APC PCC Rivers State where he said his group will vote for Siminalayi Fubara as a compensation for the support of Governor Nyesom Wike for Bola Ahmed Tinubu.
"While we join Chief Okocha to congratulate our President elect Senator Bola Ahmed Tinubu, his Vice, Senator Kashim Shetima and our party, the All Progressives Congress (APC), for this historic victory against a very distractive and vehemently divisive campaign hinged basically on religion, ethnicity and the natural vagaries of our humanity (age and ill-health).
He said it is important however to state that the credit for the victory of Bola Ahmed Tinubu and the APC in Rivers State belongs to all Rivers persons who turned out to vote for the candidate.
"Wokocha who is a former Commissioner for Power under former Governor Chibuike Rotimi Amaechi said it is important to state that every opinion, expressed by Chief Tony Okocha in his aforesaid Press Conference, is his personal opinion as he neither spoke for the PCC, nor for the TSG/ICC led him in Rivers State.
He stated that at no time did the PCC/ICC meet to authorize Chief Tony Okocha to express the opinion and sentiments so expressed wherein he said Siminalayi Fubara of PDP.
He said further that APC PCC/ICC Nigeria, headquartered in Abuja and the President Elect, have not authorized any statement/sentiments such as those expressed by Chief Tony Okocha asking members to vote for Siminalayi Fubara.
He, therefore, implore all Rivers residents who are eligible voters to turnup enmasse and reject the invitation of Chief Tony Okocha to support the extension of what he called the rascality that the Rivers State Government of today represents and to massively come out, vote and insist that their votes count on the 11th of March, 2023 for a better Rivers State.