Appeal Court Throws Out Tonye Cole Case As Senator Magnus Abe Moves Closer For APC 2019 Governorship Candidacy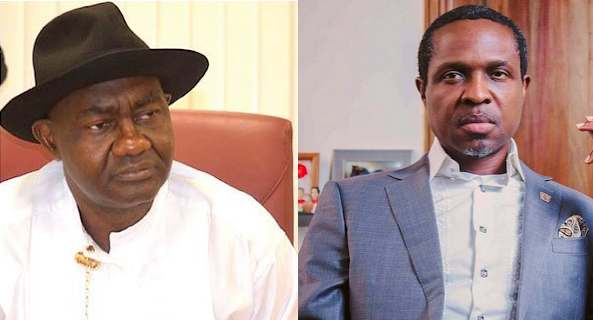 DOM ZIMEGAPI
***Ameachi Snobs President Buhari, Tinubu Over Magnus Abe's Rivers Governorship Ticket
There is on-going jubilation at Freedom House the Governorship campaign headquarters of Senator Magnus Ngei Abe coming on the heels of the Court of Appeal sitting at Port Harcourt judgment as delivered by Justice Abubakar Daati Yahya on Wednesday 12th of December, 2018. 
www.towncrier.ng reporter that witnessed the judgment reports that APPEAL CASE no.461 has been thrown out from the Appeal Court as it was an Appeal case against the judgment of a Port Harcourt High Court made by Justice Chinwendu Nwogu on the 10th of October, 2018.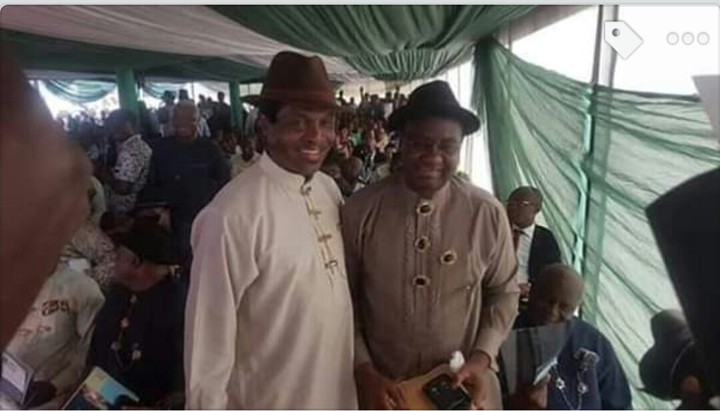 The Court of Appeal held that being a pre-election matter; it was filed out of time being status barred in law. Recall that 23 Local Government Areas supposed Delegates who purchased Forms for participation in the purported Delegates Congresses were denied as they went to court seeking for redress of which they won.
Again the application for joiner in the Appeal Court case 461 by Tonye Cole and Ojukaye Flag-Amachree also failed as it was dismissed by Justice Abubakar Daati Yahya for lack of competence in its entirety hence it was struckout. The Chairman of the APPEAL Panel read that " The Law herein is to the effect that only the Judgment of the Rivers state High Court delivered by Justice Chinwendu Nwogu on the 10th of October, 2018 is potent and subsisting."
However Senator Magnus Abe is also at Federal High Court sitting at Port Harcourt Judicial Division seeking to be declared as the lawful candidates all of those who contested in (Direct Primaries)  of Rivers state Chapter of All Progressives Congress –APC based on the Direct Primary election that declared him winner. While Nyesom Ezenwo Wike of Peoples Democratic –PDP also approached High Court seeking for a declaration that All Progressives Congress-APC as party in Rivers state has no candidate to stand for elections in the coming 2019 polls based on the Judgment on 10th October, 2018 by Justice Chinwendu Nworgu.
Senator Abe's case comes up on Thursday 13th of December, 2018 at the Federal High Court sitting at Port Harcourt.
Read Also: Ameachi Snobs President Buhari, Tinubu Over Magnus Abe's Rivers Governorship Ticket
This is authoritative coming from the leadership of All Progressive Congress -APC in Nigeria. The presidency and the leader of APC senator Ahmed Bola Tinubu had few weeks ago commissioned the party's National legal Adviser to conduct a legal  review on the implications of the various court judgments and ongoing litigations about the Rivers state chapter especially on the parliamentary and executive Governorship tickets.After thorough vetting of the judgment and a review about senator Magnus Abe's Federal High Court litigation requesting the Court to declare him as the authentic Rivers state APC
Governorship candidate for the March, 2019 Governorship election.
The outcome, www.towncrier.ng deep investigative crack-team's revelation favoured senator Abe as Architect Tonye  Cole, it was reported does not exist as APC Governorship candidate in Rivers state in the eyes of the law and even before natural justice as the circumstances that threw him up to the Rivers state  APC Governorship race remains shrewded and unclear towin APC  2019 Governorship election.         
It was on this strength of the National Legal Adviser's opinion and findings that President Muhammadu Buhari and the leader of the party senator Ahmed Bola Tinubu plus other leaders of the party gathered in a private meeting inside Aso Rock villa Abuja and invited the Minister of Transportation, Chibuike Rotimi Amaechi and Senator Magnus Abe for resolution of the conflict. In that meeting, president Buhari humbly requested Amaechi to go back to Rivers state and work with senator Magnus Abe who has been selected as the Rivers state Governorship candidate in the Direct Governorship primaries in Rivers state 319
wards.
As it was reliably gathered by www.towncrier.ng crack  investigative reporter,  Chibuike Rotimi Amaechi who doubles as the Director-General of President Muhammadu  Buhari's 2019 Presidential campaign organization, rejected the position of the President Buhari and that of leader of APC Senator Bola Tinubu saying "instead of me accepting Abe as APC Rivers state Governorship candidate without court judgment declaring so. I will resign from the party and leave it for Abe".  
The duo of President Muhammadu Buhari and senator Tinubu knowing how much campaign fund that Chibuike Rotimi Amaechi  brought into the  financial coffer of the 2015 PMB presidential campaign organization chose to ignore him but to watch his next political move as his insistence on choosing his business partner Architect Tonye Dele Cole as Rivers APC Governorship candidate is a bad political position.            
First,Tonye Cole has not been an APC party member known across board but he was foist upon the entire Rivers APC chapter by the Minister of Transportation who in 2012 also nominated Tonye Cole as a ministerial candidate but the PDP party stalwart rejected his nomination on the ground that he was never a known party member but someone, the then Rivers state Governor and now Transportation Minister Chibuike Rotimi Amaechi handpicked to substitute his then chief of staff and now Governor of Rivers state Nyeson Ezenwo Wike who was later screened and appointed as junior minister for Education and later supervisory minister for Education under president Goodluck Jonathan.