Governor Wike and Dr Dakuku Peterside clash over address to Rivers Traditional Rulers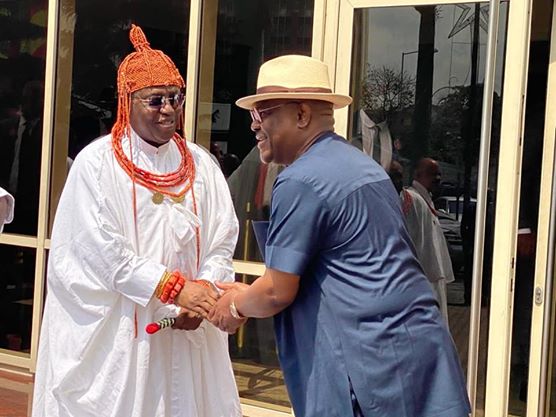 …Governor Wike urged leaders of the South-South to stop the situation where militants determine who becomes the Traditional Rulers.
….Stop disgracing traditional rulers— Dakuku Peterside
…You are seeking cheap relevance– Rivers State government
Rivers State Governor, Nyesom Ezenwo Wike has called on Traditional Rulers from the South-South to work in unity to advance the development of the geo-political zone.
Speaking during a Courtesy Visit by Oba of Benin, His Royal Majesty, Omo N'Oba N'Edo, Uku Akpolokpolo, Ewuare II , on Tuesday, Governor Wike said South-South Traditional Rulers should not be second class rulers.
He said: "The Traditional Rulers from South-South should work together to advance the development of the region.
"The Oba of Benin and the Amanyanabo of Opobo Kingdom should not be second class to anyone. Our Traditional Rulers must not be relegated by anyone. We should not see ourselves as second class citizens."
Governor Wike urged leaders of the South-South to stop the situation where militants determine who becomes the Traditional Rulers.
"Militants should never dictate what happens in communities. I am talking about Traditional Leadership.
"These days, you see people of no consequence coming forward to determine who becomes a Traditional Ruler because they carry guns. We must perform our roles and functions ", he said.
Governor Wike called on South-South Traditional Rulers to work with the Governors of the zone to chart out areas that require developmental interventions.
He said: "When we interact, you point out areas where you require the governors to develop and we can synergise for the good of the zone.
"We will work together to move the Traditional Institution forward. We also need the support of the Traditional Institution for the development of the zone."
The Governor called on the Oba of Benin to find a way to resolve the political feud amongst two leaders of Edo State.
"I want to humbly call on you to wade into the political crisis in Edo State. Though you are not a politician, it is necessary for the feud to be resolved. Please find a way to address the issue", Governor Wike said.
He commended the Managing Director of Access Bank, Mr Herbert Wigwe for supporting the Benin Traditional Council.
Earlier, the Oba of Benin, His Royal Majesty, Omo N'Oba N'Edo, Uku Akpolokpolo, Ewuare II said that his visit to Port Harcourt was in line with the tradition established by his late father.
He said: "Following the footstep of my father who came on a thank you tour after his coronation, particularly when we recall with nostalgia my father's public service in Ahoada many years ago. Port Harcourt and Rivers State is indeed a second home."
Oba of Benin said his visit is aimed at strengthening friendly and close relationships between the people.
"I am here to strengthen the friendly relationship and close affinity of our people. History has it that some of the tribes here trace their ancestry to Benin. This includes the Ikwerres , the people of Ahoada and Omoku ", he said.
He added that he was also in the State to meet with other Traditional Rulers to influence the process of development.
He said: "I will meet with the South-South Monarchs Forum who were present at the coronation so that we can share ideas with them on ways of strengthening the Traditional Institution in Nigeria and ensure the development and wellbeing of our people.
"We would like to use this opportunity of this visit to appreciate the cordial relationship between the good people of Edo State and the good people of Rivers State."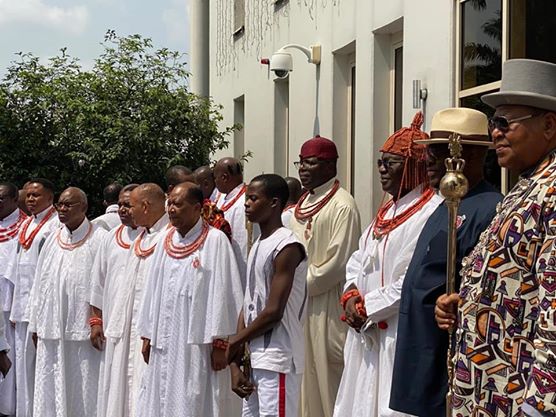 He extended a Special Invitation to the Government and people of Rivers State to participate in the celebration of the Igue Festival and receive the blessing of doing so.
He informed the Rivers State Governor that the Managing Director of Access Bank, Mr Herbert Wigwe has made quality investments at the Benin Palace.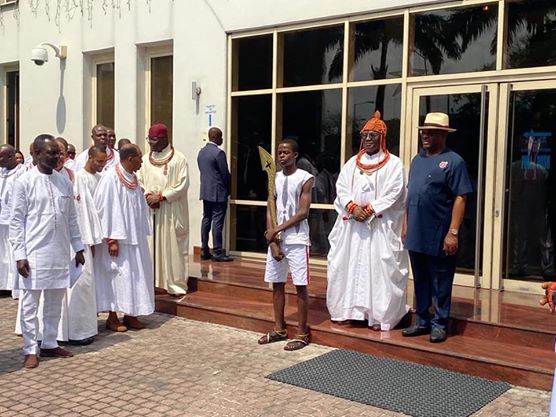 Read Also: Supreme Court sack Imo State Governor Emeka Ihedoha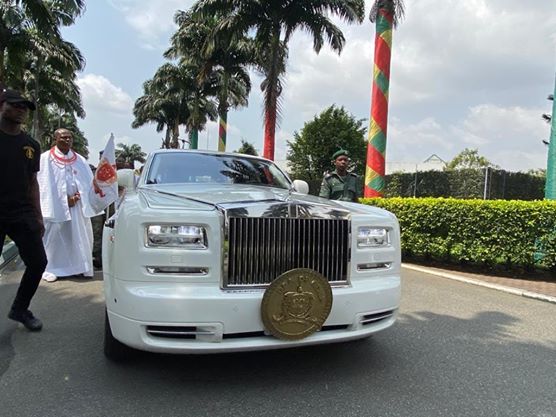 Dr Dakuku Peterside has alleged that the recent actions of Governor Nyesom Wike against traditional stools in Rivers State have been described as "demeaning, unbecoming, irresponsible and unbefitting" for someone who occupies such a dignified office.
Peterside stated while reacting to the way and manner Governor Wike addressed traditional rulers in the state during their quarterly meeting in Port Harcourt.
Governor Wike was seen lambasting the traditional rulers and threatening to depose them over very flimsy reasons, in addition to the governor humiliating one of them by calling the monarch a 'trouble maker.'
Peterside stated the utterances of Wike represents an all-time low in the history of the state, where a governor can "insult, disgrace, humiliate and depose traditional rulers at will."
"Wike's penchant for embarrassing traditional rulers is becoming irresponsible and shameful. Never in our history have we had such a disrespectful governor.
"Since 2015, Wike has sacked, deposed and withdrawn recognition from several royal fathers without any recourse to history, tradition and culture.
"Not too long ago, Wike threatened to depose the Amanyanabo of Kalabari, King Theophilus Princewill, just as he has severally lambasted traditional rulers as if they were his servants.
"Wike must be called to order. Well meaning Rivers people must call him to order. He is turning himself into a feudal lord and an emperor at the same time. History is replete with his likes who ended up badly after turning themselves to tiny gods," he stated.
Peterside appealed to the traditional rulers to overlook the "shame and disrespect" meted on them, pointing out that as fathers, they should regard the governor's utterances as that of a "child who lacks home training."
"Wike should know that history is watching. Rivers people typically respect traditional rulers and traditional institutions. The governor must stop desecrating our traditional rulers and traditional institutions," he summed up.
However, in a swift reaction, the Rivers State Government lashed at Peterside in press statement signed by Paulinus Nsirim, Commissioner for Information and Communications stated: "As usual, we were amused by the lame effort by the 2015 Defunct Rivers State APC Governorship Candidate, Mr Dakuku Peterside to seek political relevance through a jaundiced interpretation of a mischievously edited video of the interaction between Rivers State Governor, Nyesom Ezenwo Wike and esteemed Traditional Rulers of Rivers State.
"Dakuku Peterside and his faction of the defunct All Progressives Congress ( APC) procured a video of an engagement that lasted for over one hour and lifted different aspects of the response of Governor Wike to mislead members of the public.
"Governor Wike was responding frankly to the address of the Chairman of the Rivers State Council of the Rulers wherein the Chairman requested that non-recognised Traditional Rulers should be checked by the Rivers State Governor.
"The Governor directed the Attorney General of Rivers State to prepare an Executive Bill to resolve the issue raised by Chairman of the Rivers State Council of Traditional Rulers. He went ahead to urge the Traditional Rulers to always attend Government Functions with the Official Staff of Office handed over to them by the Rivers State Government, following the formal request by the Rivers State Council of Traditional Rulers.
"At this point, there was General applause and Governor Wike reminded those clapping that he was simply doing what is right.
"For Dakuku Peterside to attempt to use a frank discussion between the Rivers State Governor and the esteemed Traditional Rulers of Rivers State to seek relevance is a confirmation of the total rejection that he suffers alongside members of his defunct political party.
"As a political toddler, who is being breastfed politically, Dakuku Peterside still relies on mischief to remain relevant. He goes about paying social media cheerleaders to cast aspersion on the Rivers State Governor on the premise of a manipulated video.
"We understand Dakuku Peterside's frustration following the painful defeat he suffered in 2015. But he cannot climb the political ladder on the premise of needless falsehood and mischief.
"Rather than this dance of shame he should redirect his energy on how to rebuild the disintegrated APC family in the State.
"Dakuku Peterside can be likened to a man chasing rats while his house is on fire. There are so many factions in Rivers State. Instead of Dakuku Peterside to address this shameful issue, he is sniffing around paying for videos of the official engagements of Governor Wike.
"Thank God they have accepted that Governor Wike is the best performing Governor in the country and are now concentrating their wasted energy on backyard gossip.
"Dakuku and his co-travellers should know that Governor Wike has very high regards for the Traditional Institution and will never do anything to denigrate them", Paulinus Nsirim said.