HOW AMAECHI PLANS TO APPOINT AND EMPLOY A GOVERNOR FOR RIVERS STATE -HON. TONY OKOCHA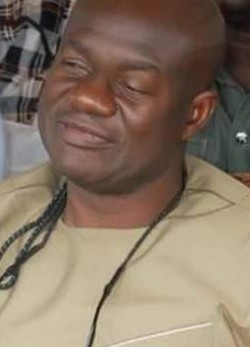 —RIVERS STATE'S CHAPTER OF ALL PROGRESSIVES CONGRESS IS HEADING NOWHERE COME 2023
Tall, sharp mental reflex, a Philosopher and a seasoned Politician, Honourable Tony Okocha one term Chairman of Obio/Akpor Local Government area, former Personal assistant to Deputy Governor GTG Toby and former Chief of Staff to Governor Chibuike Rotimi Amaechi lives among his Nkpolu, Rumuigbo community. His expansive posh compound comprising a duplex for himself and his family with appurtenances.
Honourable Tony Okocha, a serious-minded politician is not a man gripped with fear as he remains a grass root community fellow known by his people of Rumuigbo being a title holder. When he is holding community meetings with his people, he is busy writing and reading or consulting stakeholders searching for how Rivers state his home state will have attainment of relative peace and tranquility that will spur development.
The University of Port Harcourt graduate of Philosophy, Hon. Tony Okocha on Monday 4th of October, 2021 granted an exclusive interview where he spoke about his severed relationship with the leader of APC in Rivers state and Minister for Transportation Rt. Honourable Chibuike Rotimi Amaechi. READ ON
EXCERPTS
What is the position with the last held All Progressives Congress Ward Congress, did you participate?
I was excluded as I didn't participate.
Why?
The reason basically is the approach our leader adopted. You recall that in 2018 leading to the 2019 election APC had a similar problem. It was so much heightened that APC as a party could not be on the ballot. It also accounted for the fact that as we speak , no person who campaigned under APC was elected into office because they were on the ballot. The reason was the Gustavo approach being adopted where people kept to the directives of the party at the National went to the bank and got tellers and proceeded to the party office for issuance of Forms but they were denied and these persons approached the court you know the matter traveled to Federal High Court and to Court of Appeal then to Supreme Court and then back. Before then it was late and Amaechi's Lawyer at the Federal High Court persuaded the court to disqualify anybody who was of APC in fact he said that if not from their own camp and that it shouldn't be from Senator Magnus' Camp so, the court held as such and APC was completely not part of the election in 2019…now the same scenario played out 2021 first and foremost the Supreme Court had ruled that everybody who paid for Bank teller in 2018 is automatically qualified and should be issued with the forms in 2021 and that those who are intending to contest in 2021 who obtained Bank tellers should also be given forms in 2021 to contest as fresher's and the Party following that judgement gave the directives in line with that but the case was different here . Now what happened in Rivers state was that a committee was dispatched from Abuja to come superintend to the issuance of forms in Rivers state just like they did in other states in the federation. This committee of course you know the undercurrent was hijacked ab initio as they came here and they did the bidding of CRA's Camp…how did they do it?… They gave Forms in bulk to the CRA's bend, that is his faction, as the leaders in their faction got the Forms and went to the comfort of their bedrooms and shared them with their preferred candidates. While the same committee decided that every other person else of course knows that Magnus camp should come individually to the party office to collect the Forms. And you know the risk involved as people have to travel from Bonny Island and each Ward is about 27 positions who have to travel all the way from Bonny with the stormy sea and the raging tide to get the forms. Some from Andonni Local Government Area were as difficult as the terrain to come individually now for the Forms but the people braved it and they had their Tellers so, it was their right to be given the Forms. Of Course, the crowd was so surging that the Panel of 3-persons could not contend with thousands.
And did the party have a deadline?
Yes, they had a deadline for 3-days to do all that but they couldn't so, at a point because of the crowd they feared and I heard that there was a threat and they ran into the toilet and they appeared from the toilet and said that they want to go into recess as they wanted to go and eat as they are humans. So, the crowd waited for them to go and eat and as they came back how many could they handle? First day it was like that and the second Day it was like that until the 3rd Day which was of course the final day it was like that as they couldn't do no jack. And they claimed to have closed.
Now while this was on, the Party through the Chairman of the Caretaker Committee sent text messages to some of us in fact from the two divides to attend a Peace/Truce Meeting which we did and it was held in the residence of a highly placed Rivers state indigene
Whose residence in Particular?
Well it was in the residence of the former Governor of Rivers state His Excellency Rufus Ada George. The two groups met there chaired by former Military Governor of Taraba state one Navy Commodore Kalio. He presided over the meeting because the former Governor was a bit disposed to, so he presided over the meeting and we brainstormed. What was the issue? How do we get everybody together and notch everybody into one group instead of these divisions as the new congresses were to provide opportunities where we will choose for people to work together at least for once we have started talking again? We demanded to know if they had the mandate of the Leader Chibuike Rotimi Amaechi and the Chairman of the party said yes and that he couldn't have convened this meeting without having cleared it with him. And that he even had him in writing. Rt. Honourable Asita O. Asita the Chairman of the Board of Nigerian Maritime Management and Safety Agency -NIMSA who is also the Leaders' confidante stood up and corroborated what the chairman said. And on our own side we had the moral responsibility to also report to them what it's on our own side.
Was Senator Magnus Abe there?
No, he wasn't there. Our Leader was Senator Wilson Asiniobi Ake. So, Wilson Asinobi Ake now said that Senator Magnus was aware of the meeting and that he gave his consent and that anything that we decide will bind on him. Then Member Federal House of Representatives Elder, Rt. Honourable Chidi Wihioka corroborated it. So, we were good to go. We brainstormed and argued very decently. You know we weren't quarrelling, we argued and we disagreed as usual as in human beings discussing. We couldn't arrive at a thing at the first meeting but we at least know the essence. The meeting was reconvened and we came as we talked to the point where we agreed that there was a reason for the consensus. This is because the party said that it's either that you go and do elections or you agree on consensus. So, we now agreed on consensus. Now what was the measurement or the ratio? Until we all left for that day. And a meeting was convened for the 3rd Day and we appointed from their group two persons and got them to a committee to go and design one, the ratio and the modality and report to the larger House on a Friday breaking Saturday for the Ward Congress, so scheduled that meeting to Friday 12 O' Clock to enable the Committee give their report and then enable some time for them to now pass information to their respective LGAs. So, the committee went and sat and by 12noon from our own side, you know we were sincere as there's nothing hidden, we all came out and on their own side no one came except the two committee members and Asita Honourable Asita. We waited there till past 2 pm nobody else came from their group but our own group. We were complete. We concluded that it was a ploy to keep us in check so that we're not able to do anything because it was a game plan. So, we Okay no problem, Saturday came we were not on the list for those who I told that circumstantially, it was deliberate.
All these taking place in 2021, For Senator Magnus Abe's camp, did you approach the court for a redress on how you were maltreated by CRA led faction?
Senator Magnus Abe as a group did not approach the court but some young men who were sidelined 7 of them approached the court. They headed to the Court on Monday after the Ward Congress on Saturday and the Court granted an interim Order Ordering that the status quo should remain in other words the party should not proceed with any other thing until the matter is determined and that they should be put on Notice and the court went further to Order for Substituted service that they should be served which includes going to drop it on the ground or through Newspaper publications. After two days, we heard that the other group had appealed on the Court Order being ruled by the lower Court. And the matter was set to be heard at Port Harcourt here because the matter was entered at Port Harcourt but overnight, they transferred the matter to Abuja. All of us know that the Court of Appeal is one just as the High Courts are one. They transferred the matter not that the Court of Appeal here were under any threat, not that the Court of Appeal here were in recess not that the Judges are incompetent and we got there at the Abuja division true to type nullified that's over ruled the High Court, then gave these people the leverage to carry on with subsequent elections. That is where we are.
Was there any appeal to the Supreme Court based on that?
No, we didn't appeal to Supreme Court as they also shot themselves on the foot because what the court did first is that say we are removing the Order of status quo ante from the court and they now filed a fresh case alleging that the Plaintiffs at the lower court are not members of APC because they have not revalidated their membership by being registered and all that. So, in the course of that matter, the court came again and said "we have nullified this, we have nullified that and we are sending the matter back to the lower court" but not to the same trial Judge. And that the Chief Judge should reassign the matter to another Judge. That is where we are.
Why should the Appeal court not assign the matter back to the same trial Judge? Was there any element of doubt in the integrity of the trial Judge on this matter?
I don't know about that as they have their reasons for doing so.
From the ongoing, one can deduce that the 2018 scenario is playing itself out, what will be the future of followers of Senator Magnus Abe in APC and in the coming 2023 Elections?
You know you should talk about the fate of APC and not Magnus Abe. We are the precipice. We are in a state of Hopelessness this is you cant be doing the same thing the same way and expect different results. Now the matter is back to lower court one way or the other one group will win and the other group will appeal and something will happen there and it will go to Supreme Court and while we are doing that the opponent will now begin to stoke fire underground and it's politics as you won't blame them for it. When we are running from pillar to pole, they are busy consolidating. The time we would have used to put our house together we are divided running their house together and we are divided running from Pillar to Post. And with what the governor is putting on the ground, I say a thing, I was interviewed by Raypower Fm station the other day, now the issue is where are we really headed to as a Party? Have we really delivered from the promises that we made to Nigerians? APC pranked on the platform of Change that we have made? Are we moving from best to worst? Or are we changing from worse to better?
Given the present economic circumstances in the country there is a high cost of living and APC when they came on board in 2015 came with the Change mantra, Is it Change to what as a member of APC what is your opinion on this?
I was an integral part of the founding of APC in the state because I wont talk about the nation. This is because we came into APC months after it has been registered as a political party. The leaders then of course of the four major political parties Change For Progressives Congress CPC, a segment of All Progressive Grand Alliance-APGA, Action Congress of Nigeria, CAN and All Nigerian Peoples Party-ANPP the leadership went round the country canvassing support. Of course, you and I know that the Nigerian Economy was not doing well as we're into recession and it was difficult for people to feed. So, it was very easy for those ideologies to sell. When somebody tells you that if I come, I am going to change this or that, remember the President went to Chatham House and boasted that within 6-months of his Presidency that Boko Haram will be history. He was boosted as much and people believed him because he was a Military General. He said Nigeria's currency naira will compete and pursue Pounds, Euro and United States of America Dollars which were selling for N160 to one Dollar, then, how much is it today? It is N570 per US Dollar. Is the economy not biting very hard now? I told those people that you people are interviewing me. I am laying down in my bedroom and I have my Air conditioner on and see those paupers whose houses are under the bridges, go and interview them and know what Nigeria is and not me. For me I can manage to eke out a Living at least I can manage one meal for a day. So, what do you expect?. Our economy is in disarray and it has further deepened as we are into oblivion. That's the most I can say about the economy.
What are the fears of the leader of APC in Rivers as regards to the election of executives in the wards, Local Government Areas and in the state party structure, I mean his fears for excluding you and others loyal to Magnus Abe?
His fears as far as I am concerned is unnecessary as a house divided against itself cannot stand. One that Senator Magnus and those who are supporting him the mass of supporters in APC Rivers state are committed ones. You know that you can have people but they are not committed, I know that you are here and you know what is happening in our camp as people are leaving in droves. But here we don't have a Kobo as the highest person in our group is, not Senator Magnus? He is no longer a Senator. What does Magnus have but a member of the Board of Nigerian National Petroleum Corporation NNPC. So, what has he to offer to the myriad of people who follow him, the answer is nothing but there is commitment and the reason what is bringing the commitment of people together is that there's injustice? And people are saying look from the fiber in our body system and the blood stream that we are going to donate to ensure that we redress the issue. His fear is just if you ask me some kind of a siege mentality, he wants to appoint and employ a Governor for Rivers state. Allow the process to roll and let the best candidate emerge.
He did that in 2015 and it didn't work. And he wanted to do that in 2019 but the Court stopped him. He went and brought somebody that is new to the turf, a business man-Tonye Cole as he has never been a Politician and he has never voted for anybody but he drafted him in to be the candidate of APC in Rivers state over and above people who have laid their lives down for the founding of APC in Rivers state Senator Magnus would have been dismissed from the Senate as his seat would have been declared vacant in the seat for crossing to APC the same with Senator Wilson Asiniobi Ake, they decamped from the floor of the senate. And it was a risk as the Senate was Presided over by David Mark who was of PDP as they were all PDP but they decamped to APC it was not palatable so, anything would have happened as he was a contestant and he said 'Oh I know that you will win' but who will give you ticket? And he (Amaechi) drove to his house and warned him (Magnus) saying "Don't dare" in the presence of his wife. "If you dare it, I will destroy the party." And he came to a meeting being Stakeholders' meeting where all of us attended and said 'Oh if Magnus does not shield his gubernatorial ambition that he will destroy the party.' And he did as the party is in tar-tars today. Although he is struggling to see how he can knock in and knock out and they are making even worse mistakes. So, the future is bleak in APC in Rivers state.
In 2023 what I think is that Federal might may not be effective, what do I mean? Drafting of Army, Police, Security agencies to come and carry ballot boxes will be difficult if not impossible as the People's power will hold sway. A man comes and constructs a road for us and people are seeing it and for donkey years you couldn't pass from the road and somebody has come to do the road for you. And a man comes to you and says 'Look I am contesting but support so and so person, are you sure that they will look at him and say No?'
I was S.A to Deputy Governor GTG Toby and I followed him to his village in Opobo many times and my other colleagues in the office were either from Opobo or Nkoro. The P.A was my Office mate, he is from Nkoro. Clapton Ogolo before he became Commissioner came from Opobo, Afisia Peterside is from Opobo too, one Miss Ibinyebo Dappa was from Opobo they are from QueensTown. Apart from several visits with our boss I also visited them the same way they visited me. How do we go, we either go through Akwa Ibom or Kpiama through Speed Boat or go through Kono in Ogoni. So, for me it was like impossible for a road to enter Opobo then and now I was told that this government was able to construct a road into Opobo town and I said that it was not true until I drove there by myself to be sure and I saw it by myself, you mean that Opobians will now vote against a candidate that he supports? It is impossible.
In your own personal capacity as a loyal party member given this bleak future of APC in Rivers state, will you defect to any other Political party?
No, I will not defect. I am a founding member of the party. I am not defecting because the way to change a society is not by jumping from pillar to post for me to be inside and criticize the inside and get a better result. In my learning I read one man called Socrates said that an unexamined life is not worth living. So, examine the situation. Even in your private life there are times that you take a deep breath to ask yourself where are you coming from and where are you going to? These are questions you ask yourself. So, I am not defecting as I will be in the Party and we will be here and we will savage it.
Are you a graduate of Philosophy?
Yes, I am.
For politicians they can tell you yes today and by tomorrow the circumstance changes and they will tell you that that thing I said yesterday was based on that time now what I am seeing is a different scenario. What is your take on this?
But do you have to blame them? Why you don't have to blame them is that you are drawing me back to academics which I am usually afraid of, you see, the only thing that is permanent is change.
This is the same place that we have been given the CHANGE mantra of the national government, so that change is either negative or positive but we are seeing the negative. Do you agree with this?
But it ought to be positive. That's why I asked you 'is the change mantra from bad to worse? 'Or isn't it worse now? We are looking at change holistically as we saw USDollar was changing from N160 to N570, isn't that worst? Then we had Boko Haram occupying larger part of the country. We have Fulanis herdsmen, we have bandits, we have ISWAP, and we have kidnapping everywhere. Have we not moved from bad to worse? We are complaining for the roads that are gully-ridden, have they been really filled? No. Didn't it take up to 6-years for them to come and fill Eleme in East-West Road Port Harcourt Rivers State.
Que: If at the end of the day APC in Rivers State couldn't field candidates in 2023 General elections, how will you feel as a loyal party member?
I will feel bad, because it's my wish that what I laboured for should grow and manifest. I can't labour to set up a farm and you won't also want the things you planted in that farm to sprout and make a good harvest.
Que: Let's have an insight into your upcoming book: the Memoir–what is it all about?
I'm trying to encapsulate my experiences in Government. And I'm trying to put them down in writing for future reports. And largely, it tells my story and my experiences. So, I have quite a lot to put down and I'm doing them in bits. And I don't want to do it surreptitiously, I do them and I give them out before I publish, so that if anybody is in doubt, if there are grey areas that people would want to join issues with me, they should do that so that when I'm out with the book…there is no intellectual work, that is a gabble. Alright, it's subject to critics. So, by the time I come out with it my happiness will be that by the time that I'm out I will be putting down as I'm putting down incontrovertible. After all, in law, you may know that this is white and you can argue that it's black and you have your valid points too. So, that's what I'm doing. It's not witch-hunting anybody and it's not to denigrate anybody. It is not to hero-sing or to praise-worship anybody. But it is my own account my story. I should tell my story while I am alive. It's like I'm doing my autobiography.
Que: Taking a deep look into your upcoming Memoir, one can say that you don't agree with your former principal the former Governor of Rivers State CRA. Is that true?
That's very wrong. He was my boss. We never disagreed any day. And we share confidences. But it didn't stop me from pointing out where we have failed including me. That's why I say ' where we have failed'. We failed in different facets. Largely what contributed to our failures if you have read the last one I wrote I said " lies, sycophancy and then vain loyalty are the name of APC in Rivers State.' Before my Oga is somebody that you don't gossip to. If you come and gossip, he will call that person eye ball to eyeballs saying.' that thing you said about this person, oya say it "..I benefited from it. Somebody tried to malign me and he called me saying ' oh no, Tony enters my bedroom, so come, the thing has to do with theft. I didn't know he said come to my office that was when he was the Speaker of Rivers State House of Assembly. And when I eventually got to his office and I didn't know that the man was already seated there. And he said " erhm repeat that thing you said about Tony, he's here." Of course, yes, he stuttered . There's no way he will not stutter and stammered. He will begin to stammer like a stammerer. And he can't lie again as the person is here.. So, that availed me. But my Oga now is given to allowing wrong people to stuck around him. Because I know that I was only at where I supposed to be. Where I shouldn't I respect my Oga. But those things that are necessary as part of my assignment I did…like if he's traveling I see him off at the airport and bid him farewell and come back. If he's coming back I received him at the airport. Those are courtesies…I will stay with him and leave to my own official residence as it's a stone throw from . But to hang in there to know who he's talking to and what they're discussing I never did that. He didn't like it but he likes it now.
And he doesn't drink then even now, he doesn't drink. What Amaechi does drink is Red Bull as it keeps him stronger because he barely sleeps because of the volume of work. So, it keeps him stronger. I can tell you that because I worked with him. So, what will those ones who stuck around him, what will they be doing other than gossiping somebody, lying, vain loyalty just to Rove others from the mainstream for their stomach sake will be worst for it. At the end of the day the entire system is messed up. For instance, Amaechi removed me as APC leader of Obio/Akpor LGA despite all my suffering to get APC planted in Rivers State. He removed me at a meeting that he was told that you was supporting Senator Magnus Abe.
Que: As at that time, were you supporting Senator Magnus Abe?
Even the time he was talking about, I was not well. At the same meeting he removed me I was not in attendance as I was very sick and I communicated it to him as I was at Abuja and the meeting was called here at Port Harcourt. I got information that the meeting was around 7 am even though I don't have my own private jet. And I sent him a text message saying " Oga I'm not feeling well" The next morning I was supposed to go back to my hospital for drip infusion. In that same meeting that I didn't attend, he said he removed me, the reason that he heard Tony is now supporting Senator Magnus Abe therefore I'm no longer his own leader in Obio/Akpor LGA. Gossip, lies, propaganda and Sycophancy is the problem. And where has that led us? He got other people to take over from me…abi? Where has that led us? What have they achieved. In 2015, I made better result when we had President Jonathan and Wike with Federal might. In 2019 when they had Muhammadu Buhari as President and they had excess money to play around with, they made worst results less than 25% for President Buhari in Obio/Akpor Rivers state.
Que: What is your parting note to those of you who are excluded from the mainstream APC in Rivers State?
Well, the note is everywhere, the note is that we will not be deterred . You're only a slave if you agree to be a slave. And we should know too that somebody who is oppressing you will not want you emancipated, will not give you freedom. You will necessarily fight to be liberated. So, the road is tough. There's hunger along the lines but they must keep faith with realities, I believe that God at His own time will make things work.