JUST IN FROM INEC IN RIVERS STATE RIVERS STATE GOVERNORSHIP RESULT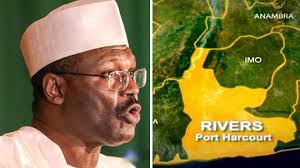 Governor Wike Leads In 8 Out Of 10 Local Government Areas So Far Declared
Two Parallel Protests Hit Streets For And Against Collation Of Governorship Results
Rivers Governorship Result
LGA: Opobo/Nkoro
AAC 3,888
PDP 6, 314
Votes were cancelled in 5 wards out of 11. 19 polling units affected with 7,030 registered voters.
LGA: ELEME
AAC 2, 748
PDP 9,560
Out of 10 wards, results in two wards were cancelled because of violence. They are wards 1 and 8. Polling units affected in Ward 1 is 9 with reg voters of 12044. Number of polling units affected on ward 8 is 15 with reg voters of 15537.
Rivers Governorship Result
LGA: OYIGBO
AAC 32, 026
PDP 8, 652
No. Cancellation. Austin Opara said his party the PDP will accept the result but raised observation that there was high level of militarization of the LGA on the Election Day.
LGA: ANDONI
AAC 5,335
PDP 92, 056
No cancellation.
But AAC agent said they have reservation about the result but that they will address the situations at the appropriate time.
LGA: IKWERRE
AAC 5,660
PDP 14, 938
Election did not hold in two wards out of the 13 wards of the LGA.
No argument. Result received.
LGA: Port Harcourt City
AAC 11,866
PDP 40,197
No objection. No argument. The result has been duly received by the state Returning Officer, Professor Teddy Adias.
Next is Ikwerre LGA
LGA: Omuma
AAC 1, 853
PDP 15, 792
There are 10 wards in Omuma. Votes were canceled in 28 polling units across 8 wards.
Note: no ward was outrightly cancelled. Rather, voted were cancelled in selected polling in its totalling 28. A total of 9627 voters were affected.
LGA: Okirika
AAC 3,803
PDP 25,572
Election held in all 12 wards.
LGA: Akuku-Toru
AAC 36, 661
PDP 25, 765

LGA:
OBIO/AKPOR

AAC- 3,010

PDP- 307,117
At time of filing this report, INEC has gone on brief recess.
READ ALSO: Season Of Protests In Rivers: Two Counter Peaceful Protests For And Against Rivers INEC REC, Army GOC, Police High Commands
Governor Wike in early lead against AAC candidate Biokpomabo Awara
Governor Nyesom Wike, the Governorship candidate of PDP, against the AAC candidate Biokpomabo Awara adopted by APC is already in early lead in Eight out 10 from the results of Saturday March 9 Governorship elections being collated and announced at the INEC Office today Tuesday April 2.
The State INEC Returning Officer, Professor Teddy Arias, is superintending the Collation.
The collations of the result are being done amidst two parallel  Protests for and against the continued collation of what the Independent National Electoral Commission, INEC, still claims to be the results of the March 9 Governorship and State House of Assembly elections in Rivers State was staged in Port Harcourt, the Rivers State capital.
Some of the protesters today in Port Harcourt, the Rivers State capital.
The protests are in the face of ongoing collation of the disputed results at the Commission's headquarters in Port Harcourt, even as the Rivers State Government had dared the organisers of the demonstration to a showdown.
The Protesters who were against the Collation today was led by an Elder statesman and a Kalabari Chief Anabs Sara-Igbe converged at the Airforce junction on Aba/Port Harcourt Expressway and marched towards Hotel Presidential Axis before they were dispersed by armed Policemen who shot sporadically into the air to dispersed them at Elelenwo Street.
Before they were dispersed, Anabs Sara-Igbe had criticised INEC's insincerely.
He said the protest was to expose how INEC and its REC in Rivers State, Obo Effanga.
"INEC had told Rivers people that it suspended the Electoral process because of alleged violence. But some weeks after, the same INEC suddenly surfaced with results from 17 local government areas. Where did INEC get the results for which Governor Wike and PDP are the only ones who are privy of it. We the results kept in Government House?"
The Protesters and Journalists covering them scampered for safety. Unconfirmed number of them were apprehended.
Another group of Protesters who are mainly PDP women simultaneously gathered at the Port Harcourt Polo Club said they rooting for the Collation of the March 9 Governorship results so that the winner could be announced to break the logjam that has befallen Rivers State.
They said they will remain peaceful but would challenge anybody that would disrupt the long awaited Collation of result.
It is noteworthy however that Emma Okah, Commissioner for Information and Communication Commissioner, had in government announcement on Monday warned that the Rivers State Government was going to arrest anyone found on the streets in any protest.