My governorship bid for all Rivers people, not self-serving – Sim Fubara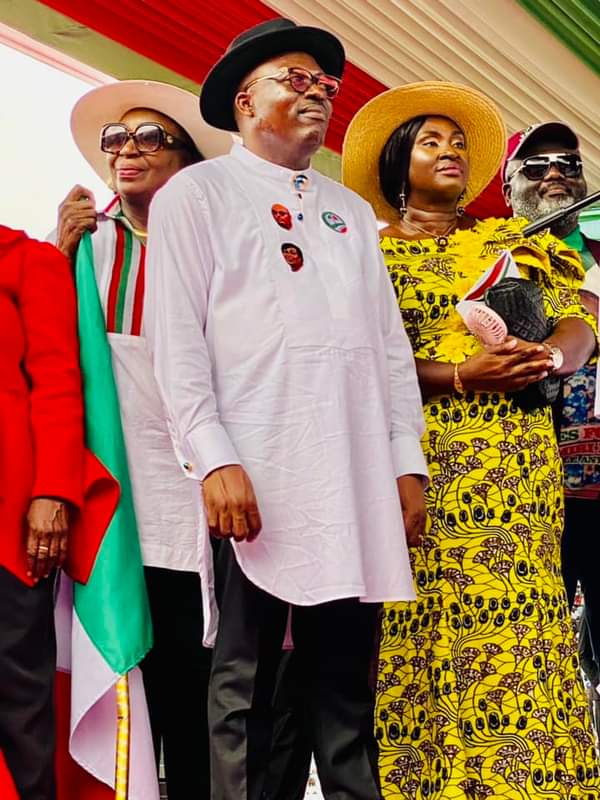 The Gubernatorial Candidate of the Peoples Democratic Party for the 2023 election in Rivers State, Sir Siminalayi Fubara said the governorship election in the state is not about him but every Rivers citizen.
The Rivers PDP standard-bearer said his ambition is selfless, and his vision is to continue and consolidate the milestones of Governor Nyesom Wike in infrastructure, education, health, etc.
Fubara stated this at the Official Flag-off of the Rivers State PDP Campaign which was held at Adokiye Amiesimaka Stadium, Igwuruta on Saturday 19 November, 2022.
"While I was coming here, someone said to me that today is my day, let me set the record straight, what we are doing is not about me but every Rivers citizen, it is not Fubara's day. Today is the day that we have all come together to support and consolidate on the NEW Rivers Vision.
"Your support for the consolidation of NEW Rivers Vision is Sim. It is not my day but it is a day for continuity. A day we have all agreed that where our present governor will stop, Fubara will continue.
"In the area of education, wherever he stops, Fubara will continue. In the area of infrastructure, which is his special area, wherever he stops, Fubara will continue. Wherever he stops in health care, Fubara will continue from there.
"Like I stated earlier, it is a day for everyone of us. A special day will come where we will unveil what we will do for Rivers people, to consolidate on the already established blueprint of the NEW Rivers Vision," the guber candidate added.
Fubara seized the opportunity to thank Rivers people for their overwhelming and unflinching support for Governor Nyesom Wike and his administration.
"I want to specially thank Rivers people for your continuous support for our visionary and indefatigable Governor, His Excellency Nyesom Ezenwo Wike, my own oga," he said.
The chief host of the PDP Integrity Governors at the grand rally, His Excellency Governor Nyesom Wike thanked Governors Samuel Ortom, Ifeanyi Ugwuanyi, Okezie Ikpeazu, and Seyi Makinde of Benue, Enugu, Abia, and Oyo respectively for honouring Rivers people with their presence at the epoch event.
"I sincerely thank my brothers, the Integrity Governors for being here with us. Let me assure you, no state of the PDP Integrity Group will lose their governorship election. No amount of gang up will make PDP in Rivers, Abia, Oyo, Benue, and Enugu lose governorship election in 2023.
"Here in Rivers State, they cannot defeat us because we have done very well. Even President Buhari who is a member of APC acknowledged that we have worked for Rivers people, if the president could score us very high, who are they to challenge us at the polls?
"APC in Rivers State sold all our assets before we came on board, they sold our plane, we got it back, they sold our gas turbines that Dr. Peter Odili built, they sold it to themselves, now they want to come back, Rivers people will not let that happen," the Governor added.
Governor Wike stated that he will not support any presidential candidate who says or believes that people from a certain section of the country cannot be president because he believes in the unity of Nigeria, and he wants a country where every Nigerian will be given equal rights and opportunities.
"I will not support any presidential candidate who says people from other parts of the country cannot be president. Nigeria belongs to all of us, nobody can say we do not exist, Rivers State exists.
"If you believe in restructuring like you claim in your townhall meetings, then show it in your party, all the senior positions of the party cannot be in the hands of people from one section of the country. What the G-5 Governors are saying is this, we need equity, fairness and justice in PDP," he added.
The Chairman of PDP Integrity Governors, Governor Samuel Ortom said Governer Wike is a pan Nigerian leader who believes in equity, fairness and justice.
"Governor Wike is our leader, a pan Nigerian who believes in equity, fairness and justice. He has shown an exemplary leadership and we are happy to follow his leadership.
"With what I have seen here today, I want to congratulate the incoming governor of Rivers State, Sim Fubara, your victory is sure because Governor Wike has done well and PDP is fully on ground here. I also want to appreciate the good people of Rivers State for your hospitality," he said.
Rivers State Chairman of the Peoples Democratic Party, Amb. Desmond Akawor who gave the welcome address said the campaign flag-off is the unveiling of the next governor of Rivers State.
"I welcome you all for the unveiling of the next governor of Rivers State, that man is Sir Sim Fubara. History is being made today. The crowd you see here are Rivers people with PVC, not rented crowd.
"Sim is the man Rivers people have willingly chosen to govern them in 2023. It is Sim Fubara because his candidacy stands for equity and fairness, it is Sim Fubara because he is young, educated, sound, and energetic. He is the right man to take us to the next level, he added.
The Director-General of Rivers PDP Campaign Council, Bro. Felix Obuah said Governor Wike has made his job as campaign D.G easier because he has done tremendously well for Rivers people.
"As the Director-General of PDP Campaign Council, I am supposed to be running around campaigning for our governorship candidate, but His Excellency Governor Wike has done virtually 75 percent of my work with his projects in Rivers State. My job is a lot easier. The entire state is SIMplified," he stated.
The highpoint of the event was the presentation of flags to the governorship candidate and National Assembly candidates by the PDP Deputy National Chairman (South), Amb. Taofeek Arapaja. While performing the task, Amb. Arapaja said they will continue to be loyal to the G-5 Governors because they mean well for Nigeria, and those fighting them are elements of disunity in the country.