OSUN STATE GOVERNORSHIP TUSSLE: NIGERIAN SUPREME COURT RULES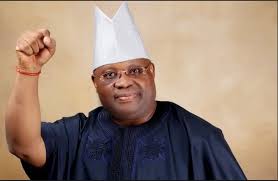 SENATOR ADEMOLA ADELEKE KNOWS FATE TODAY
It is a final battle to who holds the soul of Osun state as two political gladiators Senator Ademola Adeleke and incumbent Governor Adegboyaga Oyetola cling to the hangman's ropes while Nigerian Supreme Court Justices decide who takes the Governorship mantle today Friday 5th of July, 2019. The Apex Court, it is expected will decide on key legal issues emanating from the earlier rulings of lower court which averred that the All Progressives Congress APC Governorship candidate Adegboyaga Oyetola Olugbeyega remained Governor as a result of election result declared by Independent National Electoral Commission-INEC which the Peoples Democratic Party-PDP Governorship candidate Senator Ademola Adeleke is contesting.
First the Osun state Election Petition Tribunal sitting at Abuja had declared Senator Ademola Adeleke as duly elected Governor based on electoral figures collated from various polling Units but this was upturned in Appeal instituted by All Progressives Congress-APC which Adegboyaga Oyetola had been declared winner.
In today's expected ruling, the erudite and learned Supreme Court Justices will avail the teeming supporters of both candidates the opportunity to celebrate at the various streets of Ogbomosho the Osun state capital if there is a surprise verdict.
The September 22, 2018 Governorship election has set up public discuss as supreme Court will today make landmark Judgment that will finally settle the protracted legal dispute about who is the authentic governor of Osun State.
READ ALSO: LATEST ON OYIGBO PIPELINE EXPLOSION
The PDP National Publicity Secretary Diran Odeyemi in a public statement declared "We are hopeful that justice will be dispensed in our favour. We have presented a good case and established how we were rigged out by the All Progressives Congress, APC and we believe in the judiciary for an unbiased judgment. We are hopeful, the people of Osun State are hopeful too as they are yearning for Senator Ademola Adeleke as their governor."
Senator Ademola Adeleke it is gathered is popular among Osun State populace as his late brother former Governor Isiaka Adeleke brought positive development to Osun state people while he held sway as Governor and later voted into the Senate before his demise.