RIVERS APC: Former Spokesperson, Ogbonna Nwuke Resigned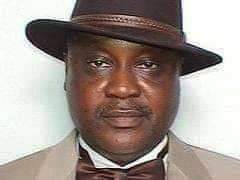 The crisis rocking the main opposition party, APC in Rivers State continues as there seems no end to the internal tangling within the party.
And the last has not been heard as the factional leader of the party, Rt. Hon Chibuike Amaechi Rotimi and Buhari's minister of transport who secretly flew from Abuja to PortHarcourt yesterday, and held a tiny meeting of it own faction of the party.
According to a source in the meeting, said that sole agenda of the unscheduled meeting was to still undermine more leaders within the party for reasons best known to the leader.
In a related development, a source who craved anonymous said that the resigned and former spokesperson of the party, Chief Ogbonna Nwuke didn't take it lightly with the leader as the leader went on and reeled out the names he, Amaechi wishes to make list of the state executive members of the party in the scheduled 2nd October, 2021, state APC congress.
Nwuke got surprised as his name wasn't considered for any post, he took on the minister and told him that he, Amaechi lacks respect for leaders of the state especially those who have given their best for the survival of the party in Rivers State.
Meanwhile, the Etche born pen carrier who have taken his grievance further following his resignation as the spokesperson of Rivers APC have since begone talks with the ruling party, PDP in the state.
However, the minister have handpicked the former secretary of the party in state, Chief Emeka Beke as the likely next state chairman of the party.