RIVERS STATE APC CRISIS SUPREME COURT JUDGMENT: SENATOR MAGNUS ABE EMERGES VICTORIOUS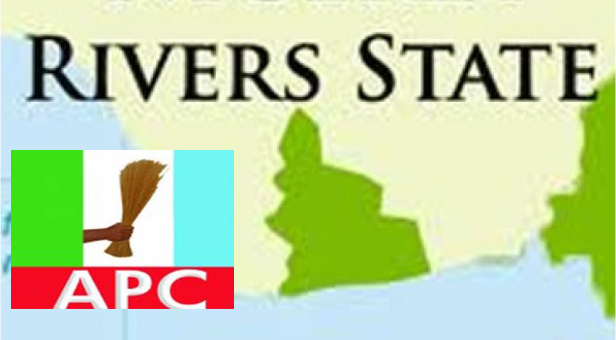 *** URGES LOYALISTS TO COLLAPSE STRUCTURE
By Our Judicial Correspondent
The immediate past Senator that represented Rivers South East in the 8th National assembly and now member of Board Nigeria National Petroleum Corporation, Senator Magnus Ngei Abe's name must not have been found in the Court list that had bedevilled Rivers state Chapter of All Progressives Congress in the past 5-years to date, he and his Freedom House All Progressives Congress Faction are at last victorious in the Judgment of Supreme Court of Nigeria on Friday 5th of March, 2021. This came on the heels of the final pronouncement Judgment on Friday 5th of March, 2021 which threw away Rt. Honourable Igo Aguma's Appeal of an Appeal Court Judgment on 29th of December 2020 that upturned his emergence through a River state High Court ruling which made him acting Caretaker Committee Chairman of All Progressives Congress APC Rivers State chapter.
Senator Magnus Ngei Abe prior to all the litany of court cases all involving Rivers state APC and its members has been the arrow-head of Freedom House a political faction group of Rivers state APC loyal to him as he was allegedly asked not to contest the Rivers state APC Gubernatorial Primary election by the leader of the party in the state Rt. Honourable Chibuike Rotimi Amaechi now the sitting Minister of federal republic in charge of transportation. According that initial report about an altercation that issued between Amaechi and senator Abe in the presence of Senator Abe;s wife a sitting Justice of Rivers state Judiciary where Abe was asked by Chibuike Rotimi Amaechi to drop his governorship ambition under the platform of APC or have the political party not viable for him to use it to run for any elective post.
It should be on record that FREEDOM HOUSE stood for internal democracy and freedom of association and against imposition of party candidates by one man which the Minister of Transportation in this case typified vividly. And the Supreme Court on Friday 5th of March, 2021 averred to this position of Senator Magnus Abe that selection or election of political party candidates must emerge through participatory process and not through the unilateral decision of one man whose interest the beneficiary candidate must abide with. So, the decision of the Judgment read by Justice Amina Augie of the Supreme Court is vindication of Senator Magnus Ngei Abe's doggedness in allowing ordinary party members to participate in a democratic process such as party Congresses which Ibrahim Umar and 22 others bought Form for 2018 Rivers state Wards, Local Government and state Congresses but they were denied that fundamental right of Freedom of association by the Chibuike Rotimi Amaechi led Rivers state APC Chapter. This is another leg of the crises that took over Rivers state chapter of APC from 2018 to 2021 when on 5th of March, 2021 Supreme Court finally upheld Court of Appeal judgment the said Igo Aguma does not and cannot be Acting Caretaker Committee chairman of APC in Rivers state because Court cannot be a political party that can now select officers of a political party instead it is an internal affair of the political party to elect its officers hence Igo Aguma's Appeal was thrown out for lack of merit.
Town Crier judicial reporter will acquaint you with the process that threw up Rt. Honourable Igor Aguma to the leadership scene of Rivers state All Progressives Congress. When in the avalanche of court cases were flying everywhere from Rivers state judiciary Port Harcourt Judicial Division, Bori Judicial Division and finally to Supreme Court of Nigeria sitting at its Headquarters Abuja all declared that the then state chairman of APC in Rivers state Ojukaye Flag Amachree was not duly elected since the party Congresses that threw him up inside the executive seat of the party was null and void because Ibrahim Umar and 22 others who paid and purchased form for elective positions in Rivers state APC were not allowed to take part in the Congresses in suit no. PHC/78/2018 Ibrahim Umar VAL
All Progressives CONGRESS APC WHEREAS THE CRUX of the case is the fact that the plaintiffs were eligible to take part in the affair of APC and entitled to vie for elective offices as members of the executives of APC or as Delegates of the Party as well as to be elected into government elective positions in Rivers State or Nigeria. In the Ruling which reviewed it thus "The learned trial judge took arguments on the interlocutory injunction/application and delivered its ruling in favour of the plaintiffs/Respondents granting all the reliefs sought in the interlocutory injunction application. The trial judge later granted the mandatory injunction subsequently applied for by the respondents when the Appellant/defendant failed to file any counter affidavit in opposition to the application for mandatory injunction before the trial Court, nullifying the Ward, Local Government and State Congresses conducted on 12th, 19th, 20th and 21st of May, 2018".
It was this Supreme Court judgment that made Comrade Peter Odike authentic state chairman of APC with Freedom House loyal to Senator Magnus Ngei Abe until when he decided to voluntarily abdicate from the political scene of Rivers state APC chapter thereby leaving an unwanted vacuum which brought out Rt. Honourable Igo Aguma to approach the Rivers state judiciary Port Harcourt Judicial Division to declare him as the Acting Chairman of Rivers state All progressives Congress APC of which now retired Justice Omereji graciously granted his prayers and Igo Aguma became an albatross in Rivers state APC until on Friday 5th of March, 2021 when Supreme Court of Nigeria upheld judgment of Appeal Court that had earlier ruled on his not being duly representative of the position of the Acting Chairman of APC in Rivers state instead Isaac Ogbobola having drawn his authority from the National working Committee led by Yobe state Governor Buni Mai Bala is the right Acting state Caretaker Chairman of the party in Rivers state.
From the judgement one thing is clear that Ibrahim Umar against All Progressives Congress Supreme Court Judgment has not been declared irrelevant as at any time All Progressives congress wants to conduct its Wards, Local Government Areas and State Congresses Ibrahim Umar and Moses Dele and their fellow APC members must be participants may be for elective positions in the party. Expelling them from Rivers state chapter of APC is going to continue bringing crisis into the fragile opposition which ought to be united to oust PDP from Brick House come 2023 Rivers State Governorship election.
The Freedom House victory is coming from the declaration of the March 5th ,2021 Supreme Court of Nigeria Ruling on the right of members to have internal democratic mechanism of electing their officers or representative and the right of a single individual to unilaterally appoint their cronies who will dance to their whims and caprices thereby jettison the principle of social contract whereby they remain true representatives of the people. Senator Magnus Ngei Abe in this scenario is victorious and his ability to congratulate Isaac Ogbubola is demonstration of humility and submission to the rule of Law. Asking his supporters to close down all parallel offices and return to the mainstream All Progressives Congress Rivers State Chapter with Rt. Honourable Chibuike Rotimi Amaechi as leader is good enough to begin the steps for true reconciliation in the party. Nigeria Constitution Section 40 has enshrined fundamental right of freedom of association for citizens to join any political party or associations depending on their interests as much as the Supreme Court Rulings all has affirmed this basic inalienable right of citizens whether Ibrahim Umar or Dele Moses a Nigerian citizen has right of freedom of association.
Therefore Rt. Honourable Igor Aguma's resignation from APC has nothing to do with Senator Magnus Abe's stand on internal democracy being allowed to play itself out where the people being members of the party are allowed to elect who should represent them at any political office whether as Governorship candidate or as Local Government Chairmanship or Councillorship or State House of Assembly, Senate, Federal House of Representatives elections. This is the type