RIVERS STATE GOVERNOR WIKE FLAGS OFF FIRST LEGACY N21B FLYOVER BRIDGE PROJECTS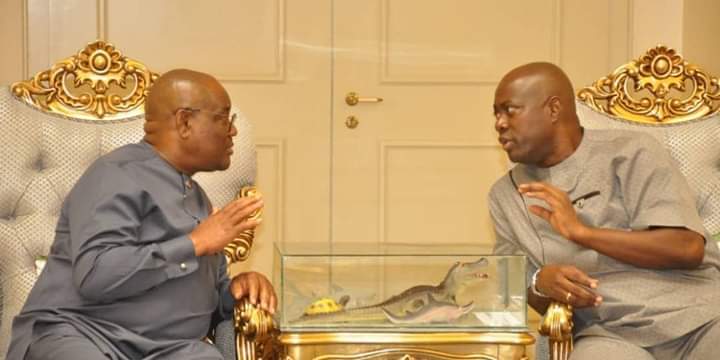 In the first year of his second term administration, the Rivers state Governor Nyesom Ezenwo Wike has commenced construction of N21billlion Flyover bridge legacy projects that will comprise of 3-different flyover bridges at different locations in Port Harcourt city. First was the ground breaking ceremony of the Rumuogba Flyover Bridge on Tuesday, 22nd of October, 2019 which when completed will cover a length of 517.5metres, with a width of 14.6 metres.
It was dreams come true having promised voters across the affected communities of a better life during his inauguration into office as Executive Governor of the state after the concluded 2019 general elections. When the Governor of Oyo State, Seyi Makinde who is a son in law of Kalabari family in Rivers State was in the state to flag off the ground breaking ceremony as the Governor said: "This is what the Rivers State Governor promised the people of Rivers State and he is delivering on his promise. By paying 70percent in advance, Governor Wike is saying that there should be no variation.  He has provided the yam, he has provided the knife and nothing should stop the peeling of the yam. During his first term, Governor Wike was known as Mr. Projects.  Up till now he is still Mr. Projects."
The three Flyover bridges when completed will ease traffic and mobility of goods and services of the people which in turn will increase internally generated revenue by Rivers State Board of Internal Revenue-BIR. Before now, a lot of man-hours are being lost due to traffic logjam and unnecessary gridlock which many commuters dread while coming into Rivers state for business and for pleasure. Rivers state being the hub of hydrocarbon extraction industries in Nigeria deserves efficient and effective transportation facilities. And Oyo state governor Makinde echoed this in his speech at the ground breaking ceremony venue at Rumuogba in Obio/Akpor Local Government Area the heart of Port Harcourt as said "Good roads mean easier commute for the people of Rivers State.  This will easily resort to economic development for the state. Bad roads mean wastage of man hour. The investment in roads is for the good of our people. With 70percent of the funds released, Julius Berger is duty bound to use the funds judiciously.  I urge Governor Wike to maintain this energy and momentum", For Governor Wike who used the opportunity to eloquently illustrate the point that his government had paid in advance 70 percent of the total sum and there will be no delay in the construction giant Julius Berger Construction Plc to deliver the three flyover bridges simultaneously in 16-months' time as he said "We will pay the balance when the construction work gets to 90percent. We have paid you during the rainy season.  So you will work during rainy season.  The 16months slated for the completion of the three flyover bridges started on the day we paid. That is our agreement with Julius Berger." 
The Rumuogba Flyover Bridge, covers 1st Artillery and 2nd Artillery of Aba –Port Harcourt Express way which is major gateway into Port Harcourt city.
ALSO READ: Niger Delta ex-agitators, Stakeholders Pass Vote of Confidence on New Management
There has always been the fact that youths who reside in areas where projects are located do engage in demand for Matching ground fees and sundry payments which usually discourage contractor from mobilizing to locations considering huge sums of money youths and various groups will request from them before the commencement of projects/ The issue of employment of youths in non-sensitive skilled areas was overtly mentioned by Governor Wike who said "We have sourced money to pay for these projects.  Therefore,  all the sub-contractors should be from Rivers State .You will not be happy with Julius Berger if they do anything different ", He therefore called on Traditional Rulers to oversee to the facts that their wards do cooperate with contractors while the project progresses.