SUSPENDED APC CHAIRMAN, ADAMS OSHIOMOLE REACTED TO HIS SUSPENSION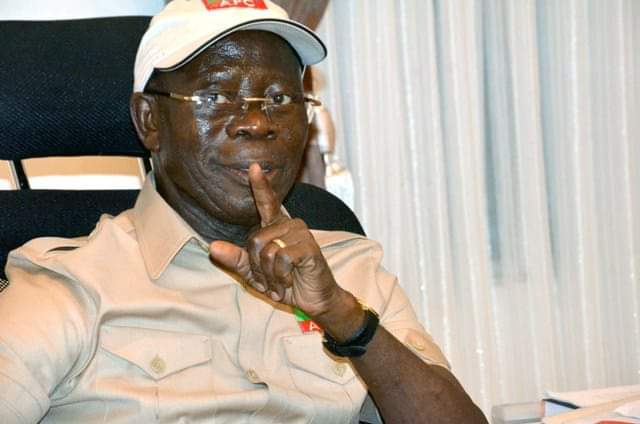 All Progressives Congress, Adams Aliyu Oshiomole has reacted to his suspension following an order from the Court of Appeal in Abuja on Tuesday.
Oshiomole, who has been facing severe backstabbing from his successor the current Edo state governor, Godwin Obaseki who recently decamped to the PDP following his disqualification from contesting the Guber Primaries. Oshiomole and Obaseki have been at loggerheads over the latter's second term ambition.
However, in a statement on Tuesday night, signed by his spokesperson, Victor Oshioke, Oshiomole disclosed that he has engaged lawyers immediately to appeal the judgement at the supreme court. The statement…
"Today the Court of Appeal sitting in Abuja passed judgement on the purported suspension of Comrade Adams Oshiomhole as a member of APC by three former Exco members of APC Ward 10, Etsako West Local Government Area, Edo State. In the said judgement, the Appeal Court upheld the decision of the lower court."
"Lawyers for Comrade Adams Oshiomhole have immediately set in motion processes to appeal the judgement. It is pertinent to state categorically that today's judgement does not invalidate decisions and actions taken within the top echelon of APC at any time before now."
"Expectedly, many fake news will by flying all over social media, merchandising concocted scenarios as privileged information. We call on the general public to ignore such sensational stories, remain calm and be rest assured that everything is under control. There is absolutely no cause for alarm."
"We are conscious of the anxiety out there, and we will do everything possible to ensure that the truth prevails in this case."
Oshiomole has been replaced with Former Oyo governor, Abiola Ajimobi. He would hold the position in an acting capacity till further Notice.