Who Is A Liar Inec Report Or Police Exoneration Report: Rivers State Governor Wike Vs Police Officer Akin Fakorede?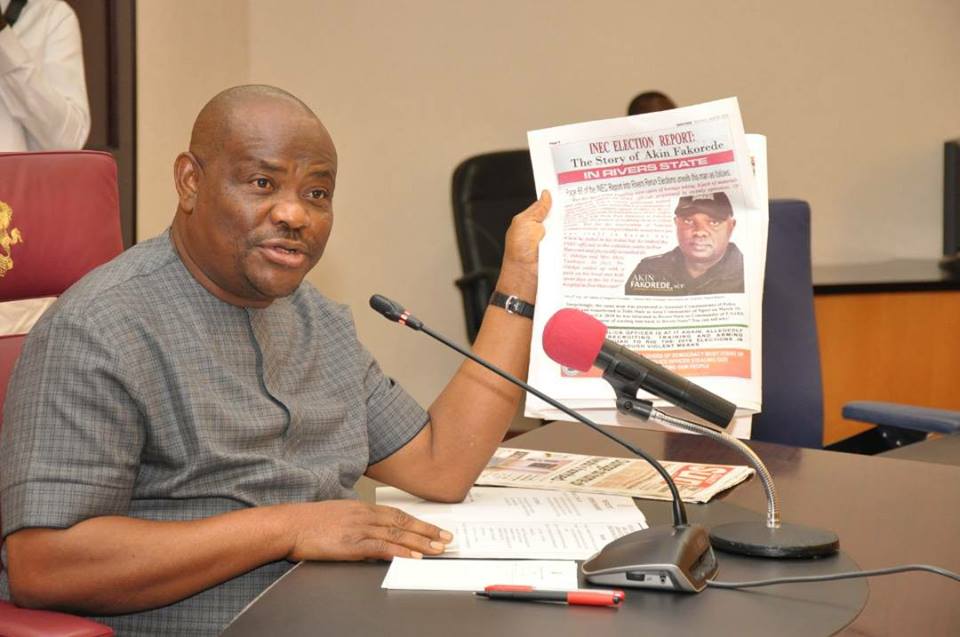 For about two years since the conclusion of Rivers state Legislative Election Rerun on December 10, 2016 the Rivers state Governor Nyesom Ezenwo Wike has been restless in challenging the activities of the officers of FEDERAL SPECIAL ANTI ROBBERY  SQUAD-F-SARS which has Assistant Commissioner of Police Akin Fakorede as Commander in Rivers State as most of the 23 officers of Independent National Electoral Commission—INEC sent to Rivers state from Anambra, Plateau and Oyo states  were dragged before the  Federal High court of competent Jurisdiction sitting at Abuja presided by Justice John Tsoho about what they knew best concerning attempted rigging and allegations of bribery  with the sum of Three Hundred and Sixty Million Naira –N360m suspected to have come from Rivers state Governor Nyesom Ezenwo Wike  of which they have returned to federal Government of Nigeria the sum of One Hundred and Eleven Million,  Three Hundred Thousand Naira—N111, 300, 000.00. This case has been transferred to Federal High Court with Justice Hillary Oshomah sitting at Port Harcourt where the alleged crime was said to have been committed and it is on-going as you are reading this.
Another disturbing narrative is the police report obtained by www.towncrier.ng  reporter which stated thus "The photographs of all the Electoral officers with the cash recovered from each of them are attached as Annexure to this report. In Rivers state, Politics is divided along lines of political leaders and Cult groups, politicians sponsor and empower militant cult groups for political reasons. During the elections, these unscrupulous criminal elements are armed and unleashed terror on political opponents. They kidnap and murder opponents of their benefactor and innocent voters. They instigate violence, snatch electoral materials, disrupt elections at voting and collation centers and facilitate rigging. They also target and kill law enforcement agents, especially the Police. Relying on the 1999 constitution of the Federal Republic of Nigeria, the police Act and other relevant laws, which empower the Nigerian Police to conduct investigations into criminal matters and the fact that in all criminal allegations, investigation plays an important part and may make or mar subsequent criminal proceedings, the Inspector General of Police, IGP Ibrahim K. Idris NPM, Mni, on 22nd December 2016, inaugurated a 15-man Joint Investigation Panel Headed by DCP. Damian Nkem Okoro, to investigate the incidents."
For clarity purpose www.towncrier.ng hereby unveils the terms of Reference in which the 15-Man Joint Investigation Panel were mandated to look into as follows : " to conduct a thorough investigation into the role of security agents before, during and after the elections; To examine the role of any Police officer or security agent whose actions or activities individually or collectively was detrimental to the good conduct of the elections; To conduct Forensic analysis on the audio report released by Sahara Reporters as it concerns the elections; To examine any other matter that is relevant to the conduct of  the elections and To make recommendations and Implementation strategies to guide future elections and submit its findings within thirty (30) days with effect from 17/12/2016".
It is worrisome how one of the submissions made at the DCP Damina Nkem Okoro's led 15-man Joint Investigation Panel being INEC Reports nowadays is being used in a 5th columnist campaign of calumny by Rivers state Government of which whose alleged actions and inaction is subject of adjudication before Honourable Justice Hillary Oshomah of Federal High Court Port Harcourt. And it is coming at a time when the outcome of the 15-Man Joint Investigation Panel has been released and Assistant commissioner of Police Fakorede Akin in that outcome was exonerated from the allegation Governor Nyesom Ezenwo Wike a Barrister At-Law like ACP Fakorede Akin is also a graduate of Law from University of Calabar and Called to Bar after graduation from Advanced Legal education studies popularly addressed as Nigerian Law School.
In the process of investigative journalism to which www.towncrier.ng ascribes to it was discovered that a Letter of EXONERATION dated 7th of December 2017 vide reference no. : AP. 419851/FS/FHQ/ABJ/9 addressed to CSP FAKOREDE AKINGBADE VICTOR as he then was in Police rank and signed by DCP M.G MUKADDAS DEPUTY FORCE SECRETARY II FOR: FORCE SECRETARY FOR : INSPECTOR GENERAL OF POLICE. The said Exoneration Letter read thus "You will recall that you were queried for acts of serious misconduct vide letter AP: 41985/FS/FHQ/ABJ/13 of 9th March, 2017. The inspector-General of Police has carefully considered your representation to the query and found that you are not blameable. He has decided that you be exonerated and you are hereby so exonerated with effect from 5th December, 2017. You are to acknowledge receipt of this letter through the appropriate channel, please".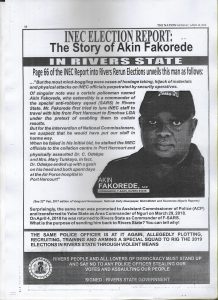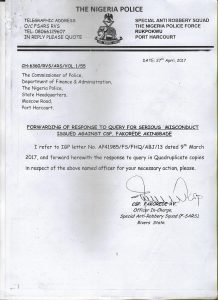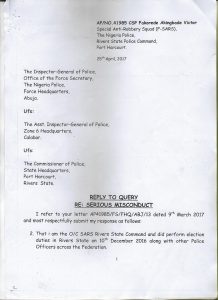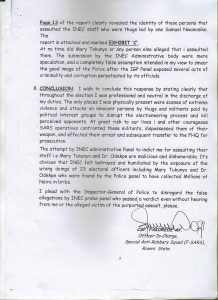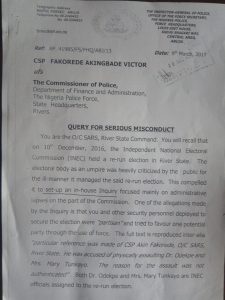 Therefore it behooves normal sense of logic for a responsible citizen to relegate himself or herself to the position of holding malice against a suspect who was thoroughly investigated by a competent authority and found nothing incriminating against such a person thereby setting him or her free from such allegations. But from our findings the Rivers state Governor Nyesom Ezenwo Wike  did advertise on page 10 of The Nation Newspaper dated April 30th, 2018 and May 1st, 2018 recalling events and incidents to which the a serving public officer of Federal republic has been exonerated. The said publication bears the insignia of Rivers state Government debasing academic status of those who hold public trust for the people of Rivers state who have highly trained legal luminaries and highly qualified academics of international repute.  As investigative journalists we owe it as a duty take issues of public interest back to the people and to the court of public opinion without taking sides hence we have in our possession copies of publications made by Governor Nyesom Wike led Government to which he Authorised for public consumption.
Upon conclusion of the DCP. Damian Nkem Okoro 15-man Joint Investigation Panel this is the last part titled'"Using Co-Conspirators as prosecution witness ….Recommendations and Implementations strategies" It is a settled law and practice, and it is hereby recommended that one or more of the suspects connected with the incidents investigated should be used as prosecution witnesses to enable the successful prosecution of the charges that might be brought against them at the appropriate time.
This recommendation is advisable because only Co-conspirators or insiders to the incidents can help to prove them beyond reasonable doubt. In so recommending, Panel finds strength in the statement of GBA Coker, JSC of the Supreme Court of Nigeria when he observed as follows: "' When it is proposed to give evidence of the happening inside hell, it is only a matter of common sense to call one of the inmates of that place or one whose business is carried out in reasonable propinquity to hell and it must be surprising indeed to find even a lone angel fit and qualified for the assignment. Indeed it would be preposterous to look for such evidence in other directions"': See Njoven V The State (1973) SSC(Reprint)12@p.48"'.
And you need to observe this last paragraph of page 26 of the DCP Damian Nkem Okoro's Report which states "For instance , in the event of possible prosecution of Governor Nyesom Wike for Money laundering, electoral and other offences on account of bribing INEC Electoral Officers with N360, 000,000.00 Three Hundred and Sixty Million Naira) in cash outside the banking system to conceal the origin and purpose of the money, requires using the three INEC Electoral Officers and Coordinators from Plateau, Oyo,  and Anambra States, Messrs' Shittu Mohammed Lamino( Shettima), Peter Taiwo Wetade and Henry Owokure, as prosecution witnesses. These Officers met physically with the Governor before receiving the bribe money".
Ostensibly page 18 of the DCP Damian Nkem Okoro's Report Conclusion of the investigation stated that "For those who committed crimes under our laws who for good reasons cannot be prosecuted today because of the high office they occupy which clothes them with immunity under section 308 of the constitution of the Federal Republic of Nigeria, as amended, we say the day of reckoning beckons. No condition and no office is permanent. Whatever has a beginning must surely have an end. For after a long drawn race; the mileage done by participants will be measured by the umpire. Because political offices are transient, it behooves their powerful occupants to always bear in mind the possibilities of tomorrow, when the attendant accoutrements and perks are no more".