Wike plans to reward Igo Aguma for destablising Party by appointing Wife as Permanent Secretary – Rivers APC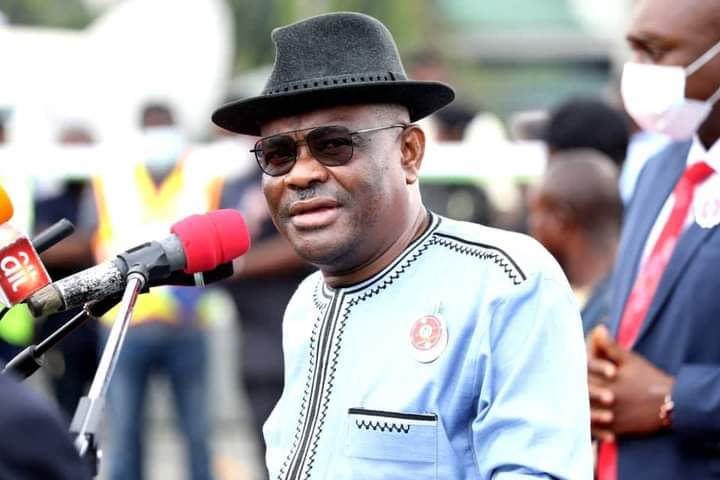 BY DANIEL EFE
Chairman Caretaker of Rivers State All Progressives Congress, Isaac Abott Ogbobula has accused Governor Nyesom Wike of wanting to ditch all known Civil Service Rules and bureaucratic procedures for promotions in the Civil Service, appoint Mrs. Igo Aguma as Permanent Secretary.
Governor Wike.
In press Statement personal signed by him,he alleged that the appointment will be a compensation for Igo's conspiratorial role in causing political nuisance in the APC in Rivers State.
According to Ogbobula,"It is on record that since 2015, most Civil Servants in Rivers State due for promotion have not been promoted. Wike now seeks to use available top spaces in the Civil Service to play politics to the detriment of deserving State workers.
"Aguma's wife is not a Director in the State's Civil service and quite junior in ranking to a whole lot of top Civil Servants who are on the queue for promotion into the Permanent Secretary cadre. Wike's discriminatory tendencies is unacceptable and must be challenged. Rivers State Civil Service is not Wike's personal property or inheritance and we must not allow him destroy it on the alter of selfish political expediency."
The APC factional loyal to the Minister of Transportation , Chibuike Rotimi Amaechi also said the party in angry at huge resources of the State frittered away to massage the pockets of Businessmen in name of Political strategists.
"We are already piqued by the humongous cash and State resources being funnelled to oil the nest of "business men" in the guise of political strategists, only for the State Governor to extend this joke to the core Civil Service of the State by trying to sacrifice merits.
He vowed that the party under his leadership will be exposing We are resolute on exposing these ills in the governance of Rivers State.
"Our people are still trying to grapple with the sharing of rice and other essential commodities at Christmas by the State Government from the COVID19 donations made by the Federal Government for onward distribution to the masses.
"We have stated it time and again that the Governor of Rivers State has never been interested in empowering young men and women economically in the State otherwise, how can anyone explain why contract for purchase and supply of Christmas rice could not have been awarded and distributed separately from COVID19 palliatives!Rivers people, please wake up", Isaac Abbot Ogbobula said.
At time this report, Igo Aguma, the immediate past factional Caretaker Committee Chairman of APC was yet to react to allegations.