Pastor Kumuyi, Reno, Daddy Freeze Join Olukoya, Condemn Celebration of Christmas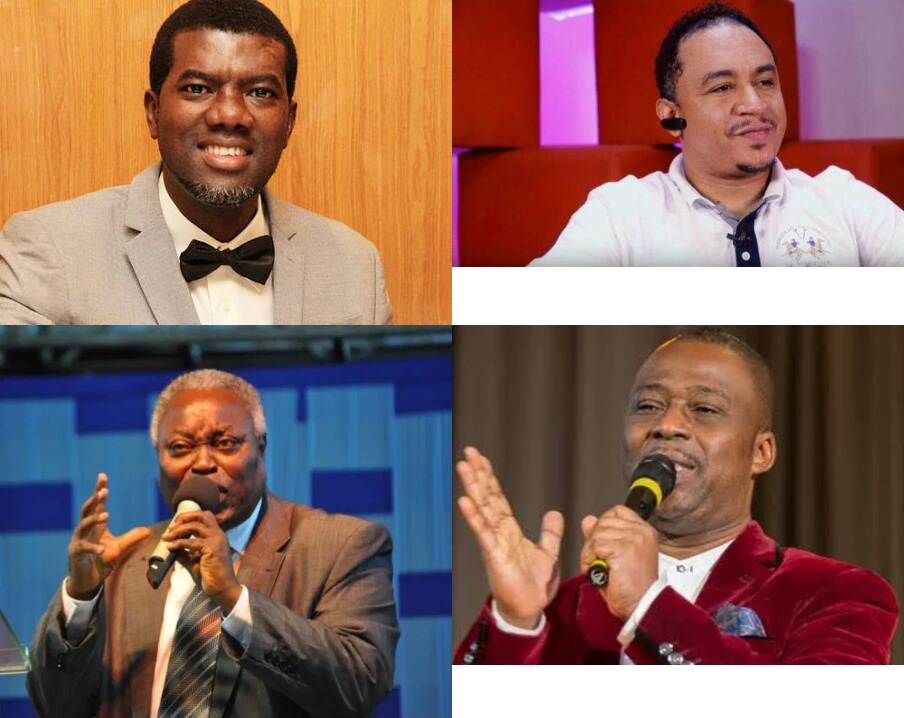 The General Overseer, Deeper Life Christian Ministry, Pastor Williams Kumuyi, has endorsed the position of Dr. Daniel Olukoya that December 25th was not the birth day of Jesus Christ.
Dr. Olukoya is General Overseer (Worldwide), Mountain of Fire and Miracles Ministries (MFM).
Kumuyi made this known during the annual December retreat held at the Deeper Life Camp in Ogun state. He said, "my people have gone astray, you've gone back into the world. All the merriment of Christmas, drinking, all the celebration of Egyptians is now upon you…come to Jesus."
He further said, "The ministry has never celebrated Christmas since inception. It actually came from idolatrous background. That is why we never sing Christmas carols. The essence of the December retreat is to reconnect ourselves to the Lord because it is a holiday period.
"You will never hear us say Christmas retreat but December Retreat."
To further buttress this point, controversial On Air Personality, Daddy Freeze, took to his Instagram account to state his stand about Christmas.
Freeze said, "at least I'm not the only one warning you about how the wrath of God will consume those practising this abomination".
Freeze also referred to the words of Olukoya which was on his account.
Reno Omokri an activist and a one-time adviser to former President Goodluck Jonathan wouldn't let the Christmas day controversy slide without giving his opinion.
Reno in his words, said: "May I specifically appreciate the General Overseer of Mountain of Fire Ministries, Dr. Daniel Olukoya, for his teaching that all members of MFM should not observe Christmas. From personal discussions, I know that other GOs feel the same way, but are not courageous enough to say it out loud".
General Overseer of Mountain of Fire and Miracles Ministries (MFM), Dr. Daniel Olukoya, last week clarified the ministry's position. With reference to the varied reactions that have been trailing the message of General Overseer (Worldwide), Mountain of Fire and Miracles Ministries (MFM), Dr. Daniel Olukoya, on the celebration of December 25th as Christmas in celebration of the birth of our Lord Jesus Christ, during the church's weekly Manna Water service on Dec. 25, 2019, we make the following clarifications…
Though the foundation of Christmas is idolatry and God hates idolatry with perfect hatred, we will not throw away the baby and the bath water.
We do not condemn those who celebrate.
Jesus is born in us at MFM every day. His death is our birth certificate.
We will bring out the positive out of the negatives by using all holidays for prayers, conferences seminars, and activities.
We will hold seminars, conventions, camp meetings or special teaching services to pray, examine the scriptures and draw positives from the wrong, negative and idolatry practices of the two events: Easter and Christmas.
We will hold special meetings to re-teach, re-emphasize and reappraise the significance of Jesus' birth, death, cross, and resurrection.
ON DECEMBER AND THE SHEPHERDS
Strange but true! Remember those shepherds who were "keeping watch over their flocks by night"? (Luke 2:8). December weather around Bethlehem is often miserably cold, wet and rainy. No shepherd in his right mind would have kept his flocks outside at night at that time of year!
The passage argues against the December 25th birth of Jesus Christ since the weather would not have permitted shepherds to be out in the fields with their flocks then.
Also, Luke 2:1-4 tells us that Jesus was born in Bethlehem because his parents came to that town to register in a Roman census. The Romans were well known as highly efficient administrators. It would have made no sense to have conducted a census in the dead of winter when temperatures often dropped below freezing and traveling was difficult due to poor road conditions. Taking a census under such conditions would have been pointless.
READ ALSO: I nearly fainted when I was chosen to lead Good Women Choir — Fasoyin
The Bible nowhere tells us to observe a holiday celebrating Jesus Christ's birth —but it clearly does tell us to do 'communion' in remembrance of him.