6 DIVISION NIGERIAN ARMY –GARRISON BRIGADE EMERGES OVERALL BEST IN WARRANT OFFICERS/SENIOR NON-COMMISSIONED OFFICERS COMPETITION IN PORT HARCOURT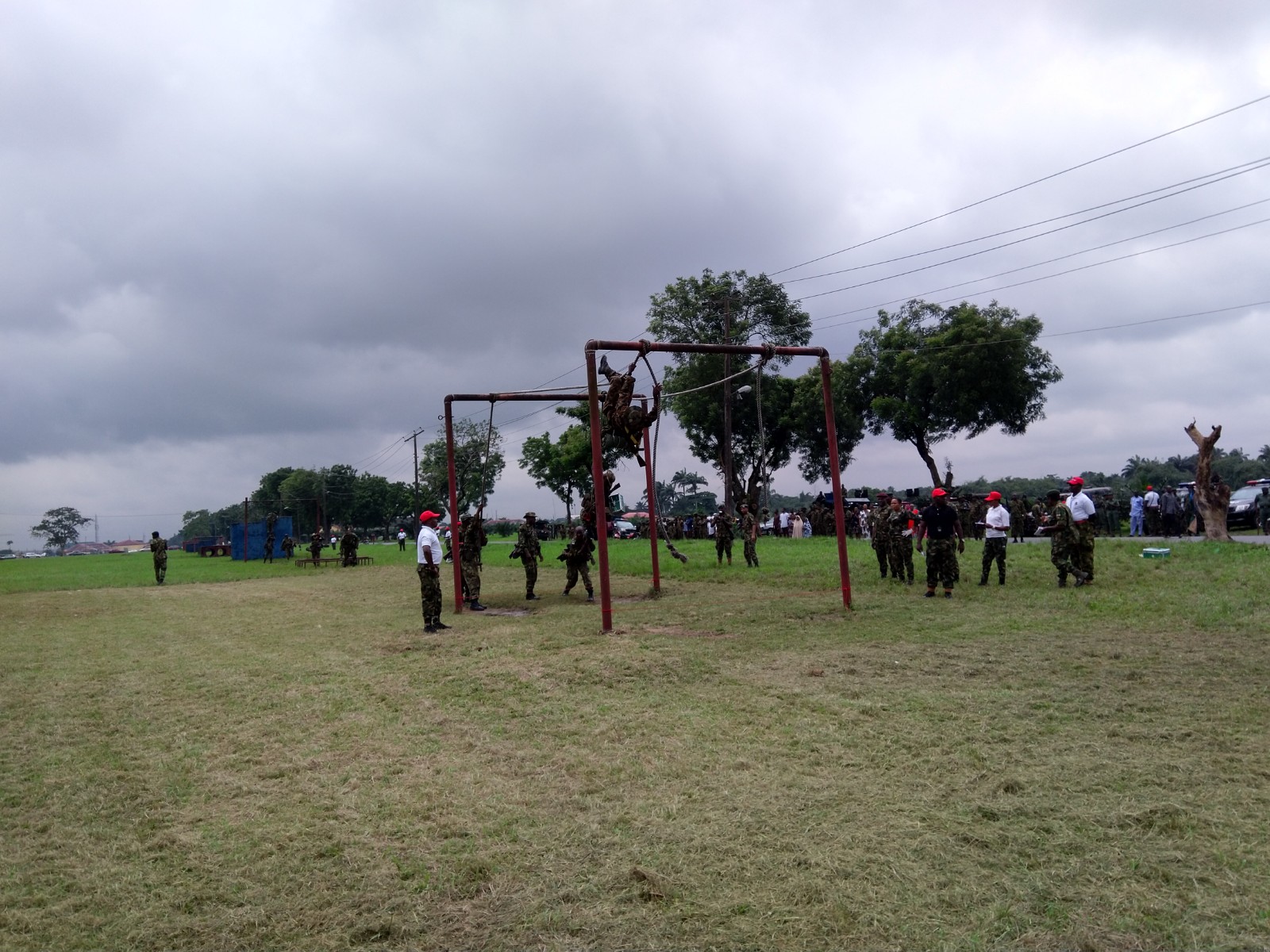 By EMEKA AMAEFULA
The convivial atmosphere with which Warrant Officers and Senior Non -Commissioned Officers, WO/SNCO of 6 Division Nigerian Army with headquarters at Port Harcourt had from Monday 22 July to Friday, 26, 2019 was so electric as the spirit of camaraderie filled the entire arena as 2nd  Brigade of Uyo Akwa Ibom in 6 division, 16 Brigade of Bayelsa state, 63 Brigade of Asaba Delta state, 6 Division Garrison Port Harcourt and 46 Engineering Brigade Port Harcourt all competed in various skills.  The tasking areas of competition include drills, Physical Fitness, Skill at arms, Tug Of war, Map reading, Firing and Obstacle Crossing.
With ranking grades of about 1000 marks per skill, 6 Division Garrison emerged the overall winner with total score of 5,300 while second position was taken by 63 Brigade Asaba with 4,900 points. Others include third position which went to 2nd Brigade with 4,900 average points as 4th position was clinched by 46 Engineering Brigade with total points of 4,600.
5th position was taken by 16 Brigade Bayelsa which had abysmal performance in Obstacle Crossing as the only female that succeeded in Obstacle Crossing came from 6 Division Garrison Port Harcourt.
The special guest of Honour Air Officer Commanding Air Vice Marshall Ubiri Peter Uzezi admonished participants to always embrace the spirit of engaging in training exercises which will sharpen their professional skills to be combatant ready at all times as he said "let me also add that training and re-training of Warrant Officers and Senior Non-Commissioned Officers in the Nigerian Army cannot be over-emphasized. Hence, the participation thrust for the competition was anchored on the demand for high level spirit de corps, regimentation and endurance, which is essential in tackling the contemporary security challenges faced by the Nigerian Army.
"It is therefore certain that all participants have displayed a very high standard of sportsmanship, physical fitness, determination and have given their best in the course of the competition. This is necessary in view of the fact that training develops the requisite capacity amongst troops to function effectively".
He praised the efforts of the leadership of 6 Division General Officer Commanding –GOC, Maj. Gen Jamil Sarham in exhibiting great diligence and professionalism which drives home good lessons as envisioned by the Chief of Army staff Lt Gen. Tukur Yusuf Buratai anchored on "To have a professionally responsive Nigerian Army in the discharge of its constitutional roles".
The closing ceremony was witnessed by officers from sister security organizations such as NSCDC, Nigerian Immigration service, Nigerian customs service et al.