Crocodile Smile IV: We will tackle militancy, Oil bunkering in N/Delta – GOC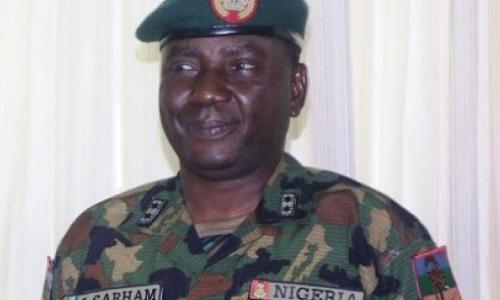 Major-General Jamil Sarham, the General Officer Commanding 6 Division, Port Harcourt, on Friday assured that military personnel operating in its area of responsibility would tackle illegal crude oil bunkering, sea piracy, militancy and other crimes peculiar to the region.
The GOC has assured that military personnel attached to the newly inaugurated Operation Crocodile Smile IV in the Niger Delta would not molest law abiding citizens.
Sarham who stated this in Port Harcourt and Ogu-Bolo Local Government Areas of Rivers state respectively, during the inauguration of Crocodile Smile IV called on people of the area to promptly report all criminal activities to security agencies in order to forestall and sustain peace and development in the region.
He said, "The Nigerian Army, being a professionally responsive organisation under the able leadership of Lieutenant-General Tukur Buratai, the Chief of Army staff is out to discharge its constitutional role and will not molest or inconvenience any law abiding citizen, consequently, all are enjoined to go about their daily affairs without any fear at all."
Read Also: I Am Not An Enemy Of The Army – Wike
"At the same time, all criminality must be reported and prevented in order to forestall any negativity in the economic activities of the Niger Delta."
"Since the inception of this exercise about three years ago, it has achieved significant successes in the protection of oil and gas infrastructure as well as checkmating crimes, which is as a result of very good synergy between the Nigerian Army, Nigerian Navy, Air force and other security agencies who are carrying out the onerous task of ensuring these areas of responsibility.
"This year's exercise also witnessed a lot of collaboration or joint efforts between the Nigerian Army and her sister security agencies. The exercise is made to checkmate the multifarious security challenges prevalent in the Niger Delta region which includes militancy, vandalism of pipelines, illegal oil bunkering, cultism, kidnapping among others."
The GOC further urged the people living in Rivers, Akwa Ibom, Bayelsa and Delta states to go about their lawful duties without fear of intimidation and to come out en mass to access the free medical services in their area from the army.
On his part, the chairman, Ogu-Bolo, Local Government Area, Victor Erasmus, called on law abiding residents of Bolo Community in Ogu-Bolo LGA, who fled out of fear on sighting men of the Army to return and carry out the lawful duties.
"Those of you that ran away please come back, if your hands are indeed clean, you will not run away, I know you are a people with clean hands and hearts, therefore there is no need for you to run because this is your army."
"This free medical by the Nigerian Army doesn't come up all the time, so you people should take advantage of it and remove every doubt you have about the army and I thank you for coming."