HOT!!!: World Cup Special! Super Eagles Fly To Russia From Austria Wearing Stylish Ankara Dresses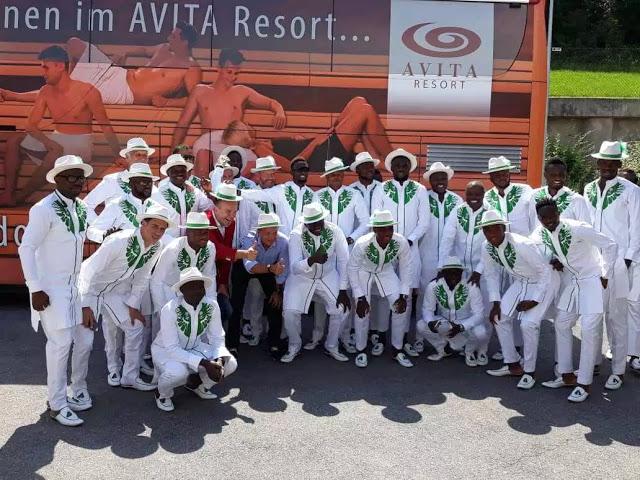 Despite being voted as the team with the most stylish jersey at the world cup, the Super Eagles are not done with fashion yet as they are spotted wearing ankara material at the airport en route Russia.
Also Read: Legendary Reggae Artist, Ras Kimono dies at 60 
Reggae legend, Ekeleke Elumelu, popularly known as Ras Kimono, is dead. The singer reportedly died on Sunday in a Lagos hospital after a brief illness. Legendary singer, known for the hit singles like Under Pressure and 'Rumba Stylee' Ras Kimono is dead.
He died yesterday (Sunday) 10/06/2018 in Lagos. He was popular for hot Reggae music hits in the 90's. Ras Kimono's debut album Under Pressure, led by the single "Rum-Bar Stylée in 1989.
Metro News reports that was to travel to United States last night, and he complained of not feeling too well. He was rushed to an hospital in Ikeja, Lagos then later taken to Lagoon Hospital in the Island.
Read Also: 33 Firefighters trained by Belemaoil oil graduate in Port Harcourt