POPSICO PRODUCTS, A DELIGHT TO KIDS, ANYWHERE, ANYTIME!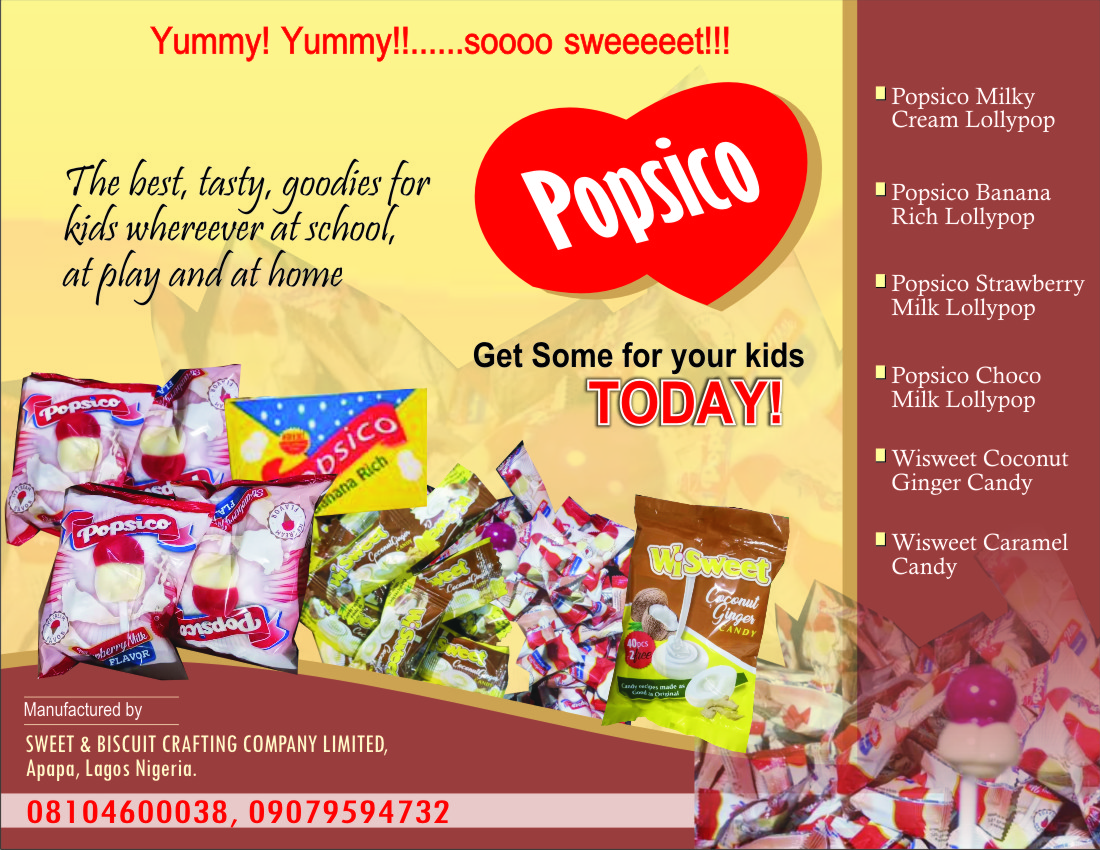 Children are known to love yummy, tasty and fascinating sweets and biscuits. This is one way parents can satisfy the yearnings of their kids because it is, simply put, their choices. Presently in the Nigerian market, one array of products that is dominating the kiddies confectionery sector is no other than Popsico. With a variety of products, so yummy and sweet for children coupled with their health benefits, Popsico products include Popsico milky cream lollypop, Popsico banana rich lollypop, Popsico Strawberry milk lollypop, Popsico Choco milk lollypop, Wisweet coconut ginger candy and Wisweet caramel candy.
Manufactured by reputable beverages firm, SWEET & BISCUIT CRAFTING COMPANY LIMITED, Popsico range of products are indeed the choice of kids at the moment and wherever the kids find themselves, be it at school, at home, while playing in the gardens/parks etc, kids always demand for Popsico Products depending on their individual choices.
This product has been in the marker for quite a while and the most vital aspect of it, is the hygienic and serene environment these products are manufactured cum the neatness and absolute careful comportment of the hygienic workers producing the yummy products. The management of Sweet & Biscuit Crafting Company took it upon itself to produce a couple of child-friendly products that will not only soothe the nerves of the kids but give them healthy living, growing up in vitality and strength. In addition to this, adults are not also left out as Popsico products are also adult-friendly.
So, kids its high time you kept your deep faith in Popsico Products simply because they are the best for you. Parents, ensure that Popsico product(s) is tucked in your child's lunch box whenever he or she is leaving for school and when back at home, flaunt more on him or her.
Popsico Products are manufactured in Apapa, Lagos State. To contact the manufacturer, SWEET & BISCUIT CRAFTING COMPANY LIMITED, you can call on 08104600038 or 09079594732.