Dr Anugbum Onuoha: Governor Wike's Special Adviser on Lands and Survey Released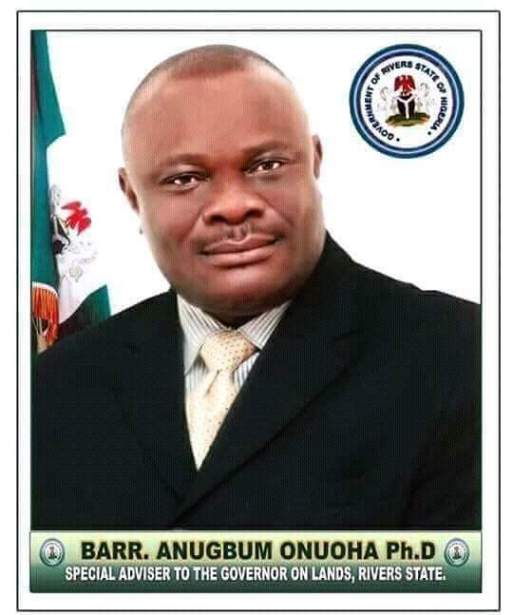 Dr Anugbum Onuoha, the Special Adviser to Governor Nyesom Wike on Lands and Survey who was abducted on Friday January 18 in a hotel on Ada George road in Port Harcourt by armed men dressed in military combat fatigue, Port Harcourt regained his freedom last night.
Sir Wobo Kingsley, a close friend of the Anugbum Onuoha's family and the Zonal Coordinator of Noble Knights of the Niger Delta North of the Anglican Communion for Anugbum Onuoha is an active member confirmed to our Correspondent  through telephone interview that he "Onuoha has regained  freedom and hale and hearty and reunited with his family."
He didn't give further details if ransom was paid and how much.
Our Correspondent in Port Harcourt recalled that Onuoha was on Friday abducted by gunmen in military uniform at a hotel along Ada George Road Port Harcourt.
The abductors forced him into a waiting vehicle and zoomed off to an unknown destination.
The state Police Public Relations Officer, Mr Nnamdi Omoni, then assured that operatives of the state command had intensified efforts toward ensuring the immediate release of the governor's aide.
Omoni specifically said that security agents had since been combing the creeks and bushes to try and locate the whereabouts of Onuoha.
He noted that the state Commissioner of Police, Mr Usman Belel, had ordered a manhunt for the abductors as soon as he got wind of the incident, promising that the governor's aide would be released safely.
ALSO READ: Pirates Shoot Sporadically Cart Away Seven Speed Boats In Night Raid At Bakana Jetty In Rivers
At press time, it was not clear the role played by the Security agents, especially the Police in the freedom of Governor Wike's aide after spending two weeks in the den of kidnappers as the Police is yet to make any statement on it.