Applicants for NIN at NIMC Office Port Harcourt complain of extortion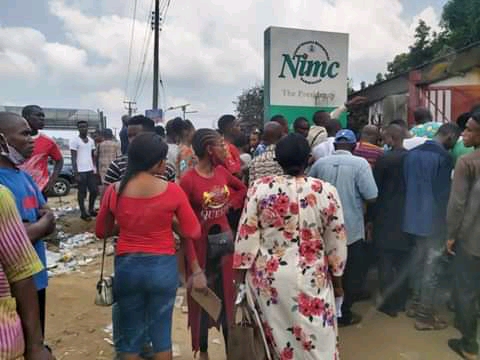 *State Coordinator, Oghenekaro Amonia, denies claims, insisting that NIMC has no Commission agents.
BY IBRAHIM BAKARE
Members of the Public who are struggling to beat the deadline to get their  National Identification Numbers, NIN, from National Identification Management Commission (NIMC), in Port Harcourt, Rivers State, are  complaining of extortion before they are attended to.
Some of the Applicants interviewed by our Correspondent alleged that some agents  who loiter around NIMC main Office on Port Harcourt-Aba Expressway, Port Harcourt, work as agents for the members of Staff of NIMC who demand for bribes or tips 
Applicants anxiously waiting to be attended to at NIMC Office in Port Harcourt.
According to Martin Chibuzor, a student of University of Port Harcourt, UNIPORT, "I have been reporting at this  NIMC Office everyday, since I couldn't provide N5,000 for "express service" I have not been attended to by members of Staff. Right in my presence those who can pay get their issues sorted out and they are gone. This what we have been going through".
Many applicants spoken to expressed concerns about the likely spread of Covid-19 because the way they are massed themselves together, without facemasks, no Social Distancing and Covid-19 Protocols observed.
Our Correspondent found out there are middlemen who discreetly approach anxious applicants wanting to know if they want "express service" and N5,000 to go through the official procedure and are ready to wait long hours.
However, the Rivers State Coordinator of NIMC, Amonia Oghenekaro, dismissed reports of extortion of money from applicants.
The State Coordinator of NIMC, Amonia Oghenekaro who made this known in Port Harcourt, insisted that the enrolment is free.
Oghenekaro said centres for enrolment are spread across the local government areas and warned that the Commission does not have mushroom centres affiliated to it.