Tinubu Arrives India and Heads Straight Into Top Level Investment Meeting With Hinduja Chairman
Undeterred by jetlag from a long intercontinental journey, President Bola Tinubu, on Tuesday, arrived in New Delhi to the immediate embrace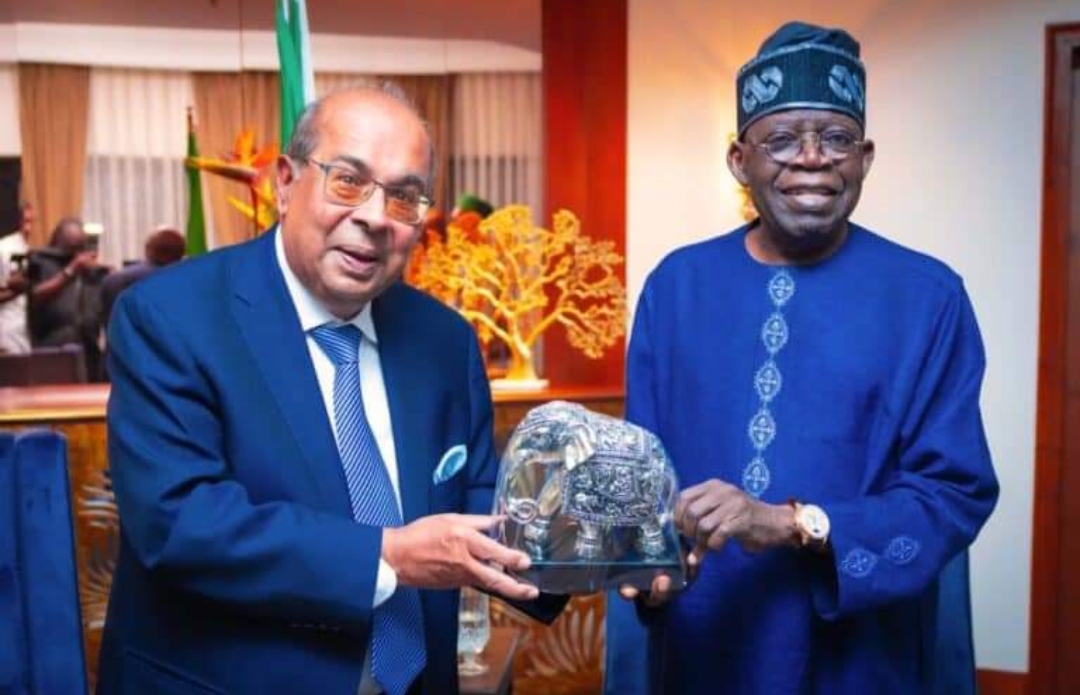 Undeterred by jetlag from a long intercontinental journey, President Bola Tinubu, on Tuesday, arrived in New Delhi to the immediate embrace of Mr. Gopichand Hinduja, the Chairman and CEO of the Hinduja Group of Companies, a conglomerate with a total asset portfolio exceeding $100 billion U.S. Dollars.
The Indian Industrialist was received by the President within 90 minutes of the President's arrival in India for a meeting, which began around 8:00pm local time.
Accompanied to the meeting by Nigeria's Ministers of Finance, Trade & Industry, and Foreign Affairs, the smiling Nigerian leader made it clear to his first visitor that he is in India with one focus: attracting investments to Nigeria with lucrative opportunities for investors, but most essentially, jobs for Nigerians and new revenue opportunities for Nigeria's federal and sub-national governments.
"We are here for business. I am here to personally assure our friends and investors that there is no bottleneck that I will not break. Nigeria will become one of the most conducive places on earth to make good profits and create lasting jobs. With my support, there is nothing standing in your way of enjoying the unrivaled opportunities presented by our massive market and the ingenious & hardworking nature of the Nigerian people. We are open for business," the President firmly assured.
The Hinduja Group Chairman told the President that he was a living witness to his landmark effort as Governor of Lagos in turning a coastal erosion and water encroachment crisis into a massive free trade zone where industry now thrives. This, he said, was partially responsible for his excitement to partner with Nigeria's new President to create win-win prosperity for Nigeria's talented population.
"We believe in you as a leader who has done this before. You know what the challenges are. You know how to fix them. We are going to make investments into the billions of dollars under your leadership, because we see you are already addressing the systemic problems. I am ready now to sign an MoU and to begin execution. You tell me who to liase with and we will get to work immediately, particularly with respect to bus and automobile manufacturing in Nigeria, amongst other areas," the Industrialist enthusiastically stated.
The President did not wait to respond.
"Ministers of Trade and Finance, the two of you will follow this up immediately and you will draw up the terms to the satisfaction of both parties. If there are any issues at all which require my intervention, they must be brought to my attention immediately."
After the President assigned the task of concluding the agreement to the two Ministers in collaboration with with Hinduja Group Executives, who were present in the room, the industrialist could not hide his excitement.
"I have had paperwork stalled in Nigerian bureaucracy for over one year, especially in FCT, but I knew that you would be purpose driven in this endeavour and God will help you to turn Nigeria's rich promise into rich reality for all of its citizens," the Indian Billionaire concluded.
The President concluded that his task of making Nigeria great can only be achieved through teamwork and not in isolation, noting that when his investors are happy, Nigerians will rejoice by partaking in an inclusive economy where hard work is rewarded and where excellence becomes the reputation of the nation.