Adeboye: I asked my son to sack his secretary to avoid cheating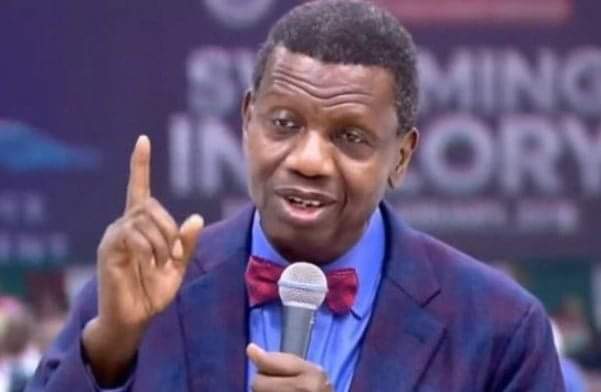 Enoch Adeboye, the general overseer of the Redeemed Christian Church of God (RCCG), says he asked for his son's secretary to be sacked to avert an extramarital relationship.
The 77-year-old clergyman took to his Twitter handle on Wednesday to disclose this while baring his opinion on intimate friendships outside marriages.
He said he had told one of his sons to fire his female secretary after he confided in him as regards how he readily looks forward to being in the office on Mondays just to see her.
Advising Nigerians to "crush that crush," Adeboye said the outset of extramarital relationships can be likened to such undue friendships.
According to him, no one should be closer to one or know more about one than one's spouse.
"It's said that many still have crushes with persons apart from their spouses. If there's any fellow aside from your spouse you're admiring unduly, you must get rid of them immediately," he wrote.
"One of my sons told me that he was always excited to resume office every Monday so he would get to see his secretary again. I told him to fire her immediately.
No one is worth your marriage.
"What's a married woman doing on the phone with another man for countless minutes? Why would a married man be spending so much time with another man's wife?
"Why discuss intimate issues with your opposite sex 'friend' instead of your spouse? You say 'I am not doing anything with the fellow; we are just friends.' That is exactly how it starts…
"If you have any friend that you talk to more than your spouse, break that friendship now. Spend more time with your spouse and make him/her your confidant.
"Exchange compliments. The reason many people have crushes outside their marriage is mostly due to a distance between the couple."
As of the time this report was filed, Adeboye had topped trends on Twitter, with thousands of Nigerians taking to their socials to weigh in their opinions on the matter in discourse.
Adeboye had earlier made the headlines after he, on two different occasions, hinted on plans to create more parishes and build an auditorium as big as Ibadan, the capital of Oyo state.