Court convicts Pastor To Death By Hanging For Use of Lethal weapon for killing pregnant Choir Mistress, Two Others
A General Overseer of Altar of Solution and Healing Assembly based in Oyigbo, Rivers State, Chidiebere Okorafor, has been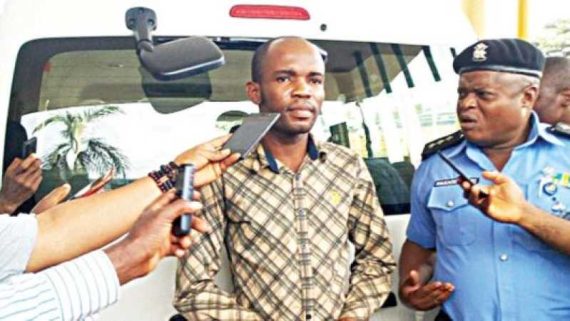 Ibrahim Bakare/Port Harcourt
A General Overseer of Altar of Solution and Healing Assembly based in Oyigbo, Rivers State, Chidiebere Okorafor, has been
sentenced to death by a High Court in Port Harcourt, for the use of lethal injection commiting multiple murders.
Pastor Okoroafor has been standing trial for killing his Choir mistress, Orlunma Nwagba, who he allegedly impregnated.
Pastor Okoroafor is also facing murder charges for the killing of Orlunma's friend, Chigozie Ezenwa, and her 11 months old baby girl, Cresabel, on December 11, 2017, in the Oyigbo Local Government Area of Rivers State.
The trial Judge, S.O Benson, in his judgement said the evidence and confessional statements from the pastor showed that he committed the crime.
Justice Benson said the prosecution proved the case of murder against the cleric and ordered he should be Killed by hanging him on his neck until he is dead or should be injected with a lethal injection which also kills faster.
Our correspondent reports that the women had visited the Pastor's house in Oyigbo for a discussion on the said pregnancy when he tricked them into a bush and murdered, committed the act in two different locations.
Operatives from the Homicide department of Rivers State Police Command had on December 17, 2017 arrested Pastor Okoroafor following an alarm raised by Chigozie's husband over the killing of three people in two different locations in Oyigbo local government area.
Speaking to Journalists outside the courtroom, the prosecution counsel from the state Ministry of Justice, Precious Ordu, expressed happiness over the judgement.
Ordu pointed out the Prosecution remained undaunted despite receiving several threats in the course of the trial that it gratifying that justice has prevailed.
He stated" Justice has been served to the state, the complainant, and the convict.
"This will serve as a deterrent to all those who intend to commit the same offence because it is justice for all."
Ordu thanked the International Federation of Women Lawyers, who brought up the case before the state took over.
On his part, Counsel to the defendant, Dr Innocent Ekwu, said he and his team will appeal the judgement, saying the court 'misconceived the law'
Ekwu stated, "The court held that there was no eyewitness, not even one throughout the trial. The court also held that there was no circumstantial evidence linking the fellow to murder.
"But that the court convicted him of murder on account of his confessional statements.
"We, as counsel to the defendant, have decided to appeal the case. We are going to file our notice of appeal as quickly as possible because we have grounds on which we believe that the defendant did not commit the offence.